DISH Hopper Adds Olympic TV App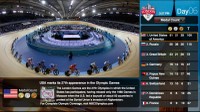 DISH Hopper Adds Olympic TV App
DISH has gone Olympic... This morning I awoke to a new app on my DISH Hopper Whole Home DVR: Olympic TV. By selecting the blue button on the remote control, you can start the application. An overlay then appears on screen with live TV playing at 70 percent the original size and a reverse-L shape screen that features medal counts, top stories, TV schedule and Team USA news. You can, of course, expand the app to full screen so you can see athlete news and even stories about London. This app is available to DISH customers on the Hopper and ViP series receivers throughout the next couple of weeks. Check out the features of the Olympic TV app:
Medal Count: The medal count screen will display up-to-the-minute tallies on the medal count, including Country, number of Gold, Silver, Bronze medals won, along with the total number of medals for each country.
Top Stories: This section will display the top news stories from the Olympics and will be continuously updated as stories develop from the games.
TV Schedule: The TV Schedule section will display times and channels that the NBC Networks will be showing Olympic coverage on DISH. When the user presses select on an event, the event tile flips to reveal the options to watch or record.

USA News: USA News will give up-to-the-minute news on Team USA. This section will be updated as breaking news happens on any event that includes Team USA.
Athlete News: The Athlete News section provides news articles about specific athletes.
Destination London: The Destination London section features stories about the host city of London.

With DISH you can also catch the Olympic coverage on all the NBC stations, including two channels featuring 24/7 coverage of basketball and soccer:
NBC (check local listing for channel number)

NBC Sports – ch. 159

CNBC – ch. 208

MSNBC – ch. 209

Bravo – ch. 129

Telemundo – ch. 835

Basketball – ch. 147

Soccer – ch. 148
If you're watching the Olympics (and we know you are) then this is one of the coolest ways to do it!
KremerOtha posts on August 07, 2012 02:31
It's too bad that the dish hopper is so buggy though.
raynist posts on August 06, 2012 22:31
It's too bad that the dish hopper is so buggy though. I have to reboot at least one Joey or the main hopper EVERY day......