Denon Upgrades AVR-3310CI and AVR-990 to DSX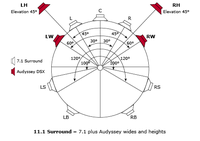 Audyssey DSX and Denon
Aside from the announcement of a new integrated blu-ray/receiver and a partnership, Denon told the world that they were upgrading two of their receivers to the brand new Audyssey DSX processing this year at CES. The AVR-3310CI and AVR-990 (both retailing for $1500) join the ranks of the AVR-4310CI and AVR-4810CI with Audyssey DSX. This will give the receivers the ability to add either height or expanded width channels by assigning other speakers or analogue output terminals to the additional speakers. The upgrade will be available on Feburary 1st at a cost of $100. No word yet on whether the upgrade will be applied to future offerings of the receivers or if it will remain a firmware upgrade option only. Customers who purchase the Audyssey DSX upgrade will also receive a coupon good towards a purchase at the Denon Shop website.
Audyssey DSX: Beyond 5.1-Channel Surround Sound
Audyssey DSX with left and right height and width channels is a new set of algorithms that pushes the envelope in audio performance. The aim of the technology is to literally bring the art of surround sound reproduction closer to what human perception expects. The sophisticated Audyssey DSX circuitry works by synthesizing audio signals for new surround channels based on human perception and acoustical research. For optimum performance, Audyssey DSX controls delay, dynamic decorrelation, level and frequency response. The result is a much more realistic and "present" soundscape, with more audio "depth," ideal for both movies and music. The new height and width channels are integral to maximum performance of next-generation high-definition surround-sound systems. DSX builds on the Audyssey MultEQ for room correction and Dynamic EQ for loudness compensation available in Denon receivers.
About Denon Electronics
Denon celebrates its 100th Year Anniversary in 2010, carrying on its tradition of excellence with a renewed commitment to the highest quality home theater, audio and software products. Denon is recognized internationally for innovative and groundbreaking products and has a long history of technical innovations, including the development and groundbreaking commercialization of PCM digital audio. Denon Electronics is owned by D&M Holdings Inc.
About D&M Holdings Inc.
D&M Holdings Inc. is a global operating company providing worldwide management and distribution platforms for premium consumer, automotive, commercial and professional audio and video businesses including Denon, Marantz, McIntosh Laboratory, Boston Acoustics, Snell Acoustics, Escient, Calrec Audio, Denon DJ, Allen & Heath, D&M Professional and D&M Premium Sound Solutions. Our technologies improve the quality of any audio and visual experience. All product and brand names with a trademark symbol are trademarks or registered trademarks of D&M Holdings, Inc. or its subsidiaries. For more information visit www.dm-holdings.com.
For more information, please visit www.denon.com.