Samsung Delives on 3D Glasses Promotion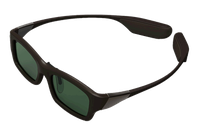 Samsung 3D Glasses
Samsung Electronics America, Inc., a market leader and award-winning innovator in consumer electronics, today is announcing the launch of a new site which will allow the company to directly fulfill its previously announced free 3D glasses promotion, which offered two pairs of 3D glasses with all consumer purchases of 2011 model Samsung 3D TVs purchased during the promotion period.
Samsung values its customers and is committed to delivering a great consumer experience. For those consumers who purchase a 2011 Samsung 3D TV from an authorized Samsung retailer between April 24, 2011 and June 25, 2011, and do not otherwise receive 3D glasses from that retailer (either as part of the 3D glasses promotion or as part of a 3D Starter Kit provided by the retailer with select TV models), Samsung will provide two pairs of 2011 3D battery glasses directly to the consumer.
The "two free glasses" promotion will end June 25, 2011. Details for a new 3D glasses promotion will be announced prior to June 26th.
To make a claim, eligible customers should visit www.samsung.com/us/3Dglasses.

All claims must be submitted within 90 days of purchase and must include proof of purchase. See site for additional rules and details.
Samsung also has lowered prices on its complete line of glasses as of May 1.Revised pricing follows.
| | | |
| --- | --- | --- |
| Model Number | Description | Suggested Advertised Price |
| SSG-3100GB | Battery-operated 3D Active glasses | $49.99 |
| SSG-3300CR | Compact Size Rechargeable 3D Active glasses | $129.99 |
| SSG-3300GR | Rechargeable 3D Active glasses | $129.99 |
| SSG-3700CR | Ultra-light Rechargeable 3D Active glasses | $149.99 |
Samsung's 3D Active technology delivers a no-compromise 3D experience. Unlike other approaches to 3D, Active 3D Technology delivers up to double the resolution for an immersive, Full HD image (1080p picture for each eye), a wider viewing angle and no black lines interfering with the picture.
For more information on Samsung's full line of 3D glasses and TV accessories, please visit http://www.samsungusanews.com/.
Want more Samsung TV info? Check out the company's new Facebook Page.
dohrad posts on June 06, 2011 16:06
count 4 of 5.