Coldplay vs. Joe Satriani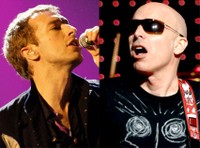 Everyone by now has heard that Coldplay is being taken to task by Joe Satriani. The British lite-rock sensation has apparently been snipping pieces of other people's work. According to some music fans - Mr. Satriani isn't the only victim of Coldplay's acoustic larceny.
Coldplay, now the darling of the Grammys, seems to do a great job of following Satriani's rif from his song "If I Could Fly" released in 2004. The band's 2008 album Viva La Vida's title track is demonstrated in this YouTube video as being perfectly in harmony with the American guitarist's song.
Now they're apparently going to court as Satriani has sued Coldplay for plagiarism for taking what he calls "substantial original portions" from If I Could Fly. But is the rip-off intentional? There have been many cases of musicians lifting work that has gone before. George Harrison famously lifted from the Chffon's He's So Fine in his 1970 hit, My Sweet Lord. The Rolling Stones even gave out a retroactive credit to K.D. Lang and her 1992 song Constant Craving for the Stones 1997 single Anybody Seen My Baby.
But in the case of Coldplay and its borrowing, some would say it runs a little deeper than just a single riff from a single song. Satriani may be suing for the riff but many cite Coldplay as blatantly ripping off the overall sound of U2, especially in songs like Speed of Sound and Clocks. Others say Coldplay rips off the Beatles and even Oasis.
Another head-to-head comparison illustrates Coldplay's riff-rip of Kraftwerk's Computer Love from their 1981 concept album Computer World.
Coldplay has since made a very polite rebuttal to Mr. Satriani's allegations. The band stated to the Associated Press this week:
"With the greatest possible respect to Joe Satriani, we have now unfortunately found it necessary to respond publicly to his allegations. If there are any similarities between our two pieces of music, they are entirely coincidental, and just as surprising to us as to him. Joe Satriani is a great musician, but he did not write or have any influence on the song Viva La Vida. We respectfully ask him to accept our assurances of this and wish him well with all future endeavours."
C'mon Coldplay and Satriani - I think it's time for a good old fashioned musician trash talkin' fued. Just like Lynyrd Skynyrd and Neil Young or L.L. Cool J. and Kool Moe D. Who can forget Skynyrd tossing in the lyric… "Southern Man doesn't need him (Neil) around anyhow!" Only to see Neil Young later playing back-up guitar for Skynyrd in a later concert. Does anyone remember how quickly allegations that Eminem was homophobic dissolved when he did a number at the Grammys with Sir Elton John?
Think of the amazing concert they could do together after a lyrical joust - just to show everyone it's all in good fun. Imagine Satriani doing lead guitar for Coldplay! It's almost certain that the 52-year-old guitarist would actually infuse a bit of testosterone into the quartet.
See also:
vizionut posts on January 29, 2009 11:12
Both have the same sound and joe has a lot more fans but i still like gary more what do you think.
3db posts on January 12, 2009 06:12
I might be an old guy but … it seems that most popular music today is very thin. Sadly I've noticed that whining is too often mistaken for deep and meaningful or art.

In researching this story I read tirades from Coldplay fans commenting on other allegations of band's musical copycatting – long before the Satriani incident.

In one comment a Coldplay fan said: "you suck and you shouldn't compare your garbage music with Coldplay, they're true artists." - paraphrasing.

This is my problem:

Just because music is soft, sensitive and sad in tone doesn't make it artistic, deep or introspective.

Often they scratch the surface musically and lyrically about the causes of sadness but fail to explore it any deeper. Fill it with a few bewildering lines like ... everybody wants to rule the world and call it a day.

It's hardly the kinds of observations of the human condition we've seen in songs by Pink Floyd or countless others from a different era.

The worst is country music and its Hallmark sentimentality. Yes I've heard it mistaken for deep too. I admit to liking older country but my perception of newer stuff is that it's too often manipulative of the hearstrings. I would call it emotional porn.

What else would you call songs about cancer diagnosis or a tragic death in a family. I know country has a folksy, literal storytelling tradition. But c'mon,

Eric Clapton wrote one of the most memorable sad songs ever about a personal tragedy in his life. It was truly deep and actually therapeutic for him. Nowhere does he use a "money line" to make the listener cringe. It's far more deeply personal to him, either the listener relates or does not. Challenging. That's how good music (good art in general) should be.

Music and lyrics are open to interpetation and people will draw from them as they see fit. There is alot of good new music out there. Problem is finding it amongst all the other crap out there.

Coldplay isn't the only band in hsitory to borrow/steal without permission. Led Zeppelin springs to mind and if it weren't for the blues, there would have been no Led Zeppelin or countless rock bands in your day that would have bit come to be. If anyone has a legit beef for getting ripped off, its the blues artists of the past that got screwed over by both record companies and other bands stealing their stuff.
Alissa posts on December 12, 2008 08:17
Sheep;495735
People can interpret music any way they see fit, and as much as it bothers you, can also like any music they see fit.

One could say that you're "new music is shallow" statement is shallow. How much have you really looked? Probably just scratched the surface. I'm fairly certain I could list 10 bands you've never heard of. Pretty hard to judge all the music out there when you don't know half of it.

Oh, and if you try to pin me with listening to newage shallow music, I'm currently listening to Hendrix - The Wind Cries Mary.

SheepStar
I think the quote's intention was actually "popular" music, not necessarily all new music.
Music is really just about taste and opinion, both of which we can formulate at any time...has anyone really listened to
all
the music out there? If we waited for that, we'd never have people giving opinions and sparking debates like this.
And just a quick IMO, if we can like / listen to / interpret music any way we see fit, then our opinion counts whether we're listening to Hendrix or Hanson. No need to judge based on what's currently on our iPods.
Sheep posts on December 11, 2008 21:59
I might be an old guy but … it seems that most popular music today is very thin. Sadly I've noticed that whining is too often mistaken for deep and meaningful or art.

In researching this story I read tirades from Coldplay fans commenting on other allegations of band's musical copycatting – long before the Satriani incident.

In one comment a Coldplay fan said: "you suck and you shouldn't compare your garbage music with Coldplay, they're true artists." - paraphrasing.

This is my problem:

Just because music is soft, sensitive and sad in tone doesn't make it artistic, deep or introspective.

Often they scratch the surface musically and lyrically about the causes of sadness but fail to explore it any deeper. Fill it with a few bewildering lines like ... everybody wants to rule the world and call it a day.

It's hardly the kinds of observations of the human condition we've seen in songs by Pink Floyd or countless others from a different era.

The worst is country music and its Hallmark sentimentality. Yes I've heard it mistaken for deep too. I admit to liking older country but my perception of newer stuff is that it's too often manipulative of the hearstrings. I would call it emotional porn.

What else would you call songs about cancer diagnosis or a tragic death in a family. I know country has a folksy, literal storytelling tradition. But c'mon,

Eric Clapton wrote one of the most memorable sad songs ever about a personal tragedy in his life. It was truly deep and actually therapeutic for him. Nowhere does he use a "money line" to make the listener cringe. It's far more deeply personal to him, either the listener relates or does not. Challenging. That's how good music (good art in general) should be.

People can interpret music any way they see fit, and as much as it bothers you, can also like any music they see fit.

One could say that you're "new music is shallow" statement is shallow. How much have you really looked? Probably just scratched the surface. I'm fairly certain I could list 10 bands you've never heard of. Pretty hard to judge all the music out there when you don't know half of it.

Oh, and if you try to pin me with listening to newage shallow music, I'm currently listening to Hendrix - The Wind Cries Mary.

SheepStar
MinusTheBear posts on December 11, 2008 13:19
Not true. I happen to like both.

I was expecting more along the lines from you regarding Coldplay.....Antichrist...... Arrrrrgggggg