Best Buy Closes 50 Stores, Set to Open 100 Mobile Stores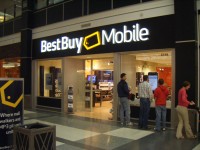 Best Buy to Open 100 Mobile Stores
On Saturday, Best Buy slipped out that it's shutting down 50 of its retail stores. In an attempt to avoid the fate of Circuit City (which officially closed in 2009), the retail giant is trimming the fat and cutting 400 corporate jobs and nearly $1 billion dollars in costs. What was odd was that the company indicated it would try and find jobs for those being laid off (which would seemingly counter the effort to actually "cut" jobs). In any case what was even more surprising was the matching announcement that the company would open up 100 new Best Buy Mobile stores in 2013. The new stores will be smaller than their big box counterparts and based on the most profitable side of the business. mobile phones and accessories.
We have to believe that the biggest problem with Best Buy is the constant onslaught of competitive Internet sales. Of course, it wasn't too long ago that Best Buy cut jobs and said it was planning on refocusing on its online business. There is also an increasingly common practice, which we do NOT condone, of using the retailer as a sort of "show floor" where consumers then can shop online using their smart phones and buy from a competitor. While we see and hear of this happening, we feel it is extremely inconsiderate and more or less stealing. If you're going to shop in a retail environment and kick the tires, consider being willing to pay a little more for the convenience of having a physical location to honor the warranty and pick up the unit immediately.
Currently, Best Buy has around 1,400 of its stores across the country and the 50 stores will close by, or during, the Summer. Of course, this announcement comes at a time when former Best Buy CEO Brian Dunn, after suddenly resigning, is being investigated by the board of directors began investigating for "personal conduct" possibly involving a 29 year old associate, according to reports on Forbes and other sources. Also, this has been a difficult quarter, with the company losing $1.7 billion due to restructuring costs.
Will Best Buy pull out of its tail spin or is this the beginning of the end?
LAB3 posts on May 20, 2012 19:09
runswithscisors;881158
I'd still miss my Best Buy, nice place to hang out and play around with the electronics while the old lady shops for shoes. Besides, I have two years left on my Geeksquad protection plan on my laptop.
I purchased Best Buys extended service policy on my Yamaha AVR so I would not have pay freight costs sending a AVR to be repaired and not have to deal with the factory that made it. I spent several hours dealing with Onkyo Customer Service several years ago when my AVR fried HDMI parts 3 times in 18 months. That got expensive and any money I saved by purcasing on-line was gone and boxing it up and going to the UPS store. I hope my local BB does not go out of bussiness.
Whitey80 posts on May 11, 2012 22:10
cpp;881557
I found these facts on 2011 internet sales

80% of individuals aged 32-44 buy products on the internet.

72% of people aged 55-64 and 71% of 18-32 year olds also purchase things through the internet.

With all age groups combined and overall 71% of all U.S. adults shop online.

Just pull up any site on internet statics and see the jump in internet sales
• Online Shopping - statistics and facts | Statista [statista.com]
Call them "facts" but the real fact is that the number of adults in the U.S. that access the internet is not even 71%. I didn't read your source article, maybe it refers to 71% of
adult internet users
have purchased online, which is well short of 71% of total adult population
bikdav posts on May 08, 2012 21:32
That's the big point; to be able to try out a product first before buying it. Buying something sight unseen is not very comforting.
oat07 posts on May 08, 2012 08:06
BMXTRIX;881547
I don't see, how in any way, this is good for consumers or the CE industry as a whole.

Best Buy may not be the favorite shopping place for those of us in the know, but for those who are just looking for a surround system to get started with, they may end getting relegated to Wal-Mart and Target instead. Hopefully we all know the type of true junk sold at those locations. So, instead of a mid-level LED/LCD Samsung, they will end up with a Funai display, or something worse because that is all they are able to look at.

Now, certainly, each Best Buy store has some good people and some bad people in it. Any chain, or even a store, with that many employees will have issues. Smaller places may do just fine when they know all of their employees very well, and fire, without regard, those who don't live up to certain standards. But, a store the size of a BB doesn't really have that ability. Not an excuse, just reality.

I've always liked Best Buy and I liked Circuit City, because, in our area, they had a lot of showcase. The Magnolia section offers some higher end stuff which is great to see, and they continue to bring in new stock. No matter how much you read online reports of different products, there is something far more appealing to getting in and lifting up a receiver to see how well it is built, how sturdy it is, how it has stood up to 10,000 people coming in and doing the exact same thing.

I won't cheer the downfall of Best Buy, and it certainly does NOT give way to a new generation of mom & pop retailers coming back into business.

I think the downfall of Blockbuster has shown us that once the Internet and automation has safely eliminated 100,000 jobs (Redbox/Netflix), then consumers are not interested in going back into a store. There is a huge pardigm shift right now from the B&M stores to online. People are getting far more comfortable with more and more of their purchases going through the PC.

Unfortunately, we are likely to lose Best Buy, and probably HH Gregg will follow. Then, if you want a product the ONLY way to purchase will be through online. Don't expect expert installation, or any support. Don't expect a place you can easily return it to if it breaks, or even if you just don't like it. Those are 'extras' and have 'cost' - and the average consumer clearly doesn't find that of any value.

I don't smile when I read stories like this and I truly wish BB the best of luck in getting through this and remaining strong for years to come.

As a small, custom A/V installer, I welcome Best Buy as a competitor and as a store to provide lower end solutions so that people can come to me later after they have been introduced to A/V.
I agree. I use to work at BB ages ago and I hated the job but loved the electronics. Consumers do not realize how much we need these types of stores. Places like Walmart do not provide enough merchandise to compensate for the loss of a BB. Sadly, this looks like a oneway street for the industry. I like internet shopping, but almost all items I wish I could buy locally so that I can see them and test them first.
bikdav posts on May 06, 2012 20:57
cpp;881557
You know BMX you right on point, but what has happened Best Buy grew so fast, built such big stores and their operating expense got out of control, but as you noted, people are getting really comfortable with internet shopping. With a lot of 30 day return policies on audio equipment, camera equipment, computer equipment etc.. it's letting the consumer make the decision for 30 days without a sales person pushing a product. If the don't like the product they send it back. B&M stores need that same mentality to compete along with the internet price. But something else that will happen through out the US, in 2011, a lot of the larger internet sites like Amazon will start collecting sales tax, should the purchaser live in a state that houses the supplier like Amazon. It happens in California and SC, and other states.

"California tells online retailers to start collecting sales taxes from customers;
Beginning Friday, Amazon.com and other large out-of-state retailers will be required to collect sales taxes on purchases that their California customers make online."

I found these facts on 2011 internet sales

80% of individuals aged 32-44 buy products on the internet.

72% of people aged 55-64 and 71% of 18-32 year olds also purchase things through the internet.

With all age groups combined and overall 71% of all U.S. adults shop online.

Just pull up any site on internet statics and see the jump in internet sales
• Online Shopping - statistics and facts | Statista [statista.com]
It sounds like I need to set up a credit card account just for internet purchases.