A/V Static Displays at the 2008 Audioholics SOTU Event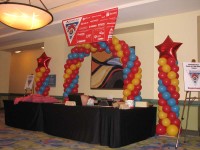 While you've all been reading about the seven wonderful demo rooms our sponsors hosted at our event, its important to also mention the excellent static displays which filled the hallways and gave people something to do on their journey between demo rooms.  Nobody walked the halls empty handed as the manufacturers handed out plenty of party swag to pique their interest (ie. t-shirts, pop corn, squeeze toys, demo discs and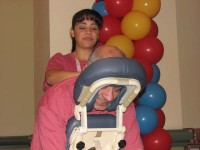 more).
On the journey towards the demo rooms, we had our in-house professional massage therapist (Jennifer Molinares) on hand  to ensure everyone was in a relaxed and happy mood to partake in our demos.  As soon as the word got out about this service, it quickly became the most popular area on our show floor.  We are sure it had nothing to do with her stunning good looks as it was all about relieving trigger points in our stressing backs from all hauling all of the heavy equipment around the hotel.  This was just yet another added perk we brought on behalf of our attendees, sponsors and staff. 

Planetwaves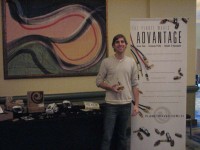 CJ Gallo from Planetwaves demoed their truly self terminating coax cable solutions (reference our review). They showcased just how easy it was to cut, and terminate their cables for any custom lengths and terminations required for 3GHZ or less signal transmission.
Check out our formal review as well as this brief online video overview

For more information, visit: Planetwaves
APC AV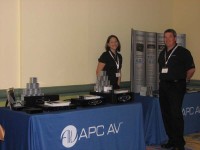 The very lovely Nicole Klimek was on hand for the APC AV display where she proudly displayed some of their latest A/V power products such as the flagship S20 Power Conditioner with battery backup, line regulation and networking functionality, the more cost effective H15 power conditioner as well as a host of power filters. Many of these items were used exclusively in the demo rooms at the SOTU event to power and protect all the latest A/V gear.
I am a huge fan of APC products as you can see why in our FAQ Interview and our various product reviews throughout the site. 

APC was kind enough to auction off an S15 power conditioner to benefit our charitable auction.
For more information, visit APC AV
Dayton Audio
Displayed some of their DIY speakers as well as complete solutions such as their BS36 36" LCR Speaker Bar which conspicuously mounts below your display and provides audio for the left, center and right channels. Their BR-1 speaker kit was on full display where Dayton showed off the quality of the drivers and crossover components. For anyone looking for audiophile sound on the cheap and is handy with a soldering iron, this may be the speaker system for you.
Dayton was kind enough to auction off three speaker systems to benefit our charitable auction for the Conservation of Science and Policy.
Dayton also displayed neat little device called a "Sound Exciter" that once coupled with a resonating surface such as a piece of cardboard, produces very rich audio, perfect for interactive billboards or other applications requiring sound it tight spaces.
For more information, visit Dayton Audio
Cables To Go
Cables To Go showcased a variety of their products most notably being their family of digital and analog RapidRun which have become an installers dream come true and a host of HDMI switchers. They were also the sole supplier of cables for all of the SOTU demo rooms.
The highlight of their participation was during our dinner event when one of their staff dressed up as the Cables To Go robot man. I know what I wanna be for Halloween next year!
Cables To Go donated a 4 x 2 HDMI Matrix switcher for our charitable auction event.
For more information, visit Cables To Go
Audio Precision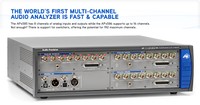 Audio Precision came for two purposes:

1. to give a lecture on multi channel amplifier measurements
2. to showcase their new 8CH Audio Analyzer and train me on the inner workings of it.
Their new APx586 8CH HDMI enabled Audio Analyzer which will soon become the reference test piece in my test lab, will revolutionize audio testing, particularly multi channel amplifier measurements.  Not only will we be able to measure all channels simultaneously to determine power supply inadequacies vs line voltage sag, but we will also be able to gauge HDMI audio performance to ensure that is not the weakest path in your A/V receiver or processor. 

Testing will be less cumbersome and I will finally be able to implement customized testing scripts to get results faster which will ultimately lead to more product reviews.

For more information, visit Audio Precision

Seymour A/V
Chris Seymour was a real hit at our event. Not only did he score us FREE Ben and Jerry's ice cream, but he had it served up by Co-Founder Jerry Greenfield himself. How cool is that?!?
While we weren't eating the ice cream, Seymour demonstrated their acoustically transparent screens in the Yamaha/EMP demo room and also had a miniaturized version on display in our hallways. Seymour cool running ICE amplifiers were also on display which were a big hit among the audiophile crowds whom have really warmed up to Class D amplification.
Check out our coverage of his new amplifiers and acoustical transparent screens.

For more information, visit Seymour A/V