Sonos - All Your Music In The Palm Of Your Hand
by
Elliot Borin
—
August 03, 2005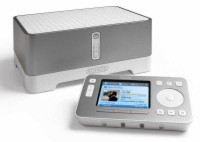 You thought about it for a long time, debated it until your left brain and your right brain were sick of arguing. Finally you've gone and done it. Filled up 277 gigabytes of your brand-new 300GB hard drive with digital music ripped from your CD and vinyl-record collection.
You've jammed that PC or Mac hard drive with thousands of files of different styles, genres, and moods. Thousands of files saved with very little - or perhaps zero - compression to retain their full fidelity, their ability to move you as only a favorite track perfectly reproduced can.
Now you'd like to hear those tracks. Not just sitting in your living or media room "sweet spot," you can do that by inserting a CD into your player. What you really want is access to your music in the living room, the bedroom, the den, the garage, the patio. You want access whenever and wherever you happen to be … total access, instant access, high-fidelity access to every title in your music library at whatever moment the muse in your mind whispers "let's listen to …"
What you want is music on demand. The question is: Can you get it without compromising audio quality? And - drum roll, please - the answer is … YES!
If you carefully perform what corporate lawyers call "due diligence" and make sure the digital music-distribution network you purchase today will continue to meet your needs for at least three or four years worth of tomorrows you can get total access to your tunes with greater flexibility and higher fidelity than you may have dreamed possible.
Why the necessity for due diligence? For one thing, there are a lot of remote "music players" on the market and most of them promise far more than they deliver. Many are very unstable about staying networked to a computer, and some have "jukebox" programs that choke on more than a few thousand files and make locating and playing a song as easy as finding a diamond in a dumpster. And a fair number are so-called set-top boxes that can be used to view pictures, send e-mail, and do various other things - all of them at the expense of decent audio performance.
One thing virtually all of them have in common is this: They are not true multi-location players. They will network your computer to your stereo or a set of powered speakers in one room, ONLY one room.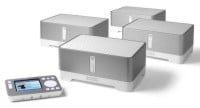 The Sonos Digital Music System, however, is a true audiophile's dream. A multi-room (or "zone" in Sonos-speak) music player. Connect one of the system's ZonePlayers to your Windows, Mac, or Linux PC or NAS file server, position additional wireless ZonePlayers here, there, and everywhere, plug each into a stereo or surround system or a pair of speakers and you're good to go.
Speaking of speakers, each ZonePlayer has an integrated amplifier rated at 50W minimum RMS at 8 ohms per channel. The amp boasts a 20-20kHz frequency response at < 0.02% > THD+N and makes the Sonos the only digital music system extant that frees users from the tyranny of powered speakers in rooms without a standalone sound system. An auto-detecting sub-woofer output with an 80Hz crossover is provided for those who prefer satellite-speaker systems.
Once you've installed your system, you can freewheel through your realm enjoying your favorite 40,000 - yes, 40,000 - songs in every nook and cranny containing a ZonePlayer.
Using the system's three-quarter pound, palm-sized Controller you can play different music streams in each room, view album art, adjust the tone and volume to match the acoustics of every location, select songs by artist, album, title or genre, enjoy Rhapsody or MP3 and WMA Internet radio streams, even create playlists on the fly.
Each ZonePlayer also has an analog input which can route music from your receiver, CD player, satellite radio or portable audio player to any other "zone" - even while you're playing music from your hard drive in the room where the analog input device is located.
By setting the Sonos to output analog streams in Microsoft PCM WAV format, they will be delivered throughout your home with the same sonic attributes as the original discs.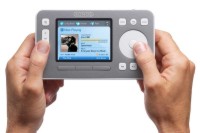 The Controller, incidentally, is a unique piece of technology -- uncommonly good technology. Highlighted by a 3.5-inch, backlit, color LCD that turns on instantly when you pick it up, it displays seven highly legible text lines along with album cover art.
A touch-sensitive scroll wheel and 12 buttons allow you to make program selections almost as fast you can twirl your finger and a Power-Scroll feature lets speed search titles, artists or albums by letter.
The Controller is also splash, crash and dirt resistant and will run for about 20 hours before requiring a two-hour recharge.
Unlike many other systems - particularly wireless speaker systems - the Sonos audio-reproduction quality is not dependent on your computer's digital-to-audio converter (DAC). Which is crucial if you like great "sound" as well as great "songs" and haven't upgraded your PC with a $150-700 soundcard.
Since all digital music must be converted back into analog form to be audible to our analog ears, the sophistication of the circuitry employed to perform the conversion is critical in determining whether the music reaches us in high-fidelity, low-fidelity, or garbage-fidelity.
Fact 1: Ninety-plus percent of the brand-name PCs manufactured in the past three or four years use DACs integrated into their system board (aka motherboard) rather than separate soundcards.

Fact 2: System board makers generally charge about $12 more for boards with audio circuits than they do for the same boards without them.

Fact 3: The average motherboard-powered sound system delivers a lot - recording, playback, bogus surround-sound effects, echo circuits, microphone and line inputs, digital inputs - for 12 bucks. One of the few things it doesn't deliver is quality digital-to-audio conversion.
If you want digital music played on your high-end audio system to sound exactly like the CD it was created from instead of an ancient stretched-and-twisted cassette tape you'll need to use something like a Sonos or stuff a high-quality, aftermarket soundcard in your computer.
The problem with the latter solution is that it will only work if your computer is in close physical proximity to your stereo and even than it is strictly a one-room workaround.
Each Sonos ZonePlayer, on the other hand, contains high-performance DAC components comparable to those used in highly evolved, top-dollar, standalone studio-quality converters.
All ZonePlayers also share another unique attribute, an integrated Sonosnet network hub that makes each player a separate wireless access point. The system's range is limited only by the distance between ZonePlayers -- not by the distance between each player and a computer or wireless router. The net result is music in places far beyond the reach of other systems.
In addition to performing "due diligence" on the hardware you're considering, you should also bear in mind the constantly evolving nature of digital audio technology.
As of this moment, despite Microsoft's claims for its WMC format and Apple's raves about its compressed MPEG4 standard, MP3 (but not MP3 Pro) - at rates of 256Kbps and above - is still considered by most experts to be the gold standard in music compression. Likewise, WAV files are still the de facto standard in uncompressed, uncompromised audio, though new lossless formats like FLAC are coming up fast.
By this time next year, however, all these formats may have been put out to pasture by new algorithms as yet undiscovered. By this time next year, you may want to re-rip all those thousands of CDs already on your hard drive into a new format that delivers better sound, takes up less storage space, or offers a superior file-tagging system.
But doing so will only make sense if your digital music-distribution system can play that new format.
Some music players can handle uncompressed files, some can't. Some can do it only via a Mickey Mouse software plugin, others do it seamlessly and internally. For ultimate fidelity, Sonos is currently compatible with uncompressed WAV and FLAC files, as well as the MP3, WMA , AAC, and OGG compressed formats.
Upgrades to enable new audio formats or features are so simple and automated they can be performed from the remote. A recent upgrade, for example, added support for numerous sound-level normalization protocols and files and internet streams recorded at any common sample rate from 8-48KHz.
The bottomline is this: Regardless of what you're listening to - a highly compressed MP3 talking-book file, an uncompressed WAV rap fest or a lossless FLAC symphony - the Sonos will deliver the sound to your high-end amplifier without any degradation of dynamic range, signal-to-noise ratio, or frequency response.
As with buying a car or choosing a transplant surgeon, there are many options when shopping for a system to beam music from the captain's pod to the rest of the Enterprise.
If you're looking for the optimum combination of awesome sound fidelity, multi-zone flexibility, user-friendliness and upgradeability, however, you'll be hard pressed to find anything remotely comparable to the Sonos.
- Elliot Borin
Sponsored by Sonos
Check Out the Sonos System for Yourself
About the Author. The former editor of Portable Computing magazine, Elliot Borin is a marketing consultant and the creator of numerous websites including www.miracleride.info , the official site of the Miracle Ride for Riley Hospital. He can be reached at ekb@runbox.com