Reviewing Home Theater Product Reviews
by
Anthony Federici
—
November 07, 2011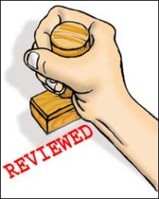 In light of our recent review of the Lexicon BD-30 and some of the subsequent A/V publications trying to ride the wave of controversy surrounding it by publishing their own so called "reviews", we are republishing this classic article originally authored by the late Anthony Federici (former President of Acurus/Aragon). The history of everything that transpired with the Lexicon review is nicely documented here.

When re-reading this article, its amazing how many online A/V magazines fit the mold laid out herein which gives one pause to wonder if these publications actually have product in hand when conducting their reviews. Did they do any objective measurements or analysis? Did they discuss the inner details of how the product functions? Did they furnish their own images of the product under review? As a reader this is something you must decide for yourself.

How Many Online and Print Publications are Taking Your Trust for Granted?
We live at a strange TV time when a comedy show reports the news and TV news is a joke. (Some may think I should say "in a strange TV time" but being Einsteinian I prefer "at" .) It was Comedy Central's Daily Show that first broke the news about government propaganda and corporate PR being aired as TV news. Then the NY Times put it on their front page, which caused TV news to finally report that they were airing propaganda and PR as actual news. Shortly after that, the NY Times got nailed for passing off a Columbia University press release as front page news.
The First Step is Admitting You Have a Problem
Now that Colin Powell's son (an apple that fell so far from the tree it thought it was in a banana republic) is gone, the FCC has awoken from the executive branch's and lobbyist's spell saying, "There's been a growing trend of broadcasters just putting on these so-called video news releases wholesale, and putting them on the air without letting the public know it may be from a government agency or it may be from a big corporation," said FCC Commissioner Jonathan Adelstein. "So the public thinks it looks like a news story, and they don't realize that in fact somebody that may have an agenda is trying to influence their thought."
How Does This Apply to Home Theater Reviews?
So what does this have to do with reviews? Everything. The ancient Athenians knew to look at the large to understand the small and look at the small to understand the large. Notice how the atom's model resembles the solar system? In the case of reviews versus world news, they both have succumbed to the same pathetic influence.
So let us now examine the rather atomistic world of audio/video reviews. Excluding Audioholics' reviews, which are not the norm, let's look at the typical review. First of all they are rather short… kind of like a press release. If you choose, you may later read a typical audio review and then Google search a press release on the product. Look for the similarities of topics covered and compare the depth of coverage. I think you will be unpleasantly surprised.
If you are the audio "press" why bother spending time and money on actually reviewing the component when you can massage a press release in no time, call it a review, and, as an additional incentive, make the manufacturer happy to give you advertising money for plugging their products. This is what happened to TV news. Why spend money on investigating, writing, filming, and paying a reporter when you can take government issued propaganda, or a major corporation's press release, and pass it off as your news?
As a contrast, look at the recent review by Audioholics regarding the Denon AVR-5805 home theater receiver. No print magazine has ever devoted that many pages to a review. This is understandable due to the cost of ink and paper. The Internet has freed the writer from the cost of print. Yet, other than for Audioholics, where are the e-zine reviews that cover a product in such detail? What the Internet should provide the citizen and consumer, via a free press, has been undermined by greed for money and control.
Welcome to Syndication and the " More You See It, the More You Believe It" Approach
On the Internet, fake news and reviews become even more insidious and inbred. Several online "magazines" get the press releases and write 500-1000 word cursory "reviews" which have positive similarities. This means when consumers do "product research" on the Internet they get similar product positives from several "sources" which, in reality, are a single source… the press release. Then the consumer thinks, "If these different reviewers agree, it must be the truth." This is compounded even further with shared reviews which puts the same copy from press-releases-turned-review on multiple websites.
These "reviews" yield absolutely no benefit to the consumer. In today's surround sound world this is easy to prove. The complexity of operation with a receiver or processor gives away the "review" scam. Where is the clear explanation of the positive and negatives of the unit's operation? Where are in-depth descriptions of the use of features such as crossover points, variable settings by input/format (and recall when a format is selected), or the remote's complexity of operation, etc? If they don't cover all the setup parameters, how could they have properly listened to the component to form any useful opinion? These so called magazines and e-zines aren't stupid, they just think you are. Follow their logic. Why bother to do a quick setup that ultimately yields a useless receiver review when it is even easier, and far less costly, to yield just as useless a review by simply massaging the press release? M any casual readers don't even notice.
Faking Out the Consumer
It is easy for them to attempt to sucker you into believing they actually reviewed a component when, for instance, it is a loudspeaker review. They take the press release, add a few comments regarding their opinion of the sound, actually talking more about the source material they allegedly used in the review rather than the product under review, and they have the "review". They can easily do this without even taking the speaker out of the box. After all, it is only their opinion of how the speaker sounds in their room, so how can you prove them wrong? You want further proof? Look at how many photos are actually press release photographs, versus photographs of the component taken in their room or lab.
Do yourself a favor. Don't fall for the hype, neither in so-called audio/video magazines nor in the free press covering world news. If you want to read a press release, please do so. Just don't read a reworked "magazine" press release and con yourself into believing you've read a review.
In the new America "freedom of the press" means freedom to pass government propaganda as news and freedom to pass corporate press releases as reviews. Welcome to the "free" world.
originally published by: Anthony Federici, Feb 2004

Nemo128 posts on February 18, 2010 15:41
lsiberian;687322
I think this is a pointless argument with a guy simply promoting his site. Why even bring it up? There are times to argue and times to leave people alone.
WHAT? You're WRONG!!!!
Wait... what kind of time is this, the former or the latter?
lsiberian posts on February 16, 2010 21:48
darinp2;686806
I wasn't sure if this should go in this thread or in a new thread, but since I'm new here and can't post a new thread that made the decision easy. Some people may have seen me going round-and-round with Jerry Del Colliano on the Lexicon BD-30 review on hometheaterreview.com, where Jerry seems to be avoiding my question about whether his reviewer actually had a Stewart ST100 screen in his possession for the ST100 review on the site, which seems to be pretty much the kind of thing this thread is about. Jerry brags about how he has so many reviews and I touched on a couple of reasons he may have more in a post I made last night that Jerry has since deleted. He banned me yesterday and I think one of the big reasons was to keep people from seeing certain things, like it seems he is intent on people not actually seeing the Google Analytics numbers for sites besides his even though he has said that Google Analytics is the industry standard. Anyway, that is probably enough background for now. Since Jerry deleted the 2 posts I made last night under darinp2_again after he claimed I was an idiot and banned me as darinp2 I figured I would post the contents of those here so people can see them.

One was in a Parasound product review there. In that one I posted:
Then in the Lexicon BD-30 review there I posted basically the following, with the changes being that I fixed a mistake where I referred to the Oppo players as BD- models instead of BDP- models, and also had to slightly modify the text below to not include any actual links since I don't have enough posts here for that:
I'm not sure if anybody else will ask him to back up his claim about being #2 by Google Analytics with numbers other than just the 313,000 he gave for his site, but if somebody does it wouldn't surprise me if he would delete that too. I think there is a good chance he will be staying up late tonight looking for posts to delete since I made my post about 1 am Pacific time and I think it took him a while to erase the content of them.

--Darin
I think this is a pointless argument with a guy simply promoting his site. Why even bring it up? There are times to argue and times to leave people alone.
gene posts on February 16, 2010 21:32
I feel auto review magazines are like this. I get all my issues of Automobile, Motor Trend, Car & Driver, and Road & Track only to feel like they're all saying the same thing and using the same picture sets.
Yea and they all come out with a review of the same cars at the same time.
Nemo128 posts on February 16, 2010 12:12
I feel auto review magazines are like this. I get all my issues of Automobile, Motor Trend, Car & Driver, and Road & Track only to feel like they're all saying the same thing and using the same picture sets.
Seth=L posts on February 15, 2010 20:15
gene;686811
Jerry's traffic claims aren't supported by his Alexa ranking or lack of discussions generated about his content other than his Lexicon review. I suspect Jerry took advantage of the traffic spike he got from AVS and us when we posted our review of the same product and he extrapolated a few days of traffic into a monthly average. I can't find a screenshot of his Analytics traffic anywhere on his site so it is a bit perplexing.

Incidentally, we show all of our measured traffic and ranking metrics on our advertisers page including how we rank against the competition which I don't view his site to be since its ranked so high in Alexa (the lower the # the better) and generates no discussions on any of the major forums.

http://www.audioholics.com/groups/admin/advertise [audioholics.com]

That being said it really doesn't matter about traffic b/c Jerry IMO is the ultimate salesman. I don't know anyone more successful at selling ad space to high end manufacturers than him. I only wish I were as good a salesman so I could hire more writing staff to really boost our content. Then maybe I'd be driving exotic cars and flying in privately owned jets too
The study also seems to show that if you happen to use MSN search, you might be a moron (or maybe you are just old and don't any better).