It's Official: All Pop Music is Loud and Sounds the Same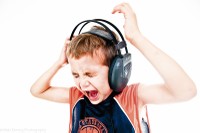 Make it stop! Please make it stop!
According to a report on Reuters, our original take on the shrinking Dynamic Range in Modern Recordings was spot on. Scientists in Spain were able to more or less use a database of the past 50 years of music to "prove" that modern pop music really is louder and, yes, it does in fact all sound the same. The researchers used a huge music archive called the Million Song Dataset to compare the last 50 years of music. It's a database that actually catalogues and analyzes audio and lyrics into numbers that can be crunched. The database is filled with pop songs dating all the way back to 1955 and is current up to 2010, which is apparently when all of the scientists committed ritual suicide after listening to one too many Lady Gaga remixes...
"Artificial intelligence specialist" Joan Serra led the team from the Spanish National Research Council, running their algorithms and discovering that, yes indeed, pop songs have become both louder and more homogenized when it comes to chords, melodies and the types of sound used. As a good friend of mine (and composer) used to say, "Hey, there's only 11 notes!"
"We found evidence of a progressive homogenization of the musical discourse. In particular, we obtained numerical indicators that the diversity of transitions between note combinations - roughly speaking chords plus melodies - has consistently diminished in the last 50 years."
- Joan Serra, Spanish National Research Council
Other interesting observations from the article:
The "timbre palette" has become poorer
Intrinsic loudness has increased over the years, making songs sound louder than others at the same volume setting
While we've known fora long time that the music industry was engaged in a senseless "loudness" war, this is the first time that has actually been proven conclusively using data. You can see it in the waveforms of any modern music tracks, of course, but the progression over time is what's fascinating to us. Of course, the article's conclusion absolutely floored us - it turns out that if you take the same recording of 50 years ago and simply "dumb it down" and re-record it with simpler instrumentation and decrease the dynamic range, you can "modernize" it and make it "fresh" again. We'll keep our old music, thanks.
The study appears in the journal Scientific Reports.
gmichael posts on August 01, 2012 11:16
We need a Sarcasm detector.
maverick11359 posts on July 31, 2012 23:29
Irvrobinson;897429
This had to be studied? What's next, are TV commercials really as loud as they seem?
Yes for exactly the same reason ! Today's Music and TV commercials are being engineered the same way. Maximum recording volume across the frequency band .This means required db levels are met but trying to distinguish between the different instruments or noises are harder and more annoying.
maverick11359 posts on July 31, 2012 23:20
you guys are missing the point ! I totally agree with the report findings .One of my examples is just recently I purchased a new Cd . A new release 2012 "Tuskegee"CD by Lionel Ritchie and compared it to the Commodores Greatest Hits CD form 1979 with some of Lionel's same songs . The quality of the originals are so superior to listen too it makes the new Tuskegee CD sound dreadful .My wife asked me to turn Tuskegee off because it hurt her ears....Today's music could sound great only if the new generation of music engineers learnt from their predecessors .Not every instrument and voice on a CD is to be played back at the same level
Midwesthonky posts on July 31, 2012 13:28
lsiberian;897811
There were plenty of bad songs recorded in the 60s and 70s too. We just forgot them and remember the amazing ones.
Wife and I were driving home from church a couple of weeks ago and stumbled upon Kasey Kasum (sp?) doing the top 40 Disco hits. Yep, there was plenty of crap even back then.
With all the multi-media out there, it's about a look and "splash" to sell records and less about the music. Heck, remember the Buggles and their song "TV Killed the Radio Star"?
Looks good, but can't sing for...
lsiberian posts on July 30, 2012 15:48
Music changes all the time. In 10 years they will be listening to something different that I think is devil music.

There are plenty of good musicians and songs being recorded. Everyone likes different flavors, but with modern technology anyone can record anyone anywhere.

There were plenty of bad songs recorded in the 60s and 70s too. We just forgot them and remember the amazing ones.