Why going to the Movies is Still Better Than Home Theater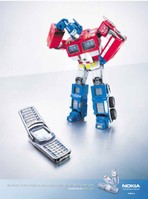 Puzzled Optimus
There is no doubt in my mind that just about any decent home theater system I assemble, using some of the better equipment on the market today, rivals most of the local Cineplex's (IMAX and Disney theaters not included). Virtually anytime I go to one of my local movie theaters, I almost always find faults in the audio or video quality. 

Common Issues with Most Movie Theaters
Too much bass (usually boomy)
Too little bass or subwoofer bottoming (not enough subwoofer for the venue)
The center channel is either distorted or set too low
The audio dialog is out of sync with the video
The movie is played too loud making it almost unbearable during dynamic passages
The video is out of focus
The video image isn't properly scaled on the screen
You can see through the screen
But despite the limitations of most local theaters, it is often still my choice venue when viewing full length featured movies. To better understand my pro argument for Movie Theaters, I have developed a point system and broken into the following categories: Sound & Video Quality, Convenience & Comfort. My point system is a bit biased towards being a married man, but I never claimed this article was objective or scientific in any fashion.
Sound & Video Quality
I've set up modest home theaters using equipment from our Recommended Buying Guides including satellite speakers, dual subwoofers, mid priced receivers and a sub $2k front projector that literally ran circles around my local AMC and Muvico Megaplex theaters. The experience was much more immersive, the dialog clearer, the bass tighter and the visual was so much cleaner.
Home Theater: 2 points for better audio and 2 points for better video
Convenience & Comfort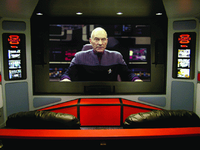 Besides clearly better audio and video from a home theater, you also have one key feature no movie theater can ever have….. a PAUSE button. This is your passport to the bathroom without missing Jet Li open up a can of whoop ass on his foe. I was blessed at birth with small bladder syndrome and almost never make it through an entire movie without having to get up once to drain the lizard. At home, don't be afraid to drink that 64 Oz Super Gulp, pause at will or hit stop to watch the rest of the movie another day should you be feeling tired or out of time.
Home Theater: 3 points for Pause feature
Ok, so far Home Theater has seven points and the Cineplex has a big fat zero. Let's also not forget creature comforts. This is where home theater wins with flying colors. Choosing between sticky uncomfortable, dirty theater chairs and sharing arm rests with your oversized neighbor versus chilling on your couch or customized reclining theater chairs with nice clean wood or carpeted floors, I choose the later. No contest. Home Theater wins again.
Home Theater: 2 points for better creature comforts
Thing aren't looking too good for the local Cineplex. By now you must be wondering my choice of title for this article. How on earth could going to the movies be better than your home theater?
The answer is: FREEDOM!

If you've got kids, it's difficult to find the time or isolation to sit down and watch a movie in your home, especially at THX reference levels. Thus going to the local theater forces you to hire a baby sitter. Despite the local theater is inferior in so many ways, and is usually plagued with too many obnoxious horny teenagers, it's still your passport to uninterrupted entertainment making the wife happy since you now have a night out on the town for just the two of you.
Local Theater: 10 points for Kid free zone feature
Tabulated Scorecard Breakdown
| | | |
| --- | --- | --- |
| Metric | Home Theater | Movie Theater |
| Audio Quality | 2 | 0 |
| Video Quality | 2 | 0 |
| Pause Feature | 3 | 0 |
| Creature Comforts | 2 | 0 |
| Kid Free Zone | 0 | 10 |
| Total Points | 9 | 10 |
Until they invent a PAUSE button for your kids or figure out a way to instantly transform them into adults, the local Theater will always be superior to the Home Theater. Of course if you are single and have no kids than I see no reason to going to the local theater unless you urgently need to see the next Jackie Chan box office flop three months before it comes out on DVD.
Fred333 posts on September 25, 2007 15:34
I would say nothing beats a day at the movies when the weather is bad outside. But I like going to the movies that have been out for awhile so the crowds are not as bad.
crashkelly posts on September 24, 2007 16:34
I agree that going to the theaters nowadays is a real pain. I might go 2 or 3 times a year and only to see big action flicks, but even at that I will wait a couple of weeks after release to go.

I saw Transformers, 5 weeks after it opened, in my semi-local THX certifies theatre and there was 8 other people in the cinema besides myself. It was awesome.

I have 2 kids, 6 and 8, whose movie tastes still are around the level of SpaceJam and are not allowed to watch most of the movies I own (action, sci-fi) so my viewing times are pretty limited.

Have tried complaining at a theatre on occassion but to no avail. As I said, real pain.

Cheers
Joe Schmoe posts on September 24, 2007 14:06
Screaming kids are the second biggest annoyance in theaters (right after cell phones.)
annunaki posts on September 24, 2007 12:50
My wife has asked me numerous times why movies don't come out on DVD the same time as they are released. She would much rather watch movies at home where we can pause (if needed) and sit comfortably. I have to say I agree with her.

The only thing I like at the Theater is the screen size. Hopefully in the next 12-18 months that will be changing at our house. I plan to finish part of our basement into a family room/theater. 110" screen ought to do it at a 12-14 feet viewing distance.
j_garcia posts on September 24, 2007 11:57
Guiria;311728
I think I'm spoiled in the Boise, Idaho area. Everyone goes to the 21 screen megaplexes and leaves the little jewels like the Reel Theatres (locally owned) less crowded. The theatre I normally go to has 6 screens and all 6 are dolby digital sound. 2 of them even meet THX requirements, although the owner chose not to renew the certification because it really had no ROI. The big hyped up movies will sell out at the megaplexes but rarely do they sell out at the Reel theatres (not good for them but fine for me). Even the discount $2.50 ticket Reel Theatre has digital sound in all screens, and reclining chairs.
At my near by 20-plexe here, all 20 are THX Cert. and sound surprisingly good.
In any major metropolitan area, you won't find too many screens that don't have digital sound these days... A number of the "Art House" theaters in the area are the only ones that lack great sound, but they make up for it with less people also.