MagnaLev ML5 AV Rack Use and Conclusion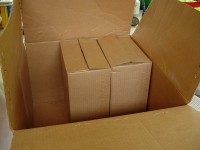 It's never any fun putting together furniture, but the MagnaLev system at least comes well packaged and with clear, easy instructions. Aside from the existence of an external power supply, the ML5 Isolator is basically 4 structural supports and 5 shelves. The shelving takes a bit more time to install than most as each shelf weighs approximately 26 pounds. The system came in an unremarkable box containing 5 additional unmarked boxes and a spacer. Everything seemed to be packed well and nothing was damaged during shipping.
The system assembles with just a Philips head screwdriver and it took me only 25 minutes to get everything ready for power up - including putting my gear back onto the shelves (but not making the connections of course). Each shelf has a small jumper that connects it to the left rear support which houses all of the main cabling. The ML5-Pads require that a small plastic wire called a Safe-T system be applied which keeps your gear from ever flying off the rack (more to follow).
Using the System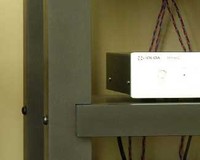 Using the system is as easy as plugging it in and turning it on via a rocker switch on the right side near the top. At once I heard a low hum that gradually dropped in frequency and went away completely after 15 seconds (whew!) At first nothing happened - and then I remembered that the capacitor had to charge. After 60 seconds my equipment slowly lifted into the air!!! It was amazing to actually look under each of my components and see that NOTHING was touching the shelf below. All of my equipment had a 1/4-inch space underneath, including a rather hefty stereo amplifier I am testing at the moment and a loaded Sony SCD-CE775 5-disc SACD changer.
I tested the mobility of the equipment and found, as indicated by the literature, that the individual components can be moved forward or backwards up to 5 inches until the Safe-T lock system kept it from going any further. This makes hooking up your gear infinitely easier as you can pull out, for example, a DVD player and make rear connections - then slide it back in. There is no friction but the gear still feels as if it has a modicum of resistance, so it's not as if you will graze a product and it will fly out on you. I was amazed at how easily everything just held its place until I wanted it to move.
Suggestions and Recommendations
It would be pompous of me to make too many recommendations - that would be like critiquing the Model-T or the Wright Bros first plane. Still, my few comments would include a way to provide more color options -either through paint or anodizing. Secondly, I can't wait until the price drops - everyone with money to blow needs to pick this up so others can benefit as soon as possible! Thirdly, the exposed screws on the sides of the unit take away from the elegant look and clean lines. All of these things don't even make a DENT in the overall impressiveness of this product, however.
Conclusions
This is NEW. And when I say new I am talking about mind-bendingly amazingly new. If you can't afford this product, you owe it to yourself to at least go see it as soon as one comes to a dealer near you (they are gearing up currently and should be soliciting a multitude of dealers at CEDIA in September. If you have $2900 to spend on an AV rack - just get this thing - it is the most amazing thing you will ever buy.
About MagnaLev
MagnaLev was formed in 2003 as a technology investment firm to explore areas of electrical-mechanical engineering principles and electromagnetics in the industrial and manufacturing sectors. As a result of numerous patents and personal passion, MagnaLev has adapted its technology to the home theater market in an effort to provide innovative and helpful products to consumers looking for high-end solutions and trend-setting products.
Oh , PS: April Fools. :-)

The Score Card
The scoring below is based on each piece of equipment doing the duty it is designed for. The numbers are weighed heavily with respect to the individual cost of each unit, thus giving a rating roughly equal to:
Performance × Price Factor/Value = Rating
Audioholics.com note: The ratings indicated below are based on subjective listening and objective testing of the product in question. The rating scale is based on performance/value ratio. If you notice better performing products in future reviews that have lower numbers in certain areas, be aware that the value factor is most likely the culprit. Other Audioholics reviewers may rate products solely based on performance, and each reviewer has his/her own system for ratings.
Audioholics Rating Scale
— Excellent
— Very Good
— Good
— Fair
— Poor
| Metric | Rating |
| --- | --- |
| Performance | |
| Function | |
| Versatility | |
| Stability | |
| Build Quality | |
| Ergonomics & Usability | |
| Ease of Setup/Programming/Integration | |
| Features | |
| Fit and Finish | |
| Performance | |
| Value | |
Seth=L posts on July 17, 2010 12:48
I really like this but have one problem - Strong magnetic fields near to sensitive Hi Fi? Couldn't they have done something with a permanent magnet?
The HIFI site
[thehifisite.com]
*flies over your head*
Dave P posts on July 17, 2010 10:43
I really like this but have one problem - Strong magnetic fields near to sensitive Hi Fi? Couldn't they have done something with a permanent magnet?
The HIFI site
[thehifisite.com]
JonBaker99 posts on April 04, 2007 10:47
Well now with the $2899 I had allocated for my MagnaLev rack, I'll be able to go out and buy something realy cool. Bose Lifestyle system with it's theater-like room filling sound here I come.
birdonthebeach posts on April 04, 2007 06:33
I took delivery yesterday of my MagnaLev ML5 yesterday! (I still can't believe I paid $479 for overnight shipping) After reading the article and seeing the photos, I couldn't wait!

It is so cool. I tried to spray paint it candy apple red, but could never get the can near the stand - that magnetic field is STRONG!!! (Maybe I should have turned it off?) I positioned it near my Zenith CRT television set, and now the picture is all wavy and the colors are weird. Also, one other problem. The BOSE cubes that I had nearby started levitating (who knew there was anything metal in those guys???), and my neighbor is complaining about his pacemaker acting up...
sleeper posts on April 03, 2007 02:09
Very nice. I thought those MagnaPlates looked an awful lot like an electric guitar's single coil pickup case.

Very nice, indeed!

sleeper