MagnaLev ML5 AV Rack Overview and Operation
When I say that it is RARE that we review anything that truly takes us by surprise, I mean it. We've seen just about everything and the trade shows ensure that we aren't typically taken by surprise on new product announcements. This new product by MagnaLev, however, came out of nowhere and was first demonstrated at IIC-China earlier this month. We had a colleague who was in town for the show (in addition to some other manufacturing work) and caught site of this new product. A couple weeks later, we had a MagnaLev rack in for review. This may be the most prolific invention for consumer electronics since Gene Roddenberry's Star Trek invented the flip phone. It's just freakin cool.
Overview & Build Quality
The MagnaLev ML5 "Isolator" looks like a simple AV rack - and it is - until you turn it on. Turn it on? Yes, this AV rack plugs into the wall - any standard 120V unit will do (European versions will handle 220V as well with a flip of the switch and different removable cable). When you put your equipment on to this rack (up to 150 pounds per shelf) a powerful distributed electromagnetic system will lift your gear and float it about 3/16" to 1/4" off the shelf - depending upon the weight of the component. In the event of a power failure the system uses a Smart-capacitance system that not only allows 120V operation, but also provides a natural magnetic field decay in the event that power is lost (i.e. your gear won't come crashing down).
The rack system itself currently only comes in black, but the system is robust - weighing in at 161 pounds (including the power supply and MagnaLev plates). The appearance is of anodized aluminum with each shelf taking up roughly 2 inches in height. The reason, of course is because each shelf houses a certain amount of electronic components to make everything work. The overall height is 46-inches, which is a good size for people who aren't planning on having tons of source components. If you have an amplifier, DVD player, processor and tuner you'll still have room for one more component (like a cable box, for example). With that said, the unit is a bit unrefined in the looks department, but its functionality is what will make people hang out nearby with their mouths hanging agape.
How It Works
This is a lot to comprehend - as is usually the case with new technologies. First off, there is a lot involved in providing equipment isolation through electromagnetic, but the principle is very simple. Like a magnetic train, you simply create a strong enough electromagnetic field and provide a proper opposite polarity on the equipment chassis (or in this case underbelly) to allow the equipment to "float" above the shelf. Geoff Tripp, the Product Manager for MagnaLev, told us that they tried initially to get a system to work with the aluminum chassis of most equipment, however it became quickly apparent that a thin metal shelf inverter had to be included with the system in order to get an even lift that would disperse the electromagnetic force across the entire surface of any equipment. The current system utilizes this method. Here are the components required to get the system to work properly: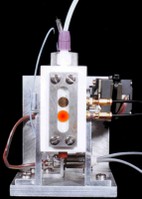 Power supply and field generator:
This device (contained in a black box and stored beside the rack) supplies the DC voltage required to make the electronics in each individual rack work properly. It also houses a large capacitor (opposite side) that ensures the unit has a slow decay should power ever be suddenly cut off. This allows the equipment on each rack to "settle down" gradually rather than crashing down to the shelf. I pulled the plug on the review unit and it worked as advertised - even with about 300 pounds of net weight - though the decay time is only about 1 second at that weight.
Manufacturer's Note:
The decay time decreases with additional weight, however even with the aggregate maxed out limit of 450 pounds, the decay time is still around 1 second - plenty of time to allow equipment to settle without causing any damage to components. In addition, the system will wait until sufficient power and charge is restored before re-engaging the MagnaLev system and isolating the equipment.
MagnaPlates: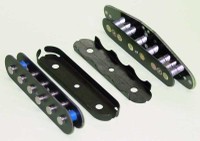 These ingenious devices are what distribute the electromagnetic field throughout the shelf system. Shown here are the standard MagnaPlates (left) and the Advanced MagnaPlates (right) which are dedicated for the single amplifier stand model (rated to 200 pounds as opposed to 150 pounds.) There are 10 of these per shelf (12 on the amplifier stand model) and they are contained completely within the rack shelves (we got MagnaLev to send us a photo of the devices separately since we couldn't remove ours.
ML5-Pads: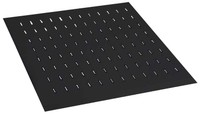 These pads are basically 1/8-inch thick plates which are polarized by the system and placed underneath your individual components. Each AV rack comes with five ML5-Pads. Without these Pads, the polarization would be uneven and different gear would be affected differently (some wouldn't physically isolate at all.) The ML5 pads can be secured via screws to the bottom of your equipment, but they do not need to be, you can merely place your components on top and let gravity do the rest. We merely set our gear on top of the plates and found that they did indeed provide an even magnetic field so that equipment isolated evenly and without any tipping. Additionally, the ML5-Pads include a plastic Safe-T loc system that ensures they cannot extend more than 5 inches past the front or rear of the unit.
Seth=L posts on July 17, 2010 12:48
I really like this but have one problem - Strong magnetic fields near to sensitive Hi Fi? Couldn't they have done something with a permanent magnet?
The HIFI site
[thehifisite.com]
*flies over your head*
Dave P posts on July 17, 2010 10:43
I really like this but have one problem - Strong magnetic fields near to sensitive Hi Fi? Couldn't they have done something with a permanent magnet?
The HIFI site
[thehifisite.com]
JonBaker99 posts on April 04, 2007 10:47
Well now with the $2899 I had allocated for my MagnaLev rack, I'll be able to go out and buy something realy cool. Bose Lifestyle system with it's theater-like room filling sound here I come.
birdonthebeach posts on April 04, 2007 06:33
I took delivery yesterday of my MagnaLev ML5 yesterday! (I still can't believe I paid $479 for overnight shipping) After reading the article and seeing the photos, I couldn't wait!

It is so cool. I tried to spray paint it candy apple red, but could never get the can near the stand - that magnetic field is STRONG!!! (Maybe I should have turned it off?) I positioned it near my Zenith CRT television set, and now the picture is all wavy and the colors are weird. Also, one other problem. The BOSE cubes that I had nearby started levitating (who knew there was anything metal in those guys???), and my neighbor is complaining about his pacemaker acting up...
sleeper posts on April 03, 2007 02:09
Very nice. I thought those MagnaPlates looked an awful lot like an electric guitar's single coil pickup case.

Very nice, indeed!

sleeper