DVD Industry Insider Report - DVD - Faster, Bigger, Cheaper
All of that leads to DVD.
Do you go to many horse races? That just about tells you the state of the DVD manufacturer and technology field.
First the +RW Alliance shot ahead with 8x DVD+R. Then out of the dust came Pioneer and the DVD Forum with 8x DVD-R. Then the Alliance announced Double Layer (DL) DVD+R. Again from the middle of the pack Pioneer and the Forum introduced two layer DVD-R.
All of the real burner manufacturers (in order of leadership) - Hitachi LG, LiteOn, Samsung, BenQ, NEC, Teac, Pioneer, Ricoh and "Taiwan's/China's others" are shipping dual burners. These units write at 8x speed (complete disc in about 10 minutes) single layer (4.7GB) DVD-R/+R performance and slower DVD+/-RW and CD-R/-RW. The price premium - think almost zero!
The media - yes the pivotal part of the equation - is just coming into stores in reasonable volumes and the price per disc is almost the same as 4x +/-R.
We're already looking at 16x writing speeds being available in October/November. Media will be available "shortly after." Wolfgang Schlichting of IDC summarized the issue best when he said even with 16x we are already in a commodity price race and there are no slowdowns in sight for more price reductions even with speed improvements. Quality, price and manufacturer reputation will be the only price differentiates.
Why isn't the delivery of burners and media in sync? Good question. It is pretty easy for the burner manufacturer to crank up the speed. But the media manufacturers have to have detailed manufacturing specs so the discs you write can be read across the majority of players. That means a constant round of spec writing, new formula development, sample run production, testing, spec tweaking, reformulation, new test runs…
It isn't rocket science but it is chemistry magic.
16x appears to be the top-end speed but then every time we say that's the best that can be done some dye and chemistry magician proves us wrong. So we'll say that's the top speed…maybe.
Doubling Capacity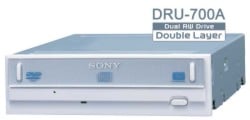 DL and two-layer was a little more difficult for the burner engineers and a lot more difficult for the media people. Very simply, the laser writes your data on the upper or lower layer of the disc. Today's players read the disc accordingly (just as they do with many of your enhanced Hollywood DVDs). The good news is that most of the players shipped over the past 2-3 years are capable of playing those double layer discs. Even more good news is that the burner manufacturers will probably be able to make the new burners backward compatible in writing your 4.7GB discs.
Bad news is you'll have to buy a new burner (we'll bet they will probably do both +/-) and they will cost a little more. Media? It will probably be about twice the cost of your standard single layer disc and prices probably won't drop for four-six months. More importantly it will probably be in short supply for 4-6 months as media producers improve and speed their manufacturing processes and procedures.
The Next Round
We wish we could say the next generation technology was proceeding smoothly but it isn't. We shouldn't worry about it other than know it is on the horizon. Think two to four years…honest!
The big deal is that there are two camps (again) Blu-Ray is in one corner of the ring and AOD or HD DVD in the other. The trainers and backers of Blu-Ray are 10 leading CE manufacturers. In HD DVD's corner there are NEC, Toshiba and nominally the DVD Forum.
Blu-Ray seems to be ahead in the judges eyes right now with a capacity improvement of 23-27GB (enough for 133 min of HDTV), expensive products that are shipping in Japan already and a roadmap for double layer capacities of 46-54GB.
But HD DVD gives you a capacity improvement of 20GB rewritable and 15GB for ROM. It retains the same media thickness and basic technology approach so they argue it will be easy for media manufacturers to move up to HD DVD disc production. Oh yes Hollywood prefers this or did we forget to mention this little "fact!"
SO???
The big questions are do consumers really care about the added capacity if it will be at a substantial premium and will require a new generation of players for playback?
Doubtful given that you can get superior video quality with today's DVD technology. In addition, the market for today's lower and lower priced DVD burners/media is far from saturated. Incremental capacity and quality improvements are still being made without having to replace everything in your home.
The new format battle is again all about who is going to get the biggest piece of the intellectual property pie (royalty dollars) when the next generation technology becomes a mass-market solution. While the sides play one ups-manship and struggle to be king of the hill most of us consumers will do exactly what we did when the DVD "differences" first began…"we'll wait and see."
We'll be delighted to buy one of the new DVD burners for around $100 - $200 (single or double layer). We'll have plenty of them to choose from also because it is estimated more than 50 million burners will be produced this year (most dual format). We'll buy inexpensive CD media to write 30 minute videos that will play anywhere, 2 hour videos on DVDR (+/-) that will be economic and perhaps be one of the early adopters of double layer burners/discs just to be ahead of your neighbors/friends.
There's too much fog around the blue-ray technology issue. Beside, you have to put in your home network and your entertainment center solution. That will keep you busy and happy until "they" decide where storage goes next.