CES 2008 Show Report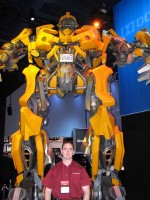 Xformer Bumblebee
Well we just wrapped up another glorious show covering of CES at Sin City (Las Vegas). This was our 5th time attending the show and it never ceases to amaze me on what a mad house CES always is. This year was no different with perhaps even more people crammed into the show floor, plenty of lousy over priced food, and pandemonium of people scurrying to the next exhibitor or press conference and LESS booth babes.
I spent very little time this year at the main convention show floor as I was drowned in meetings to work out the details of the next Audioholics State of the CE Union Event (coming to the Disney Dolphin resort the week of October 22, so mark your calendars) as well as promoting the official launching of the new Audioholics ecommerce store (http://store.audioholics.com).
I did however enjoy some highlights of the show and found a few things which caught my attention. For one the life size display of Autobot Bumblebee at the Dolby booth was quite stunning. One of the Dolby booth attendants tried to convince me that they can actually transform this 10,000 lb metal beast into its vehicular form but I know we was either pulling a fast one on me, was smoking the crack pipe or a little bit of both. Regardless it was super cool and certainly got the attention of the hordes of people walking by. Panasonic unveiled the largest ever plasma display (150 inches) which I am sure weighs about as much as a compact hybrid car and affordable only to the likes of Bill Gates. CES got greener with a myriad of environmentally friendly products such as corn based laptops, solar powered mp3 players and hand crank radios.
Blu-ray Stomps HD DVD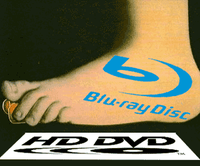 HD DVD booth was so dead that is had vultures circling whereas Blu-ray was hopping with a surge of new life after Warner (the last undecided studio) decided to back the Blu-ray format. Basically 70% of all high def movies going forward are going to be Blu-ray. Once more Samsung announced new $299 Blu-ray player. Finally an affordable Blu-ray player will be available to consumers which was one of the major advantages HD DVD had over Blu-ray.
High End Audio at CES
I went over to the Venetian hotel to take a look at the "high end" audio on display. This is usually held at Alexis Park but was unfortunately moved last year to the Venetian. There were a few exhibitors on the main floor of the Venetian but most were in hotel rooms on the upper floors. Instead of being in a wide open space like they were at Alexis Park, they chose to cram everyone into a few hotel floors so you can be shoulder to shoulder with people walking in the hallways between demo rooms and have to wait nearly 20 minutes to catch an elevator downstairs since there is NO access to any of the bathrooms in any of the demo rooms or on the demo floors. While I found that annoying, I could only imagine how the exhibitors felt about it. Regardless, the high end show was on so I was determined to get my fix before the next bathroom break.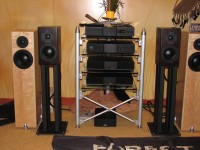 On the first floor I checked out demos from Totem Acoustics and Usher Audio as a start. Totem was debuting their new Limited Edition One bookshelf speaker system. At $3,595/pair they are far from cheap but hey this is high end. Overall the speakers sounded very good but I felt they would have shined even more if they were placed further apart. Usher was showing off their Be-718s we recently reviewed. Though they sounded fine as expected, the choice of demo material was rather perplexing to me. In fact that seemed to be the theme of this show, obscure demo music that would either bore you to death or make you quiver in agony. Usher chose to demo some weird Chinese karaoke music. In fact, I grabbed what I thought was a press kit to help me with my coverage only to later find it was a sample disc of what they were demoing. I still however managed to hand type out some of the details of this product from the spec sheet as I felt they were worthy of CES coverage from us.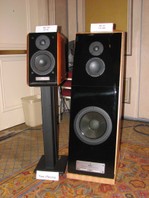 Usher wasn't alone in obscure demo land. I caught the last minute of a very impressive demo TAD was giving on a new high performance bookshelf speaker. Unfortunately when I actually got a chance to sit down in a seat for some critical listening, the demo was over. The TAD representatives then proceeded to talk about the wondrous technologies in their products as well as give a history of the company and how they've always been at the forefront of recording technology proudly displaying an old analog Reel to Reel recording system with some nifty wooden knobbed preamp. I sat around for a good 15 minutes through their marketing spiel so they could demo their tower flagship speaker system in the much larger demo room. They touted the marvel in the recording process of the artist they were about to feature. I was all excited until they told me that artist was Boz Scaggs. Don't get me wrong as I am a huge fan of "Dirty Low Down" but has he really done anything significant in the last 20 years? I gave it a listen for a minute or two and made a quick exit as I was holding back my yawns.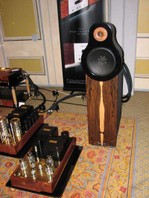 Perhaps the most "entertaining" demo I heard was from an unknown company called Navison Audio. It seems these obscure companies come and go about as often as the tides change but you have to give them credit for trying. This demo was most interesting, not because of all the esoteric tube amps on the floors, but because of the fact they were actually demoing cable elevators on what had to be the thickest speaker cables I've ever seen. The speakers had that 1970's station wagon side paneling finish, sported a 12" paper woofer that looked like it was from an old PA system, with a tweeter that was recessed inches behind a wooden baffle. They were of course spinning vinyl and as I closed my eyes, I was convinced I was listening to good quality AM Stereo. Not bad for a system that retailed well over $100k. (NOT!).   What took the cake was they talked up the cables and the elevators as making or breaking the system. There is a sucker born every minute and I am sure there had to be at least one or two people sitting next to me that actually enjoyed this demo and contemplated buying the system.
Most of the action was on the 29th and 30th floors and the hallways were quite packed in with people moving from one room to the next. Ironically with many of the demo rooms I was greeted with a sign on a closed door saying "by appointment only". As a member of the press and the head honcho of the largest home theater publication in the industry, that is not how I roll. I wouldn't mind making appointments but when you do they make you wait, talk your ear off, and you end up wasting half the day. I just don't have the time to waste when there are so many products to cover.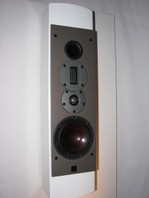 Dali Loudspeakers debuted a new high performance on-wall speaker system that carries the great sonic signature of their Mentor line but in a more compact form as easy to mount on a wall like a picture frame. They played the system for me which sounded quite excellent and better than most of the stuff I heard at the show. They also had a compact system on display but unfortunately their press kit as well as their website is incomplete making it difficult to extract good info for coverage. I will follow up later in the year to setup formal reviews with our staff.
I spent some time checking out speakers from other high end companies such as Hansen Audio. Last year they demoed one of their top floorstanding speaker systems - The Emperor, which at the time I though sounded fabulous. This year they were back with a much smaller speaker and spinning vinyl. The records they were playing had too many pops and clicks for my taste and the speakers lacked any real presence or soundstage. Had I not heard a good demo from this company the prior year, I would have written them off as having a mediocre speaker line. I guess everyone is entitled to a bad demo. This just happened to be Hansen Loudspeakers turn I suppose.
Meridian caught me off guard this time around. In the past, I've heard demos of their high end speakers on the main show floor and have never been impressed. Realizing that noisy showfloors are no place for evaluating speakers, I decided to pop in their demo rooms to check out their latest stuff. The Meridian representative showed me their new $3k (that's no typo) F80 stereo clock radio which actually sounded quite fabulous. I'd put this radio up against 90% of the demos I heard at the Venetian and declare it hands down as the winner.
They also showed me some rather slender tower speakers. I was looking for the subwoofer but it turned out there was none. I don't know what the model # was as it wasn't in their printed press kit nor was it to be found on their website so for now I will refer to them as the Meridian Flat speaker system. I had a good time checking out Meridian land and looking forward to scheduling some reviews this year.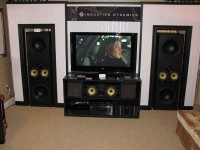 Induction Dynamics put on quite an impressive demo with their new monstrous flagship ID1.18 system. I was a bit disappointed it was only a 5.1 demo and they used towers for the rears which were highly localized but the dynamics and bass extension coming from the main speakers was most impressive.
Wrap Up
So what did I walk away with from CES 2008 this year? A 1 Gig USB drive from Paradigm for one, a sense of closure to the continuing high def format war, a realization that display companies will continue to make bigger displays that I can never afford nor find space to put in my home, and a constant reassurance that most of high end audio is a joke. It seems many of the companies displaying at CES don't hire the right people to represent their products as most of them just stand there with a blank look on their face knowing less about the products than an enthusiast walking in. It was obvious to me that many of the high end companies at the Venetian simply didn't want press coverage. They weren't prepared for it, nor did they go out of their way to give product details to report on.
At the end of the day, I saw a handful of very cool innovative products, had some great meals and laughs with my staff and enjoyed sleep deprivation for 3 days in order to help bring our coverage to realization prior to us leaving the show in the unparalleled tradition we established back in 2004 when we started attending these shows.
A few things to remember when visiting Vegas for CES include:
When ordering a pizza late at night, question its size before giving them your credit card else you will wind up with a 30" Hawaiian special.
Always stock up on bottled water.
Book a quality hotel even if it's not within monorail access of the convention center.
Don't eat at the Mirage. No matter how appealing the restaurants look there, they all pretty much suck.
Be prepared to have at least one of the Blue Man group step on your head while attending their show at the Venetian.
And last but not least, don't make eye contact with the guys on the street slapping their prostitute cards.
AVRat posts on January 20, 2008 13:20
I guess announcements on upgraded pre/pros was skimpy/non-existent since nothing was reported, eh?
The Chukker posts on January 15, 2008 23:28
Scratch that - when I wrote that article, I was converting from Yen to $ and came to $1800. Turns out it will cost more like $2500 according to Sony. Yikes. It would be interesting if someone used the average price points for LCD or Plasma tv's (from say 27" to 60+") and then applied that sliding scale model to OLED tv's to give a "rough" idea of what the larger panels would cost in comparison. I know this logic is inherently flawed but geez, $2500 for an 11" tv? pfffff.
Do you get the feeling these guys are just showing off for it's own sake?
Tom Andry posts on January 15, 2008 10:10
Scratch that - when I wrote that article, I was converting from Yen to $ and came to $1800. Turns out it will cost more like $2500 according to Sony. I'd love to see this tech mature but I have a feeling that no one is going to want to invest in it enough to get the infrastructure to the point were they can be produced cheaply. With the majority of the public rolling their eyes at me when I tell them that there is a difference between SD and HD, I can't believe that we're going to convince them that a high contrast ratio is reason enough to spend 5x on an OLED display.
Tom Andry posts on January 15, 2008 08:43
So what kind of price differential are we talking about here? Did Samsung actually have an MSRP for the 31" model? If mass production were to indeed start in 2010 of mid to large sized models, what price point is Samsung shooting for and what was the maximum size they were touting?

Sony just released their first 11" OLED at $1800
Toshiba isn't going to release any at all based on manufacturing costs
[read more [audioholics.com]]

Samsung didn't talk price (heck, they didn't have a price tag on a single item in their booth) but many times these tech showcases are just stuff they are exploring.
The Chukker posts on January 14, 2008 17:44
"there is ample evidence that OLED will never come down in price enough to be a serious contender against LCDs."
So what kind of price differential are we talking about here? Did Samsung actually have an MSRP for the 31" model? If mass production were to indeed start in 2010 of mid to large sized models, what price point is Samsung shooting for and what was the maximum size they were touting?