Indianapolis Meets CEDIA 2011 and Goes Green
by
Berta DellaSala
—
August 26, 2011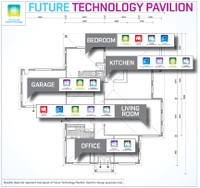 Future Pavilion
Evolution in the present is the trademark for CEDIA. CEDIA is a show that encompasses not only the mere commercial territories of AV, but also the newest technologies in the fields of health and home integration.
With the evolution of technology changing so rapidly, it's hard for most consumers to keep up with it. Striving to provide the knowledge and hands on experience for the novice, CEDIA takes on leaps and challenges to be the number one force to stand behind it all. This year is not an exception and barriers will be broken, not only in the AV arena but in the hosting city itself. To prepare for the crowd of "chercheurs de connaissance," Indianapolis has integrated many of its surrounding and touristic venues to the Convention Center where the show will be held. This starts with the air conditioned connecting walkway to the Lucas Oil Stadium (adding more square footage to the current show and making 16th in size in all the U.S.) all the way to additional walking distance restaurants, hotels and the new Col. H. Weir Cook airport terminal. This makes a smoother and more interesting travel affair for those attending the show. Local artwork pieces are displayed as well as a new array of restaurant and shopping plazas for those wanting a convenient bite to eat.
The trend of the city adding this new lineup is to modernize and go beyond the technology. Indianapolis met its goal as the city's new airport terminal is though off as one of the most advance "green friendly" facilities in the nation. Starting from advanced security check points that allow the passengers to pass through faster and efficiently, to the menagerie of green technology, it's a new "blue moon" to the eyes. Even better, this facility is considered at this time the most environmentally friendly, starting with recycling of food and paper products, reflective ceilings to improve heating and cooling within the facility as well as many CEDIA derived automated lighting and solar technology to improve the commercial carbon foot print. These are only a few of the new Green standards used to go beyond what any other facility had done and all permeated from the influence of the engineers behind CEDIA and its commercial contributors. Without them, this would not be in effect and we could not take advantage of it.
CEDIA is unveiling not only its technology in the commercial venues, but it continues to promote the everyday home use. This year CEDIA promotes Green and Smart technology in unison with companies such as Sunpower, Creston, Stewart, Honeywell, and yours truly (Audioholics) as many of their sponsors and affiliates, representing the leaders in the world of home A/V electronics and Home Health. Who says you can't be home bound and be even greener?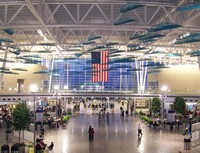 This new liaison allows the home owner to take charge of their carbon foot print and to start making changes at home, where a big portion of our carbon emissions are contributed. All meeting at one place this year, The Future Technology Pavilion, is where ingenuity and green culture converge. This easy to use technology allows our elder generation to partake in it and use it to their advantage to remain independent as long as possible without moving into an Assisted Living Facility or Retirement Home. For example, automatic pill dispensers are pre-filled so you never "forget" what you need to take and stay on track. Lighting is also adjusted with automatic motion sensors that allow light as you pass by, decreasing the chance of falls at night (falls are the number one culprit of hip fractures in the elderly). Integrated energy saving smart Home Appliances, wireless and energy efficient technology allows the consumer to start earning benefits that will pay up all the way into the future and generations to come.
Learn more about this here:

Sneak Peek of Future Technology Pavilion Living Room
Sneak Peek of Future Technology Pavilion Bedroom & Bathroom
Sneak Peek of Future Technology Pavilion Kitchen, Home Office & Garage
Join CEDIA Expo this year and find out what new technologies are available right now. Get to see firsthand what the human engineering can do in solving relevant issues in our everyday life. Let's bring viable home technology to our homes today. Stay tuned for our show coverage coming soon.