The Inside Story: A Prognosis of Best Buy from a Veteran Employee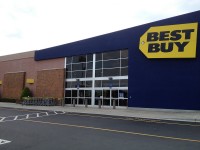 The Inside Story: A Prognosis of Best Buy from a Veteran Employee
I started working for Best Buy during my senior year of high school and continued with the company all the way through my undergraduate education and into graduate school. As I moved around for college, I worked for three different Best Buy stores in three states and for two different Geek Squad in-home service centers in two states. No, this isn't the viewpoint of some senior executive, or the analysis of an industry leading authority on business development. This is the view of a six year veteran employee who worked at multiple sites, operating from an organizational communication studies paradigm, who had the opportunity to see a company fall from the top of the food chain and struggle to recover and adapt to the changing market. Throughout my time at Best Buy I observed three big failings that might have slipped by people on the outside.
Trying to Get Commission Results on Non-commission Pay
One of Best Buy's points of pride is that their employees are not paid on commission. Employees are trained to make non-commission statements, informing customers that they are simply paid a flat rate, in an attempt to gain customer trust. This can be a great benefit to the customer, but isn't the whole story. It's true that most customer facing employees (like Geek Squad agents or sales staff) are not paid on commission. However, sales are still incentivized in ways that create a commission-like atmosphere. For example, managers have the opportunity to make big bonuses based off of revenue/margin goals. Lower level employees can hit Blue Crew Bucks (a bonus tacked onto a paycheck). And, some employees (like Best Buy For Business) receive commission on sales. None of these practices are unethical, but giving customers the impression that sales performance isn't rewarded is simply wrong.
This slight discrepancy never bothered me until Best Buy implemented a new sales tracking system. Now, each sales employee's performance is closely tracked, as it would be in a commission pay system. Employees are tracked on multiple metrics, including: sales per hour, protection plans sold, margin and gross revenue per sale, payments made on a Best Buy credit card, and accessory attach rate. By implementing this tracking system, Best Buy has instantly and fundamentally changed the work climate within the stores. They have created all of the problems of a commission system, like competitive relationships between employees and in-fighting for sales – both of which damage the customer relationship and defy their claims. It clearly hurts the work culture.
Best Buy understands that such a tracking system has the potential to have a negative effect on the culture, so they instruct management to use the metrics only as a coaching tool. Unfortunately, there is a big difference between the theory espoused and the theory in use. These sales metrics are being used in performance appraisals and to promote/demote employees.
Creating an Inept Workforce
Another point of pride for Best Buy is that their employees are better trained and better educated than the competition. I certainly hold that to be true, but that advantage has been diminished by recent strategy. A few years back Best Buy restructured to eliminate many of the full-time and higher paid sales positions. This allowed them to increase the number of sales people available to serve customers by hiring more part-time employees at lower wages. In short, they chose to sacrifice quality in favor of quantity. Hiring more employees at lower wages can work well in some business models, especially with non-technical positions, but I would argue it was a bad move for Best Buy. In the end, this hurts customer experience, decreases employee retention, and leads to an undifferentiated work force.
Based on my employment in three different states, I would estimate that most full-time sales associates are getting paid ten dollars an hour or less (depending on the location). This might be a competitive wage when compared to companies like Target or Walmart, but not when compared to boutique electronic shops, and not when an educated workforce is a point of differentiation. By paying comparatively low wages, Best Buy attracts a different type of worker than they claim. Their sales employees are largely made up of high school and college students who need a part-time job, or more experienced employees who need a temporary job while they look for something better. This leads to low retention rates, which is a huge cost to the company because hiring and training new employees is extremely expensive. It also leads to a workforce that isn't any more educated, motivated, experienced, or qualified than competitors' employees. And in the end, it negatively impacts customer experience. An inexperienced or new employee simply isn't as familiar with the products and services Best Buy carries, or educated on how to use the internal systems needed to order, schedule, or pay for products and services.
Failure to Create a Singular Vision
If you were to ask me, "Who is Best Buy?" I wouldn't know how to respond. There is no vision of who the company is, a grand narrative that defines Best Buy, or clear direction of where it is going. At least not one that is well-communicated to the rank and file. I would argue part of this might be because much of their executive staff has changed in the past two years, including their CTO, CFO, and CEO. But I would also argue it's largely because they have consistently failed to communicate a unified vision or make any successful unilateral moves, even prior to any changes in senior management. Rather, Best Buy has taken a shotgun approach to business and marketing, trying to advance on dozens of different fronts and seeing what sticks. Just take a quick look. In recent years, Best Buy:
Added bottom of the barrel brands to compete with the likes of Wal-Mart, AND they expanded luxury offerings through their Magnolia brand
Expanded internationally – particularly in Europe, and quickly failed
Acquired smaller companies like mindSHIFT to reach different markets – but, like others, found out how hard it is to make mergers work
Attempted to go head-to-head on price with online competitors, only to recognize this can't be sustained in light of overhead
Acquired Napster and CinemaNow – believing their extensive sales force would generate big sales – only to discover that no amount of "pushing" a product will overcome sub-par offerings
Invested huge sums of money trying to break into musical instrument sales – and failed miserably
As you can see, almost none of their ventures have turned out well, with the notable exception of cell phone sales. Best Buy simply has not known how to answer the questions, "Who are we?", and "Where are we going?"
To be fair, Best Buy's new CEO, Joly Hubert, recently unveiled a new 5 point initiative called "Renew Blue" – an initiative that seems to indicate Best Buy might finally be moving forward again and taking some of these steps. Time will tell. What I know is the organization – from top to bottom – needs to understand who Best Buy is and where it is going. They need a solid vision that will ground executive decisions, give direction to lower-level employees, and create a clear identity in the minds of consumers.
Tough Changes Ahead
Though these criticisms may seem harsh, I sincerely want to see Best Buy succeed in the future, and not just because I own stock. Best Buy was my launching platform into the tech world. They paid for a big chunk of my school, allowed me to transfer between stores, and my immediate supervisors within Geek Squad were some of the best I could ever hope to have.
Not only do I hope Best Buy will survive, I believe there is still a spot for them in the marketplace. There is a big gap between commodity stores like Target and Walmart, and boutique electronics shops, and that's where Best Buy fits. Said gap has shrunk thanks to the commoditization of electronics and become crowded with internet retailers, but it still exists.
In the short term, I believe Best Buy will continue to follow the path of Circuit City. They will close stores and lay off employees until they have shrunk down to a size where they no longer over-saturate the market. I hope that through that process they can decide what type of retailer they are going to be and structure the organization to fit their new goals. Once they have decided on a direction, it needs to be aggressively communicated to all internal and external stakeholders.
I just hope the senior staff has the gumption to admit Best Buy will never be what it once was, but that it can have a prosperous future. It just has to go through the fire first, and it takes strong leaders to willingly walk through that fire.
mpompey posts on April 26, 2013 08:31
I agree with many of the posts regarding the failure of Best Buy. Poor customer service, lack of knowledgeable staff, prices too far out of line with Internet retailers; and there is a recipe for disaster.

I only go to Best Buy now to buy Movies and bargain blu-rays.
Forr0est posts on March 28, 2013 21:50
I would hate to see them go the way of the do-do.
DarkTactics posts on March 28, 2013 20:00
I've had good experiences at some local best buys with open box speakers and deals. Beyond that, I haven't bought or done much through them. I usually just browse to squash my electronics curiosity.
fmw posts on March 28, 2013 16:34
If only they would get rid of voice mail and neckties. Well, I guess neck ties have been around for a while. I loved the good old days but I understand that they are gone. Alas!
mtrycrafts posts on March 28, 2013 12:56
fmw;959801
... The old days are disappearing.
I am glad horse transportation was replaced as was the black and white TV. Oh, and a lot of other things.