AV Rant #238: The Boot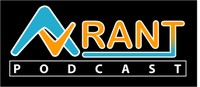 AV Rant #238: The Boot
This AV Rant podcast begins a series of interviews with one of the foremost designers in the field of electrostatic speakers. David Janszen is the son of Arthur A. Janszen, the inventor of the first practical electrostatic high fidelity loudspeaker. If you wanted to know about electrostatic speakers, you'll want to tune in to the next four podcasts. If you are wondering what those weird silences are, ask Liz. Liz and Tom take on the topic of the death of the movie theater, part deux. Tom lets everyone know how 24 could have been the greatest show ever. Which cloud service is the best? What do you think? Google buys SageTV. This week's Soup to Nuts is part 1 (of four) of an interview with David Janszen. It's all about electrostatic speakers. Thanks for listening and don't forget to vote for us at Podcast Alley! To see our (mostly) complete collection of show videos, click here. Download Tom's ebook Bob Moore: No Hero which is pretty much available everywhere.
Click below to listen to the Podcast in your browser
Got a comment? Let us know.