Audioholics On (permanent?) Location: LAX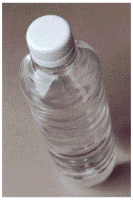 8/10/06 - Los Angeles: Gene (I'm too sexy for my shirt) DellaSala and Clint (rebel without a clause) DeBoer, President and Editor in Chief respectively, of the wildly popular Audioholics.com have been stranded in Los Angeles after the recent lockdown in airport security. The two were out in Los Angeles to see first hand some cutting edge technology that this reporter cannot reveal under penalty of caning. While certain Associate Editors were not invited to go because apparently their style of humor doesn't "mesh well" with clients, the visit apparently went very well and we should see a report on Audioholics.com in the near future.
Says Tom Andry, "I spoke to Clint today. At first he was pretty worried about the possible delays and was anticipating a minimum of a 24 hour increase in their travel time. It seems, however, that in all the hubbub of frisking old women for their bottles of denture cleaner, they've kind of glossed over checking IDs." An airline that will remain nameless has apparently confiscated all tubes of toothpaste, bottles of shampoo (which Gene has a lot of), and cologne from the Audioholics gurus. What they didn't do was check their IDs or boarding passes. While this got both Clint and Gene through security in record time (at LAX no less!) it doesn't attest to the quality of the response to the recent terrorist attempt.
Says a source that wishes to remain nameless, "It seems that security tends to get sidetracked by the latest threat. They check what is hot at the moment without maintaining a baseline of vigilance. First it was IDs, then it was shoes, now it is Evian... As the newest threat emerges, they forget about the rest." We will continue to follow this emerging story closely and keep you apprised.
For now, Mr. Andry is single-handedly keeping the website afloat which means that Gene and Clint may charter a plane/rent a car/take a bus/walk in order to ensure that he doesn't run it into the ground in a matter of hours. An informal poll of the Audioholics community shows that sarcasm is way up and serious objective testing is plummeting. Apparently, Mr. Andry is currently on the way to Gene's house to wrestle those monstrous speakers out of his main listening room. Experts give him a 5% chance of success, 25% chance of getting beat up by Gene's wife, and a 70% chance of being crushed as he tries to get the speakers down the stairs. More to come.
-OPRA (on location in, um, Florida)