Audioholics is Hiring – Apply Now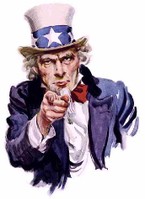 Audioholics Wants YOU
In order to keep up with the surge in orders and customer support, we're looking for a few good men (or women) to join the phone sales support team of the new Audioholics e-commerce store. If you've got good people skills, know your way around home audio and video, and would like to assist consumers on A/V related purchases, than we are looking for you.
You should have the minimal experience:
At least 3 years of sales experience in a related field
Moderate knowledge of home theater equipment and setup
Good interpersonal skills
Audioholics regular reader and forum member participant is preferred
Familiarity with the products carried on the Audioholics e-commerce store desired
Ability to plan and organize full system solutions based on customer budget and requirements
Benefits for working for the Audioholics e-commerce store include:
Free product training
Employee discount pricing
Access to the Audioholics Batphone
If this sounds like you, please submit a resume to: info@audioholics.com with "Audioholics Employment Opportunity" in the subject line.
Please also provide answers to the following questions:
How much power is required for a +3dB level increase?
Is skin effect a real issue with speaker cables? Please explain your answer
What connection method is required to successfully transmit 1080p resolution to a display?
juliusdeane posts on June 02, 2008 20:23
Yeah, do you guys want a intern for the second half of the summer? I'd do whatever ever I can to help from MO for free and anything else anywhere else if expenses are covered.

its_bacon12 posts on June 02, 2008 15:51
How about an accountant or financial consultant? (Internship that is... haha)
majorloser posts on May 20, 2008 06:51
Tomorrow;414155
What IS Tom's job?
Whatever his wife tells him to do.
Tomorrow posts on May 19, 2008 22:10
I thought everyone wanted Tom's job?

What IS Tom's job?
Clint DeBoer posts on May 19, 2008 20:41
I thought everyone wanted Tom's job?