What Home Theater Can Learn from Apple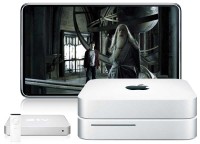 What Home Theater Can Learn from Apple
I once had a conversation with my mom. She had a DVD and liked the soundtrack. She took the DVD to the car and didn't understand why she couldn't listen to the soundtrack in the car. I explained that they were different formats. That the music wasn't organized like a CD. That she'd need to buy the soundtrack separately. But she just kept looking at the DVD like it had let her down. And she was right - it had. If we'd had some more forethought, a disc would work the way the typical (uninformed, maybe, but typical) user expects. Because, when a user's expectations are met, they respond positively. But when they aren't... well, that's why we have Internet forums.
Home theater sucks. It really does. Now, by that statement I don't mean to say that I don't enjoy the gear, the music, the movies, or the thrill of connecting together new pieces of equipment and experiencing different manufacturers' takes on how I should consume media... but in general, the entire home theater ecosystem is broken. It doesn't work for the average Joe. I mean it works, but the average consumer can't hook up their equipment without a great deal of headache, troubleshooting, remote control programming, and general confusion that abounds in an industry that seems hell-bent on not allowing this hobby to be simplified in the least. If Apple Computer had made home theater equipment instead of personal computers, iPods and iPads, I believe the industry would be a far different place. This article outlines why.
I've been involved in audio, video and/or home theater professionally since 1993. When I say "professionally", I mean that I've been, in one form or another, getting paid to use, configure, engage, work with or otherwise write about A/V equipment. In transitioning from the professional A/V market to the home theater realm I had always wondered why manufacturers expected so much from consumers. They expected consumers to know about cables and connectivity, formats and speaker placement, and inputs and menu systems. They expect you to be able to program a remote control. To be frank, they expect you to be as "into" home theater as they are.
But the average person isn't. At least "Joe Q. Public" isn't. No, they just want to watch movies or listen to music. Seriously, they don't give a rip about room EQ or how component video is better than composite. Or that the S-video connector was actually created by a lord of the underworld supervised by Satan himself.
And when HDMI came out, bringing with it the promise of simplicity and a comprehensive audio/video solution... why, we all jumped on board. But the promise was short-lived. HDMI brought confusion, tears, and bitter anguish.
How? Because it reversed everything. "I just want a simple system", people said. And so they would buy the cheap HDMI-equipped receiver. But that receiver didn't send the output of their VHS or DVD player to the TV. It didn't, because the cheapest HDMI receivers didn't upconvert (for you propeller heads, that means it wasn't a repeater). So Joe Consumer had to connect HDMI, component, and sometimes even composite video to their TVs and remember to switch inputs on both their receivers and their televisions. Plus, you could pretty much forget about audio over HDMI at the lowest receiver levels until very recently. The conversations I've had with people about why their HDMI wouldn't pass audio went something like this:
"Um...how come I can't hear it?"
"Oh, you have a model XXX. You'll need to connect audio cables. I've got one right here."
"But I thought HDMI was a 'single cable dealy'. That I wouldn't need another cable."
"Well, it can be. But not with this receiver."
"Okay, so what receiver should I have bought?"
"Well, this one will do it but..."
"How much does it cost?"
"Um...about $500 more."
"WHAT!!! I have to pay $500 more for something that the cable was designed to do?"
"Umm...."
So, your friends and family get their new receiver home and have to decipher the instruction manual which, we can all admit, is a bit baffling even to people that love this hobby. They connect everything up and something isn't working, not because they did something wrong, but because their expectations haven't been met. They expected the cheap receiver to be plug-n-play. They expected the lack of features and zones to translate into easier setup. They expect that the magical HDMI cable was going make all this easier. It was only after hours of troubleshooting, a call to tech support, and an hour in the bathroom with the manual that they figured out that their receiver's HDMI didn't have all the features available. The features they expected. Is your mom going to figure all that out? Remember, she just wanted a "simple" receiver. That's why she bought the cheap one. Years ago "simpler" meant simpler. Now it means "less capabilities, more work".
So what am I saying here? And more importantly, what does Apple have to do with anything? I'm glad you asked. As it turns out, HDMI Licensing built a really cool function into HDMI called CEC. CEC stands for Consumer Electronics Control and it would be fantastic if it were an actual standard, but it's not. Rather than encumber the industry with an interoperable system for connecting equipment in a way that was functional and, I dunno, useful, HDMI left CEC "open" so manufacturers could use it however they saw fit. HDMI also never saw the format as a networking protocol, so it began, and largely remains, an overly complex connectivity solution to unite several things like digital audio and video. While the inclusion of Ethernet is now possible, even that is optional and, near as we can tell, largely an afterthought. This was a HUGE mistake that consumers are now paying for. And, as you might expect, everyone more or less used it for their own selfish (read: brand-centric) purposes.
So, back to my initial point. How should CEC work? Like an Apple product. For example, somebody tell me why on earth I have to tell my receiver or TV that I just connected a Blu-ray player? Why do I have to program the A/V receiver's remote control to handle the TV, or my cable box, or my BD player? Why doesn't the CEC system program the remote for me, configure the inputs, and make sure everything works in a nice default configuration that I can then adjust... wait for it... if I choose to?
Why do I need to name the inputs on my A/V receiver when I connect a new piece of gear? Why doesn't the remote work right away? Why doesn't the receiver recognize that a television has been connected to its HDMI output and allow me to control channel changing immediately? Why must I set up networking on my Blu-ray player, A/V receiver, and TV separately? None of this should be required - and wouldn't be if Apple would have made a home theater system.
Now, if Apple had designed the home theater system, the first thing they would have done is sit down in front of a TV and said, "Now, how SHOULD this work?" They wouldn't be sitting in a lab somewhere staring at printout and CAD drawings trying to figure out how to make the most overly complicated cable in the world simply so that they could add copy protection to "stop" pirates that will figure out a workaround in months if not days.
If you take a close look at it, HDMI CEC is proof positive of the industry's true focus - manufacturers. They aren't thinking of the end user. If they were, CEC would be front page news and not an afterthought. CEC should have been the goal - one just as important as the single cable solution. But, instead, the HDMI Group and the industry as a whole just said, "Ah, whatever. Just release it. It'll work itself out." That's the sort of thinking that has led us headlong into the mire of wires and confusion we currently inhabit.
Now, the industry has made at least some steps towards making setup easier on consumers - but they've limited it to certain areas of setup - like the loudspeaker setup for a room. Auto setup and calibration has come a long way towards configuring your receiver for what kind and quantity of speakers you have. Some manufacturers have released a few systems that can do some of what we'd like to see (the Yamaha YMC-700 for example) but these are seen by many home theater enthusiasts as somehow inferior simply because they focus on the user's experience. And none of them are the sort of plug-n-play that we'd like to see. Overall, however, HDMI and CEC has completely failed to simplify the connectivity and remote interaction experience for consumers.
Let's hypothesize about how an Apple component system would work. Initially, you'd plug in a device (probably a TV). You'd have to add your Apple ID or something similar and probably your network settings. This would be, we're guessing, the hardest part of the setup. After plugging in the TV, whose on-screen menu allowed you select what you want to watch or listen to, next, you would connect an A/V receiver to it via HDMI. If you did nothing else at this point, the A/V receiver would be able to power up and control the TV via its remote and the TV remote would control the A/V receiver's volume as well. The point is - it wouldn't matter which remote you used - they'd both work. You could use and select all of the network features available on the TV and HDMI audio return channel (ARC) would send audio to the receiver (for when you plugged in speakers). If you have a receiver that can go online, it would pull networking connectivity from the already-connected TV.
Now, what happens when you plugged in a Blu-ray player? It would be amazing! The A/V receiver would automatically detect it and add it to the available inputs (all others are disabled by default until something is connected). The TV interface and menu would register the BD player as something to be selected from the available sources. Networking, would be automatically made available to the Blu-ray player - after all, it has your network information, having already set that up on the TV and passed it to the receiver.
So, what's different in our "Apple" system? For one, you don't have to configure anything (aside from the initial setup of whatever was the first thing you plugged in). Also, a Toshiba BD player will speak to a Yamaha receiver, which will speak to a Samsung television. The CEC is standardized, even though the various interfaces aren't. That means that each manufacturer is free to use any manner of on-screen or otherwise interactive menu, while still maintaining compatibility with every other manufacturer. What does this look like? Here's a visual:
Now clearly Apple Computer isn't going to create a system using other manufacturers' products. They'd use their own. But our point was to illustrate that Apple focuses on the end-user interaction and not on creating a set of rules and protocols that manufacturers may or may not use at their discretion. Apple is about the experience, not just the hardware. And while, like many of you, we find some of their methods and controls draconian, HDMI CEC is what happens when a standard is released without any controls. Nothing. That's what happens.
This isn't even hard, though the industry would have you believe that it is. In truth, they simply haven't figured out a way to rally around something that would unite them under a single control infrastructure (or they don't have Apple Overlords to shove it down their throats). And there's also money in confusion. Make all of this too simple, and the low- and mid-level custom installer market all but goes away. Of course, we don't really believe the serious installer would ever take a hit. They aren't going into people's homes and setting up small home theaters - they are doing whole home automation. None of what we're talking about here has anything to do with a more robust, full-featured, control system. That will never go away - not as far as we can see.
But this is how home theater should work. This is how home theater must work. Agree? Disagree? Let us know in our forums (link below) or join in the discussion at Facebook). Who knows, maybe we can start a revolution!
See also:
prerich posts on March 06, 2012 09:59
Articles like this remind me of direction Joe Q. Public is headed in...Remember the big people from Wall-E? Nuff said.
haraldo posts on March 01, 2012 15:59
At $500 billion, Apple is now probably worth more than Poland, Belgium, Sweden, Saudi Arabia, or Taiwan
Clint DeBoer posts on February 29, 2012 21:48
BigScreen;868364
I understand the point that the article author is trying to make, but there are obvious issues with a scenario where Apple is a dominant force in the Home Theater market.
Please realize that's actually not at all what I said, or the point of the article.
haraldo posts on February 29, 2012 14:24
It seems that many words come to my mind when thinking about these standards, most of them involves something that is not so positive.... or what else can you say when people try to define a modern standard and completely lack the vision about how to make this a modern set of future proof standard.

hdmi should be a set of standards on many levels

1. HW. Defining a set of extensible standards that can be upgraded when there will be need for higher bandwidths, so that it's future proof.

2. Services - There should,be a service protocol - Services layer
All boxes that you put together knows what they're doing or at least they should

A blueray player knows that it can play video and much more, these services should be advertised in a standard way, to... say the receiver that automatically detects this and provide these capabilities to the service consumer, for instance the AV receiver.....
A Blueray player will ask you to give it a name when you start it the first time, yes?
And as such it can easily communicate this name to the receiver, so that the receiver knows the name of the player and what it can do
Bl%¤##¤ he#"¤, how difficult can it be to create a standard that deal with these things.....

A PC can provide a display service so that it can display videos (and also provide 2 channel sound capabilities, or 5.1), it can also play videos + 5.1 audio to provide to the receiver, so the receiver can actually pick if you want to use TV or PC as a display service, of course in a user friendly way, in such a way a PC can both be a service source and/or a service target, perhaps even at the same time

A TV can possibly only be a display server and as such a service target

We can go on and an for all the possible boxes that we have

3. Application
There must be a simple way of describing how the services capabilities should be provided and communicated to the end user in a nice user-friendly way

To me this sound quite simple, but I guess those people working on these things lack some creativity or perhaps they still live in the stone age......
Or at least the best of the consumer is not on their agenda
BigScreen posts on February 29, 2012 14:02
I understand the point that the article author is trying to make, but there are obvious issues with a scenario where Apple is a dominant force in the Home Theater market.

First off, I agree with most all the points about usability and the seemingly ridiculous restrictions imposed by the lack of foresight, attention to detail and to the customer experience, and many other aspects of home theater that plague newcomers to the hobby.

However, this chaos actually breeds choice and drives innovation. Unfortunately, that means that a certain amount of chaos is the price we pay for those advantages.

I have first-hand experience with several generations of iPods, an iPad 2, and an iPhone 3GS. I have never owned an Apple computer, Apple TV, or other Apple hardware product.

I have to hand it to Apple in that they deserve the crown they hold as the king of the portable device market. I have evaluated alternatives to every single product I just mentioned, and none have the overall support, user experience, and attention to detail that Apple puts into its products.

They have done this by emphasizing simplicity over flexibility, and while that's a strong suit when it comes to those devices, it would be a very bad thing in the home theater world, in my opinion. To keep things simple, they remove functionality that has the chance of creating problems, no matter how useful they may be. What's left is a less capable device, but one that for the most part "just works" and does so with a level of competence not found in most other devices. As a reward to itself for its efforts, Apple commands a premium for delivering that ease of use and the user experience.

Apply that to the home theater market, and you would have the following:

1) only one manufacturer of primary devices.

Instead of several manufacturers of receivers from which to choose, you would have one. From that one manufacturer, you would have at most 3-6 different SKU's for that product.

The same would be for source devices. The problem here is that Apple is big into digital media, and has historically considered Blu-ray to be a "bag of hurt." Therefore, we would not have Blu-ray discs, but rather, we would be downloading/streaming all of our movies from the iTunes store.

2) much less choice of features

In a world like Apple defines it, there would not be different video and audio codecs. We would have had one video codec, and it would most likely have been H.264. Probably not the worst thing in the world. But what about sound? Because we're talking about Apple, it would be AAC, but if we're just talking about a world like one that Apple would run, we would have either Dolby or DTS, not both.

Given that online delivery would be the norm, we could probably kiss lossless sound goodbye. The video quality of that feed would also only be as high as the iTunes servers could handle and that Apple decided was an acceptable level of quality. Given their track record with audio in the iTunes store, we would not have the video and audio quality that we enjoy today on Blu-ray.

3) much higher prices

All the work put into a refined user experience and the closed system that delivers the simplicity that the original author seeks will require a pound of flesh when it comes to the price of the hardware.

That $1,000 Yamaha receiver that does everything 95% of what a vast majority of the public needs in a receiver? It's now going to be 60-100% higher in price.

There would be no such thing as a sub-$100 Blu-ray player. If they were even available, the entry level model would probably be $199 and go up three tiers from there with minimal increases in features (if you look at most of Apple's portable product tiers, they all do the same things, and the difference is in memory capacity or other non-core features, such as 3G data service).


The flip side is that we would probably have what the author is seeking. A much simpler, straightforward, and elegant ecosystem that would bring home theater to the masses at a certain level of performance. Much like what Apple did when it introduced the iPod and eventually took over the portable audio player market.

I would hate for that to be the only choice, though. One of the great things about the home theater hobby is that it is a hobby. Enthusiasts can tweak their systems and get more from them as they learn more about it.

Some people are into that, and some people aren't. It would be great if there were systems out there that would cater to those that want a good easy to use system without any hassle. It's quite possible that those people would be willing to pay the premium to get that. Maybe we'll see something like that from Apple, as Steve Jobs was quoted as saying that he'd finally cracked the television challenge.

I can't help but think that, with a little assistance from someone who is knowledgeable, most people can have a simple home theater that "just works" a majority of the time, all for a price that is a fraction of what it would be using the Apple-style way of doing things.