Sound Bars with Chip-Based Technology Bridge Gap
by
Claus Neesgaard , Vineet Ganju
—
June 26, 2008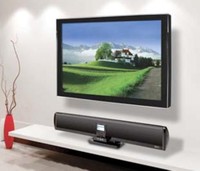 New Sound Bars are more advanced, cheaper
Bringing True Home Theater in-a-box to the Masses
Developing Cost-Effective Sound Bars and Sound Projectors
High-quality audio is a critical part of creating a compelling home theater product line. With the availability of six- and eight-channel surround sound systems, consumers expect movie theater quality sound in their living rooms and bedrooms from their televisions and even stereo portable media player docking stations.
The configuration of each individual speaker in a particular room affects how highly a systems audio quality is produced. Unfortunately, setting up a home theater has never been a simple process, especially with high-end equipment. Even though consumers can purchase a less complex "home theater in-a-box" (HTIB) system, there are still multiple speakers that each need to be installed, connected and configured correctly to actually achieve optimal surround sound .
In many cases, configuring a home audio system is too complex for consumers and requires a skilled technician. Speakers must be placed in the proper position and orientation, speaker wires must be buried within the walls or under carpets, and then the equipment must be painstakingly configured to account for room irregularities such as furniture, curtains and imperfect physical speaker placement and listener positioning. In many homes, the main reason for sub-optimal surround sound is simply improper installation.
Soundbars and sound projectors represent the next evolutionary step for home theater audio by providing an immersive experience of surround sound and without the complication of installing multiple speakers.
Soundbars and sound projectors represent the next evolutionary step for home theater audio by providing an immersive experience of surround sound and without the complication of installing multiple speakers. Soundbars, which get their name from their sleek, compact bar shape, sell for under $200 at the low-end and to over $1000 at the high-end. They are nearly as wide as a flat-panel display and typically only a few inches tall, making them ideal to place directly under the monitor.
The sleek, compact systems truly integrate an entire home theater into a single piece of equipment by including the A/V receiver, speakers and sometimes even the DVD player. This makes installation as simple as plugging the unit into an outlet and running a single cable to the TV. In addition, knowing in advance which speakers will be used in a particular system, similar to HTiBs, allow developers to match the pre-processing configurations for each particular speakers resulting in higher audio quality and lower bill of material (BOM) cost. Knowing the relative placement of the speaker's drivers, an added benefit of soundbars versus HTiBs, provides an extra level of control resulting in a better overall surround sound effect.
These improvements come only at the price of the added complexity as designers continually integrate these components and optimize them to work with each other. However, by taking advantage of highly integrated SoC (System-on-Chip) audio processor technology and design tools that abstract algorithm development and deployment, developers can simplify equipment development while delivering the highest quality audio for a particular price point.
The Power of Virtualization
The primary advantage of soundbars and sound projectors is that it eliminates multiple speaker installation. Even though all the speakers are physically in front of listeners, advanced signal processing algorithms using virtualization technology creates the effect of multiple speakers embedded throughout the entire room for a truly immersive surround sound experience. The result is that a single speaker cabinet achieves the same surround effect as a well-placed multi-channel speaker system. In higher-end systems, advanced room correction and equalization algorithms further improve the listening experience by widening the listening sweet spot (optimal listening location) and compensating for sub-optimal room acoustics.
While some configuration is still necessary, this process requires little participation from consumers. In some systems, configuration may consist of manually selecting a general room shape and size the first time the system is turned on. Other systems that implement more advanced room correction features might require a simple one-time setup process where consumers place a microphone in the room close to the desired listening position. The system will then automatically configure itself.
Virtualization is not a new technology – it's been around for more than 15 years. In the past, , soundbars required multiple digital signal processors (DSPs) in order to perform decoding, equalization, virtualization and other audio effects. Recent advances in DSP technology have made soundbars and sound projectors cost-effective by making it possible to implement quality virtualization on a single chip. Rather than being general-purpose DSPs, these devices are effective audio SoC solutions optimized for audio applications by integrating many of the key analog and digital components required to further drive down cost. In addition to the recent advanced software development tools that minimize, and in many cases eliminate, the need for programming knowledge or experience that was traditionally a prerequisite for utilizing DSPs.
Product Differentiation
Companies are able to differentiate soundbars and sound projectors in a number of ways besides the traditional number of supported inputs and outputs. Since lower-end soundbars typically focus on minimizing cost, these devices include two to six fixed speaker drivers and, besides virtualization and speaker equalization, offer a range of selectable audio effects. Popular choices are bass enhancement to improve the richness and depth of audio and 'midnight-mode' to improve audibility at reduced volume control settings. Likewise, a new generation of 'smart volume control' algorithms is currently gaining traction. The main purpose is to improve listening experiences as programming material changes from movies, news and commercials. For example, those particular situations that traditionally 'forced' the viewer/listener to constantly adjust volume up and down for an even sound level. Additionally, soundbars will support music-only features such as enhanced MP3 playback, which extends the frequency range of heavily compressed audio streams to make the sound more like the original CDs, especially when played back on high-quality speakers.
Higher-end sound projectors, on the other hand, may support on the order of 40 speaker drivers as well as offer a larger variety of audio features, such as fully automated configuration and advanced room correction that takes into account the specific and individual characteristics of a room.
The number of speaker drivers a sound projector supports has an impact on perceived sound quality. For example, a sound bar with four speaker drivers can produce a better surround sound effect than one with two speaker drivers. Commonly, a system with five or less speaker drivers will employ psychoacoustic virtualization techniques to create a full, three-dimensional sound field. Psychoacoustic virtualization transmits different information from different speakers at different times to simulate a wide sound field. Since it uses few speaker drivers, psychoacoustic virtualization is a cost-effective approach for lower-end soundbars.
Another technique to provide a virtual surround sound effect is to use mechanical virtualization, also known as beam forming. This technique is commonly found in higher-end sound bars, as it requires several more speaker drivers – 40 or more – to create the virtual surround effect. Rather than using psychoacoustic virtualization to trick the ears into thinking sound is coming from different directions, mechanical virtualization bounces sounds around the room to actually create a sound field that surrounds the listener.
Modern SoC integration, which incorporates analog and digital components as well as all the necessary audio peripherals, has made it possible for a single processor to power a complete soundbar system.
Modern SoC integration, which incorporates analog and digital components as well as all the necessary audio peripherals, has made it possible for a single processor to power a complete soundbar system. For lower-end equipment, this results in significantly reduced design complexity and faster time-to-market since all these components are optimized to work with each other.
In particular, developers can benefit by choosing a stand-alone DSP from a pin-compatible, software-compatible family of DSPs with options for price and performance. They can then create a family of soundbar products at various price and performance points from a single printed circuit board (PCB) design by simply assembling the board with a different pin-compatible DSP and loading different audio features supported in software. For example, Texas Instruments' (TI) DA7xx generation of audio DSPs has three pin-compatible and software compatible DSPs that are each at a different price and performance point.
At the lowest price and performance, a high-value soundbar can be created that would support only Dolby and DTS 5.1 decoding and virtualization. A mid-tiered solution might add support for room equalization, bass enhancement and other audio post-processing. A high-end product can add support for high-definition (HD) audio decoders to be compatible with Blu-ray players. All of these possibilities are based on a single DSP PCM design.
For lower-end sound bars, where price and time-to-market are major concerns, designers can choose highly integrated SoC devices such as TI's TAS3x family of processors with easy-to-use 'drag-and-drop' development software that substantially cuts down system complexity, and the development time and cost. Product differentiation and performance optimization can be obtained in the software domain and the hardware platform can be reused across many different products.
In either case, developers will be able to differentiate themselves by the specific features supported rather than the implementation process. This means using off-the-shelf algorithms or specialized audio system development tools rather than manually optimizing DSP code to implement a standard audio function. As a result, further product differentiation is focused on optimizing the sound quality for a particular speaker by expanding its sound field and increasing quality rather than on simply getting the speaker to play back audio.
See also:
allargon posts on July 10, 2008 17:22
MDS;431426
I think the sound bar idea is pretty cool and would be ideal for the bedroom system. For the main living room...not gonna happen.
Only if you're a renter... In-walls and on-walls completely resolve the WAF dilemna.
MDS posts on July 08, 2008 22:56
I think the sound bar idea is pretty cool and would be ideal for the bedroom system. For the main living room...not gonna happen.
dorokusai posts on July 08, 2008 19:18
I think the article is a good read and is certainly on the mark when it comes to the integration of DSP into the sound bar idea. I don't think I'll be tearing down my full size HT anytime soon but it sure is neat.

Mark
Polk Audio CS
morrone posts on June 30, 2008 00:44
I'll expect a rough draft from you on Monday. lol

Fine, laugh it off if you will. But here you have two Audioholics fans complaining about the quality of an article that read like an advertisement, lacking in any of the facts and details that we've come to learn about this site. Keep it up with articles like this, and you're going to lose much of your readership.
Clint DeBoer posts on June 27, 2008 12:05
I'll expect a rough draft from you on Monday. lol