It's What's Inside the Loudspeaker that Counts
So what can you do as consumers? How do you know when you are buying the right speaker? Can you tell anything from looking inside the box? Yes, a great deal can be determined by looking inside the box IF you can appreciate what is value and what is for show. A shiny high polish nickel or chrome plated backplate or gold push button terminals on the frame might be pretty, but gives you little clue as to the actual components value. Still, you have about as much chance getting a car dealer to let you remove and examine the spark plugs from a new car as you have getting an audio dealer to let you take apart his speaker system. A reviewer, trained and knowledgeable in his art, with the right equipment, can take apart a system and appreciate the strengths and weaknesses. If that reviewer gets better treatment by the manufacturer for a good rather than a bad review, he/she may have compromised objectivity. He may be overly emphasizing product positives, and neglect to point out a products weaknesses despite seeing them. It's a fine balancing act all A/V publications must manage to avoid becoming blacklisted and never receive subsequent samples from the manufacturer under review.
What Can We Tell and Not Tell Looking Inside the Box?
What are some of the things we can tell from looking at the speaker parts inside the cabinet that can give us a clue about how much the company has spent on the drivers inside the box?
Besides the frame, which can usually be seen outside the box (but only if you examine the edge of the woofer frame which circles the gasket), if you can remove or peek behind the grille cloth, opening up the speaker will give you a good idea of how much time it took the manufacturer to put together your speaker system.
Does the crossover use Magnetic core inductors? (Iron, or steel or ferrite cores)
Are the capacitors Film or Electrolytic? (Often both are used)

How many parts are used in the crossover? (More does not necessarily = better, but a 2 part crossover is absolutely a cost compromise, and not a no holds barred approach.)

Is the low and mid frequency driver using machined or stamped or forged metal parts?
How big is the voice coil? (height and diameter both count)

How big is the magnet? (You cannot tell from looking if it is high or low quality, only size)
What gauge (size) wire is being used to connect the drivers to the crossover board?
Are the connectors on the speaker high quality ones capable of handling high currents or a pull force on the connectors without dislodging the terminal board?
Did the manufacturer use screws or t-nuts to mount the driver, and how many?
What kind of insulation is being used, and how much? Where is it used, and would the box benefit from more of it?
Is the motor using a high energy magnet like Neodymium or a larger heavier magnet like Ceramic 5 or 8? (Ferrite)
Is the motor of the loudspeaker vented? How is it vented?
Is the central pole (inside the voice coil) vented?
Is the backplate vented? (The backplate is the large diameter metal plate on the bottom of the speaker, and is sometimes vented in addition to the hole in the central pole, sometimes called the pole piece).
Does the frame (basket) actually do its job in helping to dissipate heat from the motor structure?
Does this woofer (LF only) use double or single spiders? (Double spiders offer appreciably more resistance to the voice coil or cone rocking, making for less chance the VC will destroy itself)
Is the port in the right place and unobstructed by bracing or box stuffing?
Is the port flared, or does it have sharp corners which can increase distortion?
Now while there are literally hundreds of tick marks we could use to see if our speaker should go into the serious sound, or serious profit category, we must remember there are a whole lot of things we as consumers cannot see when looking inside the box also.
What kind of parts are used on the voice coil? (The heart of your loudspeaker).
Was the glue line applied by machine (usually straight and constant) or by hand?
What kind of glue is used to hold all the disparate parts together?
What kind of internal clearances are allowed for the moving parts?
How much overhang (Xmax) and maximum available travel (Xlim) does the product have?
How concentric is the voice coil gap? (important for multiple reasons)

Are the voice coil windings laid down perfectly, or are there unintentional skips and wiggles in the wire?
Was the motor designed compromised so the manufacturer could use and stock fewer parts than would be ideal had those choices been performance based only?
Did the designer leave adequate clearances so that all parts in tolerance when assembled will make a working unit? (you may be shocked to know, this is actually less common that you might think. Often success is due as much to luck, as anything else with poorly designed products).
Are the parts that are supposed to be oriented in parallel, parallel, and those parts that are to be perpendicular, perpendicular, or is there an angular error caused by or allowed in the production of the product? (one of those ills which may reveal itself ONLY at very high drive levels).
Did the factory use a sophisticated quality control process as a final test before boxing and shipping, or did they simply plug it in and made sure it made some noise before clearing it as OK?
Poor Design Execution
Aside from just physically examining the parts inside the box, it is also important to understand the design philosophy and goals the manufacturer has for its products. We have actually reviewed speaker systems utilizing very high end drivers and exotic parts with superb cabinetry which on paper should have all added up to an excellent sounding system only to be sorely disappointed in design execution mistakes.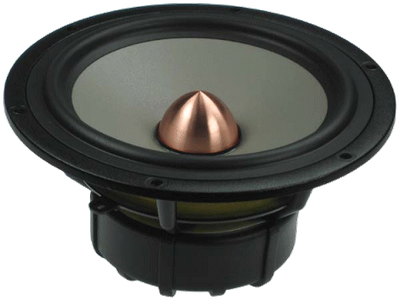 Example of a quality loudspeaker driver not meant to be used as a bass driver
One particular example that recently comes to mind is from a high end online loudspeaker company utilizing a fabulous SEAS mid woofer as a bass driver in a tower speaker that was tuned too low causing the driver to bottom out if played at output levels exceeding 75dB 10 ft away from the speaker in a moderately large theater room. In our opinion, the woofers in a well engineered system should never bottom out, nor should they ever try to reach beyond their designed bandwidth. The driver shown above is a wonderful midrange driver, but its not well-suited for bass frequencies based on its limited Xmax and Xlim characteristics. Yet, this didn't stop the manufacturer from employing it in a floorstanding speaker tuned to play full-range.
Part of the reason this happens, is because frequently the requirements for a good midrange, are opposed to the requirements for good low frequency performance from the same size driver. Mass, cone geometry and depth, cone flare, voice coil length and inductance, moving mass, all of these parameters of the speaker designed are going to influence its ability to reproduce accurately either mid or low frequency sounds. Expecting one speaker to do both optimally is an unrealistic expectation, and the employment of a speaker optimized for one purpose in a box too large reaching too low is asking the driver to do more than its designer had envisioned.
Editorial Note about Xmax & Xlim for Driver Mechanics
The maximum amount of usable excursion before unacceptable levels of distortion are reached is known as Xmax, and is measured typically in millimeters. This is based mostly on the height of the voice coil, and the thickness of the top plate. Xlim, however, is how far the speaker can travel mechanically before it ends up creating damage to itself.
Was the crossover designed correctly? Did the manufacturer avoid extremely low impedance dips (under 3 ohms, especially at low frequencies) where amp power would be gobbled up needlessly? Did they make the mistake of running a midrange driver full-range which causes it to exceed its excursion capabilities and allows it to play audibly into its break up mode, (high and audible distortion), while also dropping low frequency system impedance?
Example of a Poorly Designed Budget Crossover Network (Left Pic) & a High Quality Crossover (Right Pic)

The crossover (above left pic) is from a two-way bookshelf speaker system costing in excess of $350/pair. The speaker system employs a stiff cone driver which has no crossover circuit (namely a Low Pass Filter) to limit its bandwidth to reduce its audible break up mode. We've even seen variants that employ electrolytic capacitors in series with the tweeter which, in our opinion, is done solely for cost savings as these parts have higher resistance and performance variances than quality and more costly poly designs. This is the type of network you'd expect in a $150/pair of speakers at Walmart and should not, in our opinion, be part of any serious high fidelity loudspeaker. The crossover (above right pic) utilizes high quality air core inductors and polypropylene capacitors. The midrange drivers are correctly bandwidth limited to ensure the breakup modes won't be audible even at high drive levels. Notice this crossover (right pic) uses multiple poly caps stacked in parallel which gives an equivalently larger value needed for the proper roll off characteristics, but also greatly reduced ESR (Effective Series Resistance) to further reduce losses.
It is important to remember as consumers, there is a big difference between an engineer getting a few samples correct versus designing a product with all the tolerances calculated so that everything assembled turns into a working unit. Making a good pair of speakers is one thing. Designing a process where every speaker is a clone of its prior unit is something else again. One of the most important things we can do as consumers to protect ourselves, is getting that money-back guarantee. If we know nothing technical, at least we know when we get the speakers home, if they are not performing to our delight that we can return them. Before you buy, ask, and be sure to ask if they also charge a re-stocking fee. In our opinion, a liberal return policy is a valuable asset that is a must when buying loudspeakers.
Small is the new BIG
You might have spent $1000 for that new computer, which includes "speakers" which were likely made in China for less than 50 cents each. Despite this, there is no shortage of people claiming that 24 bit 96 Khz digital audio is always far superior to the old 44.1 Khz 16 bit audio, making this judgment while listening to speakers which may be far less in quality than even a $30 sound card or $400 receiver.
How could this have happened? Many years ago when audio engineering was in its infancy, a 10 watt amplifier was a big deal, and a 10 cubic foot box was no big deal, it was the norm. Audio engineers had to fill that theater with people, all willing to pay their nickel to see the talkies (talking movies) on Saturday, and have the sound loud enough for everyone to hear over their own laughter. The speaker boxes were HUGE, and incredibly efficient. With the advent of higher powered receivers, and "air-suspension" loudspeakers, (which became popular in the 60's and 70's) we could suddenly get high fidelity sound into smaller and smaller places. Suddenly, the big boxes were ugly and unpopular. After the 1980's when "what happened to audio was video" - (Greg Timbers, Sr Transducer Engineer JBL- 1984), and small and thin were in. With a smaller box, you will need a smaller lighter cone. With this, you need less magnet force to move the speaker about. When we decided to allocate most of the living room space for the big screen TV, the big block boxes of the 70's went out of favor, and slim was now very much in. The loss of cabinet volumes meant efficiency had to drop, and with it we lost the ability to create moderately priced systems which could play very loudly. While the advent of home theater systems brought new customers into the market, it also put pressure on the designers to come up with boxes that could "fit" above the TV or to the side of the entertainment center without taking up real estate. So, how do you fit a 15 inch woofer into a box 10" wide by 12 inches deep? You don't unless you mount the driver on the side of the cabinet which of course increases cabinet depth and raises yet another issue, a box sticking out further than the furniture it's supposed to blend in with.
With Asian vendors having very low overhead and labor costs entering the loudspeaker market, this destroyed a great deal of American manufacturing by undercutting prices and profitability. China devalued their currency in the early 90's, nearly halving its value, so at this point in time it became less expensive for a loudspeaker manufacturer to buy the finished unit rather than build it himself from US sourced parts, hence the death of the loudspeaker business in the USA.) Actually, the State controlled reduction in the value of the Chinese currency destroyed much manufacturing, not just the audio business.
The business model has changed. Engineering is now mostly concerned with making sure what we get from Asia is repeatable and reliable. The budget for speakers has been reduced substantially, as costs have been driven down repeatedly over the last three decades. So, why then, with a speaker which cost $280 in 1983 dollars, and only $200 in 2011 dollars do we see this reduction in quality over the past 30 years? Would not high quality then cost less, making it more accessible to all? It does, but because the public has continued to drop the bar on its expectations, the reverse has happened.
Urbanization and maturation of the population (meaning we guys got older and married) has resulted in a buying public which wants a slender tall and pretty box, that looks good next to the Hi Def TV. Looking good is surely more important than sounding good! This means the actual investment in parts inside the box keeps steadily declining as a percentage of what the consumer spends on the sound system, while engineering is expected to do more and more with fewer and fewer dollars. The value of the sound has been reduced while the value of the appearance has been elevated. The speaker business has gone from the science of manufacturing to the science of understanding consumer perceptions.
What's Next?
In part II of Identifying a Legitimately High Fidelity Loudspeaker we will examine some of the common marketing myths surrounding loudspeakers. In Part III we have a more in-depth discussion of driver mechanics and how they relate to overall performance as well as wrapping up everything we discussed in this article series.
MinusTheBear posts on September 08, 2011 12:42
mtrycrafts posts on August 29, 2011 18:14
krabapple;827994
Please excuse the diversion, but this seems a fine place to ask...are the specific criteria defining a 'THX-style speaker' available anywhere to the public? THX's own site was opaque on this, at least to my searching.
Most likely not as they guard their specs like a secret which it is and should be as they license companies who want to get certification, but you know this.
Perhaps, there is a leak someplace.
GO-NAD! posts on August 29, 2011 18:10
Only if you take a micro view, not if you take a macro view.

The fact is that due to globalization and corporate acquisitions, excellence is getting to be a rarer and rarer commodity.

Excellence is speakers is one small part caught up in the whirl wind, created by idiot corporate bosses, short sighted government policies, bankers and hedge fund types with criminal ethics.

If we return to speakers, lets take Rolla Celestion. They produced really fine speakers, from a program of innovative research. They pioneered laser interferometry and pushed the science of cone design forward. Speakers from that body of research still fetch high prices on Audiogon and eBay, and with good reason.

So they got acquired by Goldmark industries out of Hong Kong. Now nothing but absolute junk is produced. This outfit also bought KEF. Recent offerings from KEF that I have auditioned, have been way less than stellar.

All this has accelerated the race to the bottom, and made the search for excellence a longer tougher road.

What if Billy Woodman retires and sells ATC? The the worlds finest mid range driver is threatened.

If the Scandinavian driver manufacturers succumb to the Far Eastern onslaught we are in dire straights. If they acquire the likes of B & W also we are really sunk.

Credit is flowing in the Far East. As you will see from some of my links, European credit markets are now frozen.

We have allowed a potentially disastrous situation to develop, and the loudspeaker business and pursuit of excellence is just one of many set backs caught up in this downward spiral.

This is all made worse by the fact that is no clear picture of where this will all lead. What is worse is that anybody with an ounce of intellectual honesty, has not got a clue of what to do about it.

I certainly see your point and I'll accept that it's kinda relevant. However, the title of the article is Identifying Legitimately High Fidelity Loudspeakers, not Identifying The Mass Of Crappy Loudspeakers Due To Globalization/Offshoring of Manufacturing. It also isn't a primer on micro- or macro- economics. In other words, the article is meant to help readers judge the quality of a speaker according to the quality of the components and assembly, as well as the soundness of the design. If a high quality loudspeaker happens to be manufactured in China or on Mars, that quality will speak for itself.

Doc, you know more about loudspeakers than I ever will. I don't know if any of the loudspeakers manufactured in China can be considered "high fidelity". Considering the large number of models built there, I have a hard time believing that there are none.

I think it's all about judging a loudspeaker on its on merits, not where it came from. As for the economics aspect, it may be related to the topic - but only on the fringes.
gene posts on August 29, 2011 16:44
Harman's tests aren't ABX, they're not about establishing whether loudspeakers tend to sound the same or different -- I don't think anyone questions that they tend to sound at least different -- the Harman method is about getting the fairest, most bias-free evaluation of comparative sound quality. That means randomized, blind and with trained listeners. Since *preference* is being evaluated, rather than simple difference, the fact the a difference is obvious doesn't eliminate the value of blind comparison. As Olive has shown, sometimes even seasoned audio gear reviewers have surprising preference results when they are 'blinded' vs 'sighted'.

So it would still be interesting to me to see how those JBLs would perform in the Harman test setup, with trained listeners like yourself.
I am well aware of the Harman test procedure and what its purpose is for. They even invited me out there to run through their tests which I plan on doing one of these days. They don't abuse the results of their testing or declare they make speakers that can't be beat regardless of price. I respect their efforts!
krabapple posts on August 29, 2011 16:30
gene;828000
I don't need a blind test to determine good vs bad sound just like I don't need a blind test to determine a good or bad tasting piece of steak or a slow vs fast car. Blind tests are useful for fleshing out small differences of sound or other stimuli but their importance tends to be a bit overstated especially when there are very obvious differences between two stimuli.
Harman's tests aren't ABX, they're not about establishing whether loudspeakers tend to sound the
same or different
-- I don't think anyone questions that they tend to sound at least
different
-- the Harman method is about getting the fairest, most bias-free evaluation of comparative sound quality. That means randomized, blind and with trained listeners. Since *preference* is being evaluated, rather than simple
difference
, the fact the a difference is obvious doesn't eliminate the value of blind comparison. As Olive has shown, sometimes even seasoned audio gear reviewers have surprising preference results when they are 'blinded' vs 'sighted'.
So it would still be interesting to me to see how those JBLs would perform in the Harman test setup, with trained listeners like yourself.