Loudspeaker Crossovers cont.
So What's all the Fuss?
Now the problem with an exercise like this is that the chance that the crossover network will do what you might expect of it is somewhere between slim and none. The main reason for this is that loudspeakers do not have a constant impedance, (like an 8 ohm resistor) nor do they posses flat frequency response through the crossovers region immediately on either side of the crossover point. Let's take a look at a real world example. Let's say we want to build a system, and we go to a parts vendor and buy a woofer and tweeter we think should work well together. Not being gurus on the subject, we decide to keep it simple and use a simple 6 db per octave network. It is the least complicated, least expensive, and least sensitive to component tolerance, plus it is the only network able to offer (theoretically) perfect transient response characteristics. We will load the driver data from the Xover Pro 3 database and use this program to calculate the crossover parts for a 2000 Hz crossover point as shown below.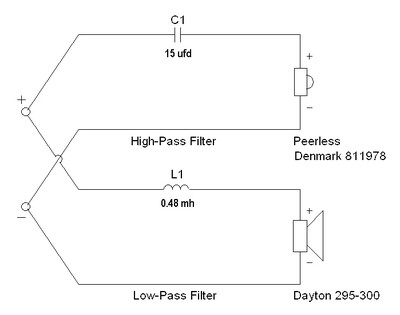 FIGURE 4
Unfortunately there are characteristics inherent in the speakers we use which cause issues with this kind of simple network. Let's take a look at these results from Xover Pro version 3.

Figure 5 -Peak in tweeter Impedance results in frequency response peak in combined response
This particular tweeter has a resonance at 900 Hz. As we approach the tweeter resonance the Impedance magnitude peaks. The capacitor can do nothing to prevent that, so it does not do a good job of attenuating the signal across the actual speaker the way it would across a simple resistor whose impedance does not change with frequency.

Figure 6 -Impedance of Tweeter and series capacitor (red line) peaks at Tweeter Resonance
If you refer to the original Audio Cyclopedia by Howard Tremaine, it refers to the set of equations widely available in reference texts like the Loudspeaker Cookbook to calculate crossover component values as "constant resistance networks". While a good number of real speakers have relatively flat impedance regions, we rarely cross over those speakers in that region. It is almost always at the extreme upper frequency range of woofers where they have a mostly inductive impedance; or the lower end of tweeters where the HF devices have resonances and therefore impedance peaks as in our example above. In fact many woofers have a voice coil inductance considerably higher than the series inductance required for the first order crossover network. This is why you will often find impedance compensation networks called Zobel networks used in parallel with the woofers.
FIGURE 7 - 1ST ORDER LP WITH 2ND ORDER HP FILTER
Since our Dayton woofer is small as is its voice coil, it has a very low self inductance, so in our example we do not need a Zobel network for a good result. On the other hand, our problematic tweeter has to be attenuated a bit to lower its sensitivity to match the woofer, and it also needs a parallel choke to short out that resonant peak so the series capacitor can do its job. This is a second order network and is a bit more complex than a first order. While it brings with it the issues of increased phase shift, more parts and more expense, it also brings with it a greater amount of control over the responses of the speakers in and around the crossover region. By fudging a bit the elements generated by Xover Pro 3, I am able to massage this curve to look very flat.

Figure 8 - High Pass, Low Pass and Combination Response using Network shown in figure 7
Now this beautiful curve is not the result of a measurement, but in fact a simple modeling tool which makes a lot of assumptions that may not be true. (Both speakers are in the same horizontal and vertical plane, both are minimum phase, etc.) That said, it sure looks a lot better than what we started with. As you can see by the impedance curve below, there are no sudden jags in the curve, and the impedance of both the HP and LP sections are smooth and quite symmetrical.

Figure 9 -Woofer, Tweeter and Combination Impedance Magnitudes using Network in Figure 7
Let's take a look at one more example before we finish. We are going to replace our woofer with one having a much more inductive voice coil, arbitrarily chosen to be 1.0 millhenry. In this example, we will use a second order network, and see what kind of change we get from using or not using a Zobel network, an impedance compensation network to make the woofer look non-inductive to the crossover. The Zobel network is the series combination of a resistor and capacitor together in parallel with the woofer. In the schematic below, they are shown as Rz and Cz.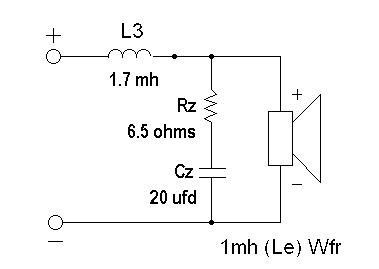 Figure 10 - Woofer with 1st Order LP and Zobel Network
Below is a graph that shows the woofer in three instances. No network. 1.7 mh in series with no network. The same woofer and 1.7 mh and with the Zobel network.

Figure 11 -Woofer raw response - first order LP no Zobel - first order LP with Zobel
The two curves which parallel each other at very high frequencies are the raw woofer (top) and the woofer with the single series inductance (1.7 mh - lower). You will notice that the inductor simply adds about 6 db of attenuation and then offers no more rejection. (This is evidenced by the curves tracking each other at high frequencies). The lowest curve is that of the woofer using both the series inductor and the Zobel network. By returning the apparent impedance of the speaker to that of a simple resistance, the Zobel network allows the series inductor to do its job, that is to offer ever increasing attenuation with increasing frequency. Below is the Impedance magnitude of the speaker with the Zobel Network (flat at high frequencies), the speaker with the series inductor, (highest impedance at 2 kHz) and the speaker with the series inductor and the Zobel network both (middle curve). What this shows is that the inductance of the speaker and the inductor add together to present a very high impedance to the driving amplifier, but not a very effective filter of high frequency information.

Figure 12 - Impedance Magnitude of Vented woofer with Zobel (bottom)
Zobel and Choke (middle) and No Zobel network and choke (quickest to the top)
In practice, very few woofers give us what is called in filter speak, a monotonic decay. This means the response goes away and does not return (as is shown in graph # 7). There are no ripples in that portion of the spectrum we want to deny the speaker, called in filter-speak, the stop-band. This is a really important characteristic of woofers, and very few are well enough behaved in the midrange to not be a problem in this regard. If the woofer has peaks at 3 KHz, and we attempt to cross it over at 2 KHz, you will likely hear the peaks, especially if you are in the woofers direct line of sight. For sure you will see their effects in the combined response through the crossover. As we can see from the above example, making sure the filter can actually attenuate the signal increasingly with increasing separation from the crossover frequency is a very important function with real world speakers, and the Zobel network is an important tool in the arsenal of crossover designers.
So What's Next?
Now at the outset of this article, I said that we were making certain assumptions about the actual parts we use in crossover networks being theoretically perfect. In the real world, capacitors, inductors and resistors exhibit real world behavior which is neither ideal or perfect. In this part, we considered the importance of real loudspeaker impedance, and how it acts as a monkey wrench to complicate and frustrate the function of constant resistance type crossover networks. In part two of this article, I will discuss non-ideal behavior of real world parts. This I hope, will allow the reader to gain some insight into the kinds of mistakes made in crossovers that can be seen by simply examining the networks, and some flaws which are not quite so obvious. We will also look at a real world example of a crossover I build, and how far it actually deviates from the theoretically predicted network.
highfigh posts on October 08, 2009 16:16
Those crossovers are a disgrace, just look at those tiny resistors, carbon types too, with no business being in a crossover at any price point.

At least they're flame-proof.

How long have they been a dealer of these speakers? It might be better for them to talk with the company and have them set up an inventory adjustment so they can sell them to another dealer, to avoid any trans-shipping issues for the franchise agreement. If they have been in the inventory for too long, it's time to cut their losses and sell to someone who can make use of them.

I take it that you may not have looked at the Vienna website, or you would have commented on the electrolytic caps in the crossover for the Klimt series.
highfigh posts on October 08, 2009 16:05
gene;629730
Its kinda an inside joke between Paul and myself. I used to be a math major when I went to school to actually become an Electrical Engineer and I had a math teacher that always used to say "check your maths". Its kinda a slang among geeks I suppose.
I have seen that used by Brits but not many here in the US.
nosferatu posts on October 08, 2009 11:44
gene;632630
You think they used enough glue on that crossover board?
this is my Maestro with blown woofers. not sure what to do with it at this point .
gene posts on October 08, 2009 10:52
You think they used enough glue on that crossover board?
nosferatu posts on October 08, 2009 10:42
Those crossovers are a disgrace, just look at those tiny resistors, carbon types too, with no business being in a crossover at any price point!

I have auditioned Vienna speakers twice recently with my friend. They are another on the list of speakers too dreadful to mention. They are absolutely awful.

The dealer wishes he had never touched them. He can't sell them at a steep discount, alongside B & W and Dynaudio. He is yet to sell one pair!

Unfortunately that sort of thing you have uncovered is common in the loudspeaker industry. I keep repeating myself, but there are far more dreadful speakers out there than good ones. Unfortunately a lot of the dreadful ones still come with high price tags.



i was expecting well made crossover in a $1200 speaker. i do have Hyden Grand and they do sound good 4my ear. however you can't disassemble a speaker before you buy it to see how well is made. My $300 PSB bookshelf speakers crossovers are made much better than Vienna