THX Calibration Conclusion
The class takes you through the basics first - brightness, contrast, sharpness, color and tint… the stuff you don't need a meter for on the first day. You do get some hands on time during that day as well. Again, there are a number of different signal generators and test disks you can use to do these sorts of calibrations and for the most part they were all available. The downside was that you sometimes needed to ask for help to switch between the different types of sources which slowed down the process. It would have been better if specific displays were paired with specific sources. Instead, they had a video router which could be used but only the instructors knew how to operate.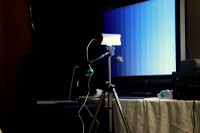 On day 2, we started to use meters. There was a ton of hands on during this time and we were encouraged to pair up with other people. This was a really good opportunity to experience new gear and to ask questions. That evening, after dinner, the instructors stayed in the room to near midnight as most of the attendees worked on calibrations trying to get as many done as possible for the requirements. That was a really big help. The instructors were also always available and willing to answer questions and give you guidance. During the class times, they encouraged questions and always had an interesting story on hand to illustrate more complex concepts.
By day 3 it seemed that everyone was getting a little tired and overloaded. The instructors completely skipped the CRT section which we appreciated as anyone still teaching about that technology is wasting a lot of time on obsolete televisions. Most everyone that is an old-school calibrator will likely already know what they need to calibrate a CRT. Those that are new to calibration or hobbyists probably won't be running into any. This is also when we covered CCA and CMA - both are specific to projectors. It was at this point that I started to feel like the generalities were getting a little lost because of the specifics. Just about everyone has had the experience of someone that really knows a topic trying to explain it to a neophyte. The experienced person often has so much knowledge that they assume the neophyte already knows the basics. This leads to the neophyte looking confused, nodding a lot, and then asking someone else. While CMA and CCA were covered in great detail, there were definitely times that I felt that the whys and some of the basics were being assumed. It's like going to a woodworking class and having the instructor start with, "Now, grab your planed 2x4…" If you don't know what a planer is then you're already lost.
While it may have been appropriate to skip the section on CRTs, apparently the person that created the final exam for the class didn't think so. After you complete the course, you have 3 weeks to complete and pass (with 85% or better) the final exam online. You can take it up to 3 times and after you take it, it tells you which questions you missed. The test is timed (in a "enter the answers in an hour" not "you've got 5 minutes for 30 questions" type of way) and is 100 questions long. What they suggest (and I did) was open the test, print it out, and fill it in later after you've answered the questions on the paper. This also makes it easy later when it tells you what you missed to correct your mistake. I have no problems with any of this. What I did have some concern about were the questions.
As I implied, there were still questions on CRT calibration on the exam. The first rule of test construction is that you never ask a question about something you didn't teach in the class. If it isn't important enough to cover in the class, it shouldn't be on the test. I personally believe that you shouldn't have any question on an exam that wasn't covered specifically verbally but it is a more common practice to allow questions that are covered in the readings. The problem with this for the THX class was the "readings" were 200+ pages of printed out Power Point. Reading someone else's Power Point slides is often like trying to decipher a code without a key - nigh impossible. Second was the wording. Many of the questions were unnecessarily tricky. "Pick the worst response" was common. While this didn't trip me up as much as it did some others (I did attend grad school in the school of Psychology - talk about unnecessarily complex multiple choice questions), it didn't exactly seem fair for this type of environment. People have paid lots of money to take your class, trying to trip them up on a test seems petty and disrespectful.
On top of that, there were a few questions that didn't make much sense. The entire test was multiple choice and there were answers that didn't line up with the question. The worst was the question "When adjusting gamma it is good to:" with one of the options being the lone word "visually." Um… OK? I think I know what they were going for but come on! I can't believe we're the first one that has complained about this question. The key when creating this sort of test is to read the question with each response and make sure they make sense. Lastly, there were a few questions that Clint and I both felt were either scored incorrectly or that the program that did the scoring was a little glitchy. That might just be user error on our part but we both noticed it.
So, after you complete the class you are required to do 10 calibrations (2 of which need to be done in class so really 8), pass the exam, and pass the level 1 technician class. This is the audio portion which costs another $500 (plus expenses). Luckily, there is a free online component that you can do instead for the Video Calibration class attendees. After you complete all the requirements, you are able to certify that a display is calibrated up to THX standards. What does that mean? It means that you can make a display look as good as it possibly can. In order for the calibration to be complete and for you to provide a THX logo plaque, a letter of certification, and a THX test disk to the client, you'll need to have your calibration certified by THX. To do this, you submit the calibration settings electronically to THX and they will send the client all of the above. This is their way of making sure that only qualified calibrations get the certification. This isn't to say that a challenging room (no light control, a client that likes everyone looking a little red) can't be certified, you just need to explain the extenuating circumstances in your report. Where this gets tricky is that the THX client kit costs $100 and is mandatory in order to provide a truly "THX calibrated" system to your client. You'll need to add that to the cost of your calibration. In this economy that may be a tough sell, but it also might be worth it and help you stand out in the crowd depending upon your level of clientele. Speaking of standing out - being THX certified in video calibration will also allow a company to "claim" you with the "THX Certified Professional on Staff" logo (something they would need to relinquish if you are ever terminated from full-time staff).
At the end of the class, they passed out a THX Test Disk (version 2), a THX embossed pocket knife, and a THX notebook. All of this would have been much more helpful at the beginning of the class where we could have used the notebook to take notes, used the knife to open the test disk, and used the test disk to calibrate the displays. While I understand the desire to wait until the end to pass out the goodies, the notebook at least should have been distributed at the beginning. The knife was an interesting choice especially with how tolerant TSA has been these days and how more and more people are trying to forgo checking luggage for fear of theft, damage, or extra charges.
One of the themes of the training course was education. Not the education you were receiving, but the education you'll need to give clients. I honestly believe that this was one of the most important parts of the THX training. Clients need to be educated not only one why calibration is important, but on what you are doing. If a client leaves the room and comes back an hour later and you say, "Okay, I'm done," they are going to wonder where all their money is going. Case in point, I have two calibrations left to do for my requirements. I was at a friend's home and suggested that I could calibrate his display for him (for free) for my THX certification. He is someone that I would say was fairly informed on home theater, has a blu-ray player, flat panel, OTA antenna for better HD reception… basically enough gear to make me think he would understand the value of a calibration. His response? "But I don't use the speakers in my TV." He heard THX and thought sound. Education is your friend and assumptions… well we all know the saying.
ISF vs THX Training
In comparing the ISF course to the THX Video Calibration course I'd have to give the caveat that I took the ISF course several years ago and so it may have changed somewhat since my experiences. The overall opinion I hold, however, is that ISF delivers a more robust course on the history of television as well as the finer points of the calibration process - the How's and Why's of display calibration. The THX Video Calibration course offered a lot more opportunity for hands-on experience and interaction with experienced calibrator instructors during the 3-day course. I felt as though I received a more structured education out of ISF, and a more hands-on experience from THX. The course materials for ISF were also more robust, leaving attendees with a comprehensive course manual that contained every bit of information delivered in class. THX gave us a book of PowerPoint slides that desperately needed to be expanded. Overall, both courses are excellent and each has their advantages, but as mentioned above, it's hard to compare the sheer marketing power of the THX logo and name - and that's something that is going to drive a lot of custom installers to want to take this course even if they are already ISF certified and have been doing calibrations for years.
Conclusion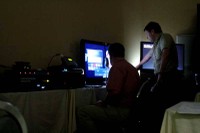 Is the THX Video Calibration Training for everyone? Probably not. It's definitely a chunk of change and time. If you aren't planning on making money with the certification, then perhaps it isn't. But if you are a hardcore enthusiast with a bunch of friends or a professional calibrator/custom installer, the THX moniker does hold a certain weight in consumer's minds. It might even land you a job, or help you to hold onto one. Will an ISF calibrated display look different than a THX calibrated one? Given equally talented calibrators, no. But the class was informative, there was plenty of hands-on time, and in the end, you walk away with a good grasp on how to make a display look good. And really, that's what it is all about.
THX Video Calibration Training
$1,995 (three day training, was $2700)
THX Ltd.
Sunok Pak
Hill & Knowlton, San Francisco
415.492.3946
About THX LTD.
THX Ltd. is dedicated to developing new ways to make the creation, delivery and presentation of digital content more efficient, more powerful and more enjoyable. Today, the world's premier commercial cinemas, post-production studios, car audio systems and home entertainment products incorporate THX technologies and have achieved the coveted THX Certified status. For more information, visit www.thx.com.
The Score Card
The scoring below is based on each piece of equipment doing the duty it is designed for. The numbers are weighed heavily with respect to the individual cost of each unit, thus giving a rating roughly equal to:
Performance × Price Factor/Value = Rating
Audioholics.com note: The ratings indicated below are based on subjective listening and objective testing of the product in question. The rating scale is based on performance/value ratio. If you notice better performing products in future reviews that have lower numbers in certain areas, be aware that the value factor is most likely the culprit. Other Audioholics reviewers may rate products solely based on performance, and each reviewer has his/her own system for ratings.
Audioholics Rating Scale
— Excellent
— Very Good
— Good
— Fair
— Poor
| Metric | Rating |
| --- | --- |
| Performance | |
| Value | |