Audible Significance and Engineering Minutia
In reading documents provided by Pear Cables about what is considered important design parameters for speaker cable, one will see an exercise in hyping minutia with no proof that any of it is significant or even humanly audible. The worries of Pear Cable designers:
Litz geometry and Skin Effect
Exotic metals and internal corrosion
Cable dielectric absorption
Triboelectric effect
Internal mechanical vibration and resonance
Internal cable damping
Cable movement relative to connectors
Extreme tolerances on conductor length
Cable directionality
Cable break in
First, we will define what constitutes the boundary between the audible and the inaudible:
Listeners can detect a change in loudness when the signal is altered by about 1 dB (a 12% change in amplitude).
Steven W. Smith, Ph.D., The Scientist and Engineer's Guide to Digital Signal Processing
Chapter 22 - Audio Processing / Human Hearing
A wide range of studies over the last century support 1dB as an average with the best result of 0.25 dB obtained only at inner ear resonance using wide band pink noise. Any sound outside of the commonly accepted 20 Hz to 20 kHz bounding frequency range of human hearing or any change in sound amplitude
< 1 dB is inaudible.
The other important fact is that the ear is relatively insensitive to low and high frequency sounds. The nonlinear response of the ear somewhat flattens out at high SPL, but the ear will simply be less sensitive to sound changes at frequency extremes.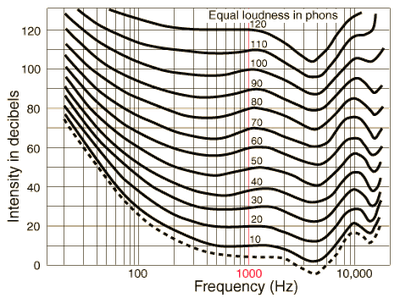 Equal loudness contours after Fletcher and Munson

A 20KHz harmonic note (because that's what it is) represents the 5th harmonic of the highest fundamental frequency on a concert grand piano, 4156Hz. Frequencies in this lofty realm can be heard by a very young, small percentage of the world's population. Typically this frequency will be over 20dB down from the fundamental which means that relatively close proximity to the reproducing system in a very quiet acoustical environment is required to hear these frequencies by the select few who have the capability.
Audioholics: Speaker Cable Length Differences Do They Matter
As to phase and time delays:
A 5 microsecond delay has only been detected with any degree of certainty, under controlled laboratory conditions, within the approximate 3500Hz region where the ear is most sensitive. Again this detection must be in an extremely quiet environment, certainly below NC20, almost anechoic in fact.
Audioholics: Speaker Cable Length Differences Do They Matter
A 5 ms delay is the upper bound limit for human hearing in optimal laboratory conditions, and only within the frequency range where the ear is naturally most sensitive. Delays of up to 30-40 ms are combined by the ear in what is known as the Haas Effect, which is commonly used for sound reinforcement in PA systems, it allows stereo audio systems to recreate the illusion of a sound stage, and it is used as a basis for various matrix surround sound decoder schemes such as Dolby ProLogic.
So, what is the audible significance to the issues that Pear raises for audio cable design?
Pear boasts of a proprietary hybrid Coaxial/Litz geometry to prevent skin effect losses at audio frequencies, losses which are inaudible at mere fractions of a decibel.
At radio frequencies, Litz wire is often used to eliminate the skin effect. This occurs because of the tendency for RF to try to escape from the wire, so it concentrates on the outside (or skin) of the wire. The effect actually occurs as soon as the frequency is above DC, but becomes noticeable only at higher frequencies. Litz wire will not affect your hi-fi, unless you can hear signals above 100kHz or so (assuming of course that you can find music with harmonics that go that high, and a recording medium that will deliver them to you). Even then, the difference will be minimal.
Rod Elliott, Elliott Sound Products
Audioholics: The Truth About Interconnects and Cables
According to Dr. Howard Johnson, attenuation of signal transfer through any copper wire can be broken into five distinct regions:
RC region
LC region
Skin-effect region
Dielectric loss region
Waveguide dispersion region
Skin effect is not a significant consideration until well into the megahertz frequency range and audio falls well within the RC range with attenuations of 0.001 to 0.08 dB/meter at 20 kHz.
Attenuation curve for copper coax cables and a psb trace
Dr. Howard Johnson, High Speed Signal Propagation: Advanced Black Magic
For solid copper wire, skin depth can be estimated as:
| | |
| --- | --- |
| Frequency | D |
| 60 Hz | 8.57 mm |
| 10 kHz | 0.66 mm |
| 100 kHz | 0.21 mm |
| 1 MHz | 66 µm |
| 10 MHz | 21 µm |

f = frequency (MHz)
At a frequency of 20 kHz (.02 MHz), the skin depth of a copper wire would be 0.47 mm, radially, meaning any wire of a 0.94 mm diameter or less would effectively have no skin effect.
Wikipedia: Skin depth for solid copper wire
Skin depth is larger than the radius of a 19 AWG (0.91 mm diameter) solid conductor and nearly that of an 18 AWG (1.02 mm diameter) solid conductor. Few, if any, audio cables are constructed from solid wire of this gauge or larger, meaning no significant skin effect. For frequencies lower than 20 kHz, skin depth increases and smaller wire increases the critical frequency before the wire cross section is not 100% effective. With skin depth increasing as frequency decreases, this effectively mitigates skin effect as an issue at audio frequencies.
Pear uses gold interconnect and OFC speaker cable conductors to eliminate internal surface corrosion, again related to skin effect.
The diffusion of oxygen, or other gases, through the insulation will be small, but the conductors will oxidize over time.
Most insulation jackets are effectively impermeable and any incidental oxidation results in copper oxide, an insulator.
Many cables today are advertised as using "oxygen-free copper", copper which has been annealed in an oxygen-free atmosphere. OFC is popular in audio cables, and has begun to make inroads into the video cable market as well.
We all know, of course, that oxygen is bad for things made from copper. Copper oxidizes and turns green and flaky; in so doing, it loses its high conductivity and begins to fall apart. But the amount of oxygen present in conventionally annealed, non-OFC copper is so tiny that it simply isn't a factor in cable quality. We have cut into pieces of Belden coaxial cable twenty-five years old that have been used in radio transmission applications--and found them clean and bright, completely lacking any sign of oxidation. Modern coax is better still, with nitrogen-injected foam dielectrics that keep oxygen entirely away from the center conductor.
As it is with silver, there's nothing wrong with OFC; but electrically speaking, OFC wire is indistinguishable in audio and video applications from ordinary annealed copper wire.
Audioholics: Exotic Materials and Cable Construction
Internal corrosion will not occur with a conductor properly encased in a dielectric. Once again, this is nothing but minutia.
Oddly enough, it isn't the freedom of oxygen in copper wire that makes any difference. The process of removing oxygen also removes the impurity of iron and it's this impurity that can cause the resistance to be slightly higher. The difference in resistance between copper wire and oxygen free copper wire is too small to be significant for speaker wiring. It can be considered to be ordinary copper wire as far as the recommended lengths of copper wire in the table. Oxygen free copper wire can be more expensive than ordinary copper wire.
What is also ironic is that gold is actually a worse conductor than either copper or silver, but is used by Pear to prevent cable corrosion that does not occur anyways.
Pear obsesses about dielectric absorption; another inaudible non-issue that causes high frequency losses an order of magnitude below established thresholds of human hearing and does not produce any measurable distortion between different materials and cable designs.
Pear claims internal cable components will undergo significant mechanical movement from acoustic and electromagnetic forces: minutia. Other than citing an exotic design where the internal conductors are deliberately loose in the cable sheath, this is a non-issue for any standard cable design.
The ANJOU Speaker Cable has been meticulously designed to minimize physical movement within the cable. Movement of conductors relative to themselves or insulation material will cause energy to be either subtracted from or added to the audio signal. Vibration caused by sound waves must be dealt with in all cables. In addition, speaker cables can resonate from the electromagnetic force caused by the current within the cable itself. There are 3 important elements to consider when minimizing mechanical movement within a cable: ability to absorb or dampen mechanical energy, the strength to prevent motion, and the electromagnetic forces that will be will be created within a cable.
Pear Cable: Anjou Speaker Cable
The bit about strength to prevent motion is a factual error in applying mechanics of materials. Mechanical strength is defined by the ability to resist load without material failure by a number of mechanisms including yielding, fracture, or rupture. The mechanical stiffness of a material, or its converse rigidity, or compliance in audio circles, is the ability to resist deformation caused by loads. This is a distinction introduced in every introductory class on engineering materials.
Pear cites significant Triboelectric Effect based on the supposed internal motion, the common source of static electricity from friction, an everyday occurrence when one, say, walks across carpet in socks on a cold, dry day. Triboelectric effect only occurs with kinetic friction, where one surface moves relative to another surface, not from static friction where no movement occurs. The transfer of energy from kinetic friction occurs because the movement produces mechanical work, but if there is no motion, no work is performed.
Triboelectric effect can be a consideration in microphone wires where a performer's movement with the cable may introduce localized bending stresses high enough to cause localized internal slip. The movements of a performer will be measured in meters, producing high flexural curvatures with cables wrapped around tight radiuses; such movement falls into the range of a large deformation geometric nonlinearity.
Any incidental movement of a speaker cable from acoustic vibration and electromagnetic fields will not be enough to overcome internal static friction between components in standard cable designs, staying well within the small deformation, geometrically linear range. Static friction, in addition to any adhesion between the conductor and insulation, will generate enough force resistance to prevent movement: no movement, no work, and no triboelectric effect. So, unless one is running around carrying their speakers while listening to them, this is not a problem for speaker wire.
Pear then claims mechanical resonance at audio frequencies inside speaker cable. I would love to see the modal analysis and dynamic time history results, as well as the mathematical model, input, and assumptions that went into this claim, assuming there is such an analysis.
The significance of mechanical resonance in audio cables can be dismissed with some simple common sense. Under conditions of resonance, energy that is input into a system by a frequency that is at or very near a natural mode or frequency of vibration will cause a disproportionate, unbounded increase in the amplitude of the movement. Considering the harmonic nature of music, if any resonant frequency within the audio band was energized it would repeatedly receive input energy, driving resonance and causing physical movement within the cable despite any internal dissipation mechanisms. A cable should then pulsate, which it does not by any detectable amount.
Equal sensation magnitude curves
From the provided curve, threshold sensitivity of touch ranges between 1x10-7 meters to 1.5x10-6 meters in amplitude to vibrations, depending on signal frequency. This means that some very small vibrations should be detectable by touch.
There will be no significant mechanical resonance in the cable components that will affect the audible output and electrical resonance does not occur until well into the LC region. Wires encased in their dielectric will not move by a significant amount from acoustic transmission, internal electromagnetic field action, or any other such phenomenon by a significant amount to be audible within scientifically established limits of human hearing.
An LC line driven with a low-impedance source
Dr. Howard Johnson, High Speed Signal Propagation: Advanced Black Magic
Clint DeBoer posts on May 13, 2008 14:52
Never let is be said that our reviewers can't take a hit. lol
AdrianMills posts on May 13, 2008 12:23
Nope, just clearing up some misinformation suggested in one of the posts.

Appearantly I was unaware of how touchy a subject ham radio is for the operators. There were a lot more unhappy feelings in some of the posts than I would have expected for such a minor mention of the topic for a percieved slighting that was certainly not intentional.

David

Welcome to the WWW.
DavidW posts on May 13, 2008 12:19
Oh my gosh, David - give it a rest will you. Last time I checked, the point of the article wasn't to insult Ham Radio operators.

Please send me some recommended changes and go find something else to defend your honor on.

Nope, just clearing up some misinformation suggested in one of the posts.

Appearantly I was unaware of how touchy a subject ham radio is for the operators. There were a lot more unhappy feelings in some of the posts than I would have expected for such a minor mention of the topic for a percieved slighting that was certainly not intentional.

David
Clint DeBoer posts on May 13, 2008 11:54
Article updated with submission from David... Red chicklets given to David, lol
gene posts on May 13, 2008 09:48
Oh my gosh, David - give it a rest will you. Last time I checked, the point of the article wasn't to insult Ham Radio operators.

Please send me some recommended changes and go find something else to defend your honor on.
Agreed this is simply ridiculous. Make the necessary corrections ASAP. thanks.