Impact Acoustics Interview on the RapidRun Cabling System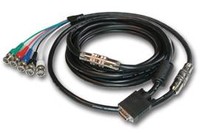 We were absolutely stunned by the very innovative and practical new cable product Impact Acoustics announced at CEDIA this year - the RapidRun. So much so in fact that they recently received our 2005 Product of the Year Award for the most innovative cable product. In order to learn more about this product.
In preparation for our formal review, we conducted a detailed interview with Joe Cornwall the Business Development Manager for Impact Acoustics.
What is RapidRun?
RapidRun™ is a cabling system . The concept is verbalized in our trademarked MUVI™ moniker - Multi-Use Versatile Interconnect™. RapidRun was conceived as the natural successor to Cables To Go's widely popular Break-Away VGA cable. Tom Sullivan , our Impact Acoustics product manager and a very talented installation specialist, determined that the core conductor configuration of a properly designed VGA cable would easily support other signal formats. He created a patent pending connector configuration, which really does allow a very simple, secure and dependable interface between the Break-Away and the Runner. With the connector tooling completed, Tom adapted the budding system to a home theater friendly five-coax cable of similar physical size and properties to the VGA Runner. With two completed trunk systems finished, all that remained was to decipher the practical combinations of termination that define the system. The final part of the puzzle was to offer the terminating Break-Away components in a choice of Flying Lead or Decora-style wall plate.
In short, RapidRun is a system that consists of a core Runner, which is the cable you permanently install. It is available in PVC, CL2 and CMP ratings. The Runner can be pulled through a ¾ inch conduit with up to a 90 ° sweep. Both ends of a Runner are finished with a MUVI connector and a protective pull-cap rated at 15ft/lbs pulling tension. To each end of this trunk cable you add a wall plate or flying lead Break-Away. The Break-Away provides the correct pin-out and connectors to interface with your audio, video or computer products.
What is the purpose of RapidRun Cables?
Let's answer that by giving you an example of how RapidRun can be used. Imagine that you're building a home theater - a serious room with lots of ability. As with many projects, you aren't about to refurbish the equipment in every room of your house simultaneously. So you retire the old 32-inch stereo television that was in the theater room to the master bedroom, and set up the new DLP in the theater. Of course you want to be able to watch DVD's from your DVD Changer in the bedroom, too. But you know that modulating a DVD signal is a losing proposition - between Macrovision encryption and compromised modulator electronics at the affordable level, you know that you aren't going to get the kind of image even your 10 year old TV can produce. So you opt for the direct connection. With RapidRun it's easy to lay 100 feet of cable and terminate it so that you have left and right audio and S-video. Problem solved.
Now a year later, you upgrade the bedroom TV to a new Plasma set. You've found that HDTV really rattles your monkey bone and you're bound and determined to enjoy this amazing technology in every room of the house. Had you run coax or something similar, the bedroom system would be an island - completely divorced from the higher resolution images available from your digital cable box, DBS satellite dish or DVD changer. With RapidRun all you need to do is change two wall plates (or flying leads). The core cable has the ability to handle either the four separate signals of the S-Video/Audio combination or the three video signals in a component interface along with a S/PDF digital audio or even L/R analog audio. Presto! You've upgraded your infrastructure for about the cost of a pizza (okay, maybe two pizzas) and everything works seamlessly.
In short, the purpose of RapidRun is to allow the cabling infrastructure in your system to adapt to new acquisitions, new components, and new technologies. RapidRun is the cable to run when you're not sure which cable to run! And it's future proof!
Please discuss cable specifications (i.e. cable geometry, shielding, RLC data, gauge, and bandwidth limitations).
The PC/Video Runner consists of three mini-coaxial cables; each cable is designed to have a characteristic impedance of 75-ohms (+/-5 ohms) at 10MHz. The individual mini-coax cables utilize a 28AWG stranded copper center conductor and 90% copper spiral shield. In addition to the three coaxial cables, the Runner also contains three 24AWG copper twisted pairs and one pair of 24AWG, not twisted. All dielectrics are foamed PE, and the outer jacket is PVC. The outer jacket protects the inner assembly through a 100% Aluminum Mylar foil with 24% minimum overlap and 85% braided copper outer shield.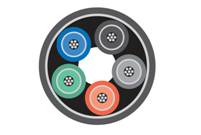 The HT Runner is a five mini-coax assembly. Each mini-coax is designed for 75-ohm characteristic impedance (+/- 5 ohms) at 10MHz. Each mini coax utilizes a 28AWG stranded copper center conductor and 85% copper braid shield. And like the PC/Video Runner, a 100% Aluminum Mylar foil and 85% copper braided shield with drain protects the entire assembly.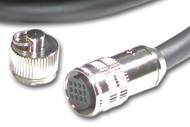 The CMP rated Runners have similar specifications but have slightly different build details due to the stiffer and more demanding nature of the material.
The exclusive MUVI Connector is machined and finished with bright nickel plating. The MUVI connectors are keyed so they only connect one way - we've tried to make this as foolproof and bombproof a system as is possible at a competitive price point.
28AWG is higher than we are accustomed with on COAX type cables. What cable lengths are supported for transmitting component video signals such as 480p from a DVD player and/or 1080i from Cable set top boxes?
As you can see, as we approach 30MHz (which I consider the limit for component video) the Rapid Run starts seeing some significant losses when cable lengths exceed 20ft. I would guesstimate some significant losses will occur if cable lengths exceed 50ft or so (more than 2.6dB of signal loss at 30MHz). Depending on robustness of video drivers of upstream equipment, this can cause sync issues or picture softening. Ever think about coming out with an alternative cable with 22-24AWG resistance for longer runs?
Please see the AC and DC Cable Loss charts we prepared comparing 28AWG vs 18AWG Coax Cable as a reference.
Regarding cable loss and conductor size, remember that RapidRun isn't designed as a substitute for SonicWave. It is a specialized modular cable system that allows a run to be placed in installations where space is at a premium. Certainly we could design a larger cable, but the larger physical size and attendant stiffness would preclude the ability to pull the cable through a 3/4" conduit - a primary engineering specification for RapidRun. The issues you rightfully point out are valid for any mini-coaxial cable. Keep in mind, where doubt exists an amplifier can always be added. We sell those, too ;-)
If everything is open, you have no size constraints or termination issues, then the best choice is to use a quad shielded full sized coaxial cable. I would always recommend a SonicWave solution when possible.
However, when the run is a manageable 35' or less from equipment closet to projector, or when space and design constraints necessitate compromise, we believe RapidRun offers the best combination of performance and ease of installation.
Using 1080i signals as an example, RapidRun will have 3dB attenuation at 26MHz at 60 feet. This will not result in any sync problems and, in observation, will not likely result in a noticeably softened picture. Certainly where maximum signal fidelity is a concern, and where installation opportunities allow, a better choice would be to use a SonicWave component video cable which will have a fraction of this loss. In practice, I've run a 35 foot RapidRun into my Sony front projection system using an ATSC HD signal as a source, and I noticed no anomalies in comparison with my permanently installed Canare 75-ohm trunk when the projector inputs were switched.
Using 480p as an example, our -3dB point @ 11.5MHz is reached at 90 feet
Using 480i as an example, our -3dB point @ 4.2MHz is at 150 feet.
These are all first order roll off which means that the effect on the image is pretty gentle and can be largely overcome by peaking the picture detail controls. By using quality shielding we've ensured there is very little extraneous noise involved in the system.
I wouldn't suggest trying to use RapidRun for full bandwidth 1080i at 150'. But if the choice is to use RapidRun to feed your plasma set in the bedroom from a home theater closet 75' away - or not having the picture at all - then the RapidRun sure does look good!
For commercial applications where the RapidRun is to be used for presentation grade projectors, the issue is even more benign. We've used RapidRun and its predecessor, the BreakAway VGA cable, to lengths of 100'. Indeed, we've sold hundreds of the VGA cables and the most popular length is 50'. We've not had any complaints or installation problems resulting from bandwidth constraints. Most of these installations (including our own installation here in Dayton ) run at SVGA.
| RESOLUTION | FREQUENCY (MHz) | LENGTH 3dB ATT | ATT dB 100' |
| --- | --- | --- | --- |
|  480i |  4.2 |  150 |  -2.16 |
|  VGA |  10.7 |  95 |  -3.15 |
|  480p |  11.5 | 90  |  -3.2 |
|  SVGA |  17.6 |  75 |  -3.8 |
|  720p |   26 |  60 |  -4.5  |
|  1080i |  26 |  60 |  -4.5 |
|  XGA |  28.5 |  60 |  -4.6 |
|  SXGA |  51.9 |  45 |  -5.7 |
|  UXGA |  71.4 | 38  |  -6.4 |
How do you install and terminate Rapid Run products? (I.e. any tools required, special wall plates, etc)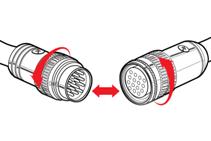 That's the beauty of the RapidRun system. It doesn't require any tools other than a small screwdriver to fix the wall plate to the mud ring if you're using a wall plate! The MUVI connector on the Runners and Break-Away terminations has dual locking rings and the connectors are keyed. You simply line up the connectors and lock them using either the left or right knurled ring - we've made the connection ambidextrous so you can tighten right or left handed to make the installation process easier.
When running the RapidRun Runner, you need to pay attention to NEC standards. That is, if you're running the system in the open or in conduit, use a PVC runner that is UL Listed Class 2. If you are running the Runner in the walls in a residential environment without a conduit, use the CL2 Runner. If you must route the Runner through a return air space, or if you're working in a commercial environment, use a CMP rated Runner.
For wall plate installation, the very best setup is to use a dual gang metal box with a single faceplate mud ring bezel. An Arlington bracket is also an excellent choice. The RapidRun Break-Away wall plate will fit in a standard, plastic, new construction single-gang box, but it gets a bit tight if you have more than a few inches of Runner coming out of the wall.
For what applications will Rapid Run work? (I.e. audio, video)
RapidRun is versatile. Using the PC/Video Runner, the RapidRun system is capable of UXGA graphics performance. That same Runner will support component video (YUV, YCbCr, YPbPr or YIQ), S-Video or Composite video. With this runner you can also use an HD15 on one end and 5 BNC connectors on the other to make a breakout cable. There are so many connections the PC/Video Runner can make; the only two missing are S-Video and Component Video on a single run or Component and S/PDIF on a single run.
But, the HT Runner is designed to handle S-Video and Component Video simultaneously. It's the perfect solution to run right alongside your HDMI cable from the equipment closet to the projector. The HT runner also allows you to run component and S/PDIF simultaneously, which is a great multi-room solution for advanced systems. The only connection the HT Runner can't make is the HD15 connection.
In short, RapidRun will handle just about any analog signal, from L/R audio through composite, component, VGA and digital audio. It is not appropriate for RF (MATV, CATV) and RapidRun does not make provisions for remote control systems, which are better served by a parallel run of CAT5e.
What termination options are available for Rapid Run cables? (I.e. RCA, F Connector, S-video, etc)
The best way to determine the appropriate connector for a specific system is to visit the configuration tool we've placed at http://www.impactacoustics.com/rapidrun . There are eight separate termination options, each of which is available as a flying lead or wall plate. The terminations include: composite video with left and right audio, s-video with left and right audio, component video with left and right audio, component video with S/PDIF digital audio, component video alone, component video with s-video, HD15 UXGA, and five BNC RGBHV.
We have a system that makes it easy to match a Runner with a Break-Away. PC/Video Runners are banded in yellow. HT Runners are banded in blue. Break-Away terminations are banded in yellow, blue, or green. Yellow works only with yellow. Blue works only with blue. Green works with yellow or blue (remember: yellow and blue make green).
What is the retail price (cabling, terminations); Are there any special discounting incentives for large purchases?
There are a lot of parts, and quite a few ways the system can be configured. Runners come in 15, 25 35, 50, 75, 100, 125 and 150 foot lengths, for instance.
Let me give you an example of a typical installation - a 50 foot HT runner with a component + S/PDIF wall plate on one end and a component + S/PDIF flying lead on the other end. This configuration in PVC or CL2 would retail for $79.99 for the Runner and $17.99 each for the Break-Away terminations for a total cost of $115.97. If you needed the same configuration in CMP Plenum, the retail cost would be $205.97. The price of every component is listed on the Impact Acoustics web page .
We also have retail dealer, installer and builder programs so folks involved in professionally installing A/V products should call 877-283-9737 or email jcornwall@impactacoustics.com to get more information or visit us at: www.impactacoustics.com.