Dynamic Comparison of LPs vs CDs - Part 4 - page 4
The DVD-A recording looks like this (without the -4.73dB adjustment):
By comparison, the LP recording:
The spectral view of DVD-A confirms that the DVD-A is faithfully capturing the extended frequency range of the original analog master, including the analog tape bias around 29kHz :
Now, the spectral view of LP is interesting: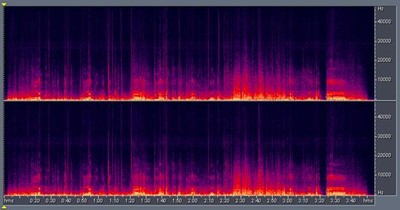 It appears the the LP is definitely reproducing frequencies above 20kHz , although not very well. The LP is able to reproduce the analog tape bias at 29kHz , but very faintly. This is one advantage that LP has over CDs.