Switching Amplifiers: The Technology and the Issues - page 3
Using the Audio Precision SYS2722 in accordance to our Amplifier Test Procedure , we measured amplifier output impedance and damping factor for a couple of switching amplifiers as noted below.
Sony STR-DA7100ES Receiver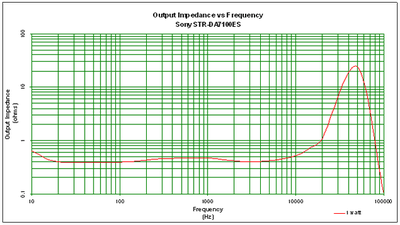 Sony STR-DA7100ES Amplifier Output Impedance @ 1 watt
We measured the Sony STR-DA7100Es' output impedance vs. frequency at 1W. It stays relatively flat across the band pass, but does increase dramatically starting around 15Hz and 15kHz. This is a higher than typical output impedance then we are accustomed to seeing, but not surprising given the amplifier topology (a side effect of the LPF of the output stage). Care should be taken however to mate this receiver with a speaker that has a relatively constant impedance profile to avoid frequency response variations or inconsistency in sound.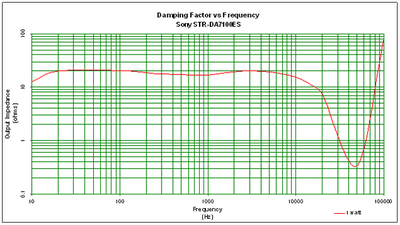 Sony STR-DA7100ES Amplifier Damping Factor @ 1 watt
The damping factor of the receiver was pretty consistent at around 20, dipping down significantly around 50kHz. Again this is lower than typically seen on receivers with linear amps in this price class.
Panasonic SA-XR50 Receiver
Panasonic SA-XR50 Amplifier Output Impedance @ 1 watt & Full Power
The amplifier output impedance of the Panasonic is reminiscent of old SET type tube amps. Couple this amp with a reactive load and all bets are off. Actually this measurement was taken at full (undistorted) power using the AES17 20kHz filter built into the Audio Precision. Though the receiver was rated at 100wpc, it wasn't distortion free ( < 1% THD + N) beyond about 70 watts, thus we consider this the fidelity firewall and limited our full power measurements to this.
Surprisingly the amplifier output impedance was actually better at near full power than it was at 1 watt. We could only surmise that this was a function of measurement interpretation since at higher power we were well above the noise floor of the device which decreased measurement accuracy issues.
Panasonic SA-XR50 Damping Factor @ 1 watt & Full Power
Again this is atrocious performance for any modern day solid state amp. A user of this amplifier is advised to couple it with a speaker with a constant impedance crossover with a very flat impedance and linear phase response of under a +-30deg window across the audio band to minimize frequency response variation and other non linear nasties which can result when mating a reactive load with an amplifier with a high output impedance. Also be mindful of the type of speaker cables you use with this amplifier. Steer clear of cables with high resistance and reactance and following the Audioholics Cable Principles when choosing the right cables for your setup.
This is a very meager result, one common in tube amps but NOT in most competently designed solid state amplifiers and hopefully NOT the norm for new switching amplifier designs.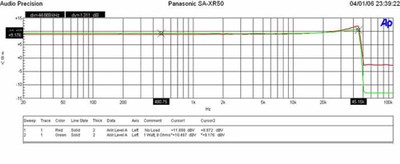 Panasonic SA-XR50 Frequency Response @ 2.83V
As you can see in the Frequency response graphs, out of band noise drops significantly once the amp is loaded with 8 ohms at 1 watt (green trace) , but a significant +3dB of overshoot is present at 40kHz in both loaded and unloaded conditions. AES17 20kHz filter was used during this test procedure.
Conclusion
Switching power amplifiers have a distinct advantage over linear power amplifiers in one particular area. They are far more efficient; this means that they don't require much of any heat sinking, they take up less space & weight, and most importantly, they are far and away much cheaper to manufacture than linear power amplifiers. In a market predominantly driven by price point, these types of units will continue to gain in popularity.
Audioholics would like to see switching amplifier performance improved in a few areas, such as reduced out-of-band components, lower output impedance, and most of all, improved grounding techniques.
While writing this article I am reminded of the classic truism of analog design: "Out of band rejection and noise reduction go hand in hand."
The designers say it doesn't apply here, but I have my reservations.
Dan Banquer would like to thank Mike Danielson of Sigma-Tel, Bruno Putzeys of Hypex, and Dick Pierce for their contributions to this article and they time they took to contribute to my education in this particular area. I am most grateful. An additional thanks to John Escallier for his editing.