AV Receiver and Audio Amplifier Power Ratings and Trends - Page 2
100 Watts in Every Channel
We're in the late nineties now and Dolby Digital, AC-3 as it was known back then, becomes available. The configuration is 5.1 and it is "recommended" that all channels in receivers be of the same power. THX recommends the same equal power for all channels so for the first time since the mid-eighties there is actually some direction given to receiver manufacturers. And as usual, the burden went back to the product managers and engineers who now were faced with producing 5-channel (at the minimum) receivers with wattages and at price points that ten years earlier had been stereo-only product. AC-3 changed the receiver category which saw for the first time examples of "statement" integrated amplifiers like the Yamaha DSP-A3090 which retailed for $2500(!) in 1996.
Why back to the integrated amp configuration? Quantities . Even at $2500 the all-channels-equally-powered A3090 was seen as somewhat of less than a fully acceptable statement piece in America because it had "only" 80 watts per channel x 5.
The Yamaha DSP A-3090
Europe and Japan had also embraced 5.1 surround and to these buyers with generally smaller living spaces the 80 watts per channel was quite acceptable. So the DSP-A3090 went on to sell in the thousands while paving the way for equal high power receivers at the lower and more traditional price points.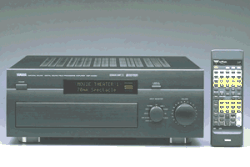 100 Watts Still Rules!
Now, jump forward to the current paradigm asked of the leading mid-fi receiver manufacturers. That all receivers, no matter how inexpensive (for the larger Japanese manufacturers), must be rated at 100 watts/channel. How is this possible?
One answer to this seemingly incongruous specification is that some 100 watt amplifiers are more capable than others when taking on lower impedance speaker systems. But amplifiers are never rated when driving speaker systems, they're rated when driving fixed-load 8 ohm or 6 ohm resistors (which can be a much easier load to drive from an overheating standpoint than a 4 ohm load). This fact gives the manufacturers a little wiggle room with their power spec and the amount of costly heat sinking they must use to obtain agency approvals.
This "wiggle room" is more real than you might expect because many loudspeaker manufacturers' supposed 8 ohm impedance loudspeakers are closer to a 6 ohm rating than being a true eight ohms. The loudspeaker guys design this way, using woofers with a 5.5 ohm DCR (direct current resistance) so that their loudspeaker will play louder than their competitor's 8 ohm speaker. Louder is always better on the sales floor.
The 6 ohm minimum rating that has so many consumers concerned when they see it on the back of their just-purchased receiver is also a nod to testing agencies such as UL that cost cutting had to take place with a 100 watt $300 or $500 receiver. There are a couple of facets to this argument:
Do you want a true "100 watt" receiver for $299? If the answer is yes then you need to understand the conditions under which you can achieve 100 watts. (There are always conditions.)
A given for large manufacturers (in the US anyway) is that all products must pass the costly UL testing to be considered safe (and exempt manufacturers from lawsuits) under most normal operating conditions. It turns out that engineers have found that one of the best "sweet spot" cost cutting measures with 5.1, 6.1 or 7.1 receivers is to not offer second pair switching capability and to design the power supply section for 100 watts at 6-ohms. This is less costly than having to design for a 4 ohm load speaker which takes lots more current or an 8 ohm speaker which requires higher voltage rails from the "just enough" power supply/power amp combination.
For consistency's sake, manufacturers like to quote distortion figures as an important feature. So, for instance, the bottom four receivers in a line may have 0.06% THD and the top two receivers may have 0.04%. This number is really nothing more than "graph manipulation" (explained below). Of note though is that in the "old days" of stereo receivers the engineers didn't have to deal so much with pinching pennies in the power supply to achieve THD figures that were one third of what they are now. As quantities of receivers sold have increased so have has the competition in shooting for that illusive 100 watts/channel figure. But larger quantities buy lower parts prices. (Think less $ for the same VA rated transformer.)
A second, also fairly well understood way to be able to quote "more power" is by quoting the power at only 1kHz instead of the more traditional 20Hz to 20kHz figure. In some cases the difference can be 15% to 25% more power at 1kHz. This type of rating is sometimes seen with a manufacturer who has two separate levels of distribution with separate model numbers for each level, though the actual receiver itself may be essentially identical.
For instance, one level of distribution might be mass market outlets where it is assumed that the typical customer is less sophisticated and will thus look only at the single (and highest) power rating as an indication of a receiver being "better than" a lowered powered competitor. The other level of distribution is with the audio specialist retailer who has been with the manufacturer for sometimes decades. It is the audio specialist who will have the "signature" line of model numbers, so to speak, all with power outputs rated from 20Hz to 20kHz and a distortion figure which is usually ( but not always ) carried throughout the line.
100 Watts by Curve Reading
The last and least understood area wherein the manufacturer can retain their 100 watt rating across the line can be understood if you learn how to put a few seemingly disparate specifications and a power vs. distortion graph together. I'll stick with Yamaha as my prime example since they are known as one of the dominant players in the mid-fi category, (at least in the enormous quantities they sell through their various distribution channels).
Here's an example of your ubiquitous 100 watts RMS/channel output power vs. distortion curve which you seldom see published anymore: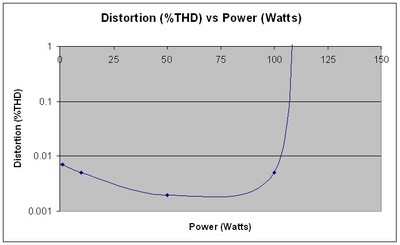 Your "conservative rating" manufacturers like Harman-Kardon, for instance, will quote only power ratings for their receivers which always stay about 20% under the area in which the curve is fairly horizontal. In this case HK might rate this as an 80 watt RMS/channel receiver. Power for HK (and to an extent Rotel, NAD and Marantz) are rated in this "old fashioned" manner. This is part of these company's "better performance" marketing strategies and it is an entirely legitimate one.