HAA Level I Certification Training Course Overview - page 2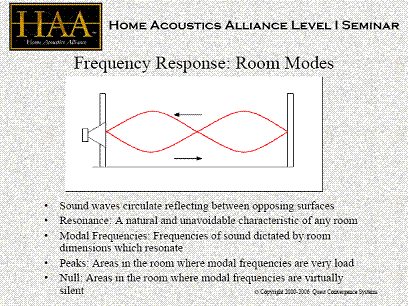 The next topic was the very low frequencies otherwise known as "Room Modes". Room Modes are basically the resonant frequencies between two boundaries which cause peaks and nulls at different places in the room. Room modes are also known as standing waves. I recently saw an ad for a subwoofer that claims it can eliminate standing waves. The only way to accomplish that is to eliminate the room. It seems that snake oil is starting to run down the esoteric cables into the speaker industry. I hope all of you at some point have walked into the corner of your room and heard the increased bass response; that's one of the peaks. In the training we calculated some of the modes from the formula given and then we played the sub at the calculated frequency. We walked around the room identifying the peaks and nulls. It was really cool to see the calculations at work but of course that's what experiments are for. Room Modes get very complex with all the reflections within a room but they are predictable in a rectangular room which is one reason why odd shaped rooms are harder to deal with acoustically. Once we understood room modes we learned how to apply them. Like me, you have probably read several articles on sub woofer placement and realize that there are several suggestions on where to place the sub. The HAA training explained the reasons of where to put the sub in relation to the room modes. What was really great was the tool used to determine sub woofer placement. It was a graphical tool that showed and let the user drag the seating position and the sub to different places in the room after the room dimensions were entered. It also showed the room modes relative to the seating position so as the seat or sub was moved we saw how the room modes were changed. On top of all of this was a small window that showed the low frequency response curve so we could see how the peaks and dips changed as the sub or seat was moved.
Well after all of this great knowledge we found out that the sub woofer ended up somewhere out into the room. Most of us aren't going to allow that kind of placement but there is a solution; two subwoofers. I have always read that it is good to have two subs but I never fully understood why until now. Two subs placed properly create a virtual sub woofer that would have been out into the room. Gerry also showed how to accomplish this task.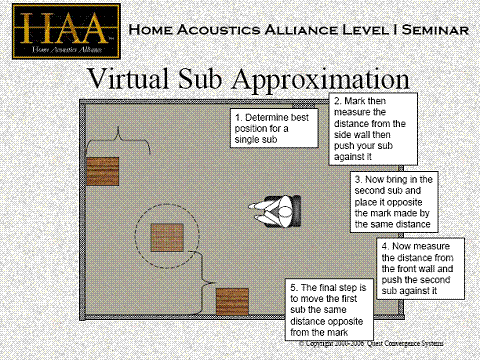 He also showed a couple of other schools of thought for sub woofer placement. Two subs in the middle of opposing walls or four subs, one in each corner.
Editorial Note on Multiple Subwoofers

Aside from the benefit of Virtual Sub approximation with two subs, installing even number of subs (2 or 4) in a listening space is beneficial for averaging modal response and smoothing out bass for a wider listening area while at the same time potentially increasing system headroom and reducing distortion.

For more information read:


Subwoofer Calibration - The Place for Bass Part I

Subwoofer Placement Guidelines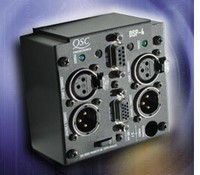 Equalization was then introduced for taking low frequency peaks out of the room response. I was never big on equalization myself but I have tried to have an open mind. In the old days an equalizer usually covered a band of frequencies and when you tried to fix one problem you usually created another. Nowadays with Digital Signal Processing you can correct a single frequency and if you look at the specs of the QSC DSP-4 it is pretty good. He pointed out that you can't EQ out a room null because it is a cancellation and if you try to boost a frequency there, it too will be cancelled resulting in loss of amplifier headroom and possible distress to the subwoofer driver.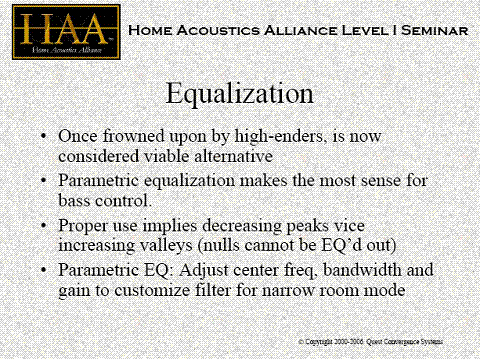 Moving into the higher frequencies the sound waves become much more directional so we learned not to look at the sound as a wave but as a ray. The three acoustical properties that apply to rays of sound are Reflections, Absorption, and Diffusion. For drywall, do nothing and you have reflections. The rule of thumb for absorption is that 25% of the room should contain absorption. Most home theater companies that I've seen display a room which has 80% to 90% absorption which creates a dead room. A lot of reflections can confuse the sound so that leaves diffusion. Diffusion spreads the sound rays but still leaves the snap and liveliness in the room and I have understood that for a few years. The home acoustics industry has some new schools of thought on reflections though.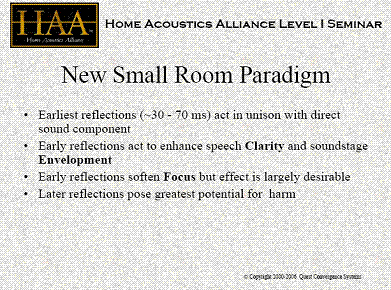 There is a little bit of contradiction here as with the experiment I did in my room with moving the speakers and getting more reflections. If the off axis response of a speaker is not uniform you would want to minimize early reflections. According to the new paradigm, one solution is to add a combination of absorption and diffusion at the early reflection points such as an abfussor. Several products were discussed for acoustical treatment and there were even a couple of samples presented. It's funny; before I took the course I thought it was going to be all about treating a room and room treatment turned out to be only a small piece of the pie.
So after all this information is given to someone what do they do with it. If you were a home theater specialist, it's hard to figure out where to start. Well the HAA training has taken care of that too. We were then presented with two great tools for guidance. First was the Acoustic Design Review which was the steps to take you from the beginning of the project up to and including the set up of equipment. Then the Acoustic Calibration Review was shown which walked us through all the adjustments that needed to be made including measurements.
There was a lot of acoustics covered in this two day training and at the end of the second day my brain was pretty full. I was not going to wait to take the certification test for fear of forgetting the material so I reviewed it and took the test a few days later. I am not a Home Theater Specialist but this invaluable information can go a long way. Now I will be much better at paying attention to detail when setting up equipment for future reviews. Once I get measurement equipment, I will not only be able to more accurately measure the equipment but also the equipment set up in the room. I will be able to apply techniques like the off axis speaker response so you will know whether to treat the side walls or not when using the speakers. We want our readers to feel confident that they are getting an informed review from a competent staff and the HAA training is another feather in our proverbial cap.
One last thought I'd like to give. Some of you spend thousands upon thousands of dollars upgrading and replacing equipment trying to achieve that perfect sound. The HAA training offers the knowledge on how to set up your equipment and room which could be a very worth while investment on an individual basis without being a Home Theater Specialist or Designer by trade. I highly recommend this training to anyone who wants to achieve the best sound and enjoys the intricacy of setting up audio equipment. If the detail isn't your thing but you still want that ultimate sound then I suggest you contact an HAA certified specialist.