Active Room Correction: Audyssey MultEQ Pro - page 3
Experiences with Audyssey's MultEQ XT Receiver-based Technology in a Dealer Demonstration Room
When the $1299 SRP Denon AVR-3806 (with the Audyssey MultEQ XT system on-board) came out in mid-2005 it was at the same time I was designing and building a new-concept surround demonstration room for one of Ken Crane's Southern California retail outlets. Because of its exceptional sound quality and flexibility, in addition to carrying nearly the same MultEQ XT system as the $6000 AVR-5805 I decided to use three AVR-3806's in this premier surround sound A/V room.
The 19' x 21' Ken Crane sound room featured three quarter-round vignettes placed into the room's three 90° corners. Each quarter-round vignette was capable of demonstrating any combination of four sets of L/C/Rs. There was no fourth corner to the room. Instead, a triangular slice had been designed out of what would have been the fourth corner. This side contained the double 36" entry doors to the sound room from the main sales floor.
The first quarter round vignette featured L/C/R bookshelf speakers (on stands); the second vignette featured L/C/R in-wall or on-walls (plus an on-ceiling system that was requested by Ken Crane's audio buyer). And the third vignette featured floor standing L/C/R tower-style speaker systems.
Two different sets of left/right (side) and left/right rear surround speakers, in-walls and on-walls, formed the envelopment complement for the trio of vignettes. For subwoofer demonstration all twelve systems could be configured to play 5.1, 5.2, 5.3 or 5.4 as well as 7.1, 7.2, 7.3 or 7.4 listening combinations.
The "listening position" was a leather love seat on four heavy duty castors. Under the love seat there was an attached 1" diameter x 12"L pole which was inserted into a 1.25" hole drilled into the cement floor in the center of the room. Thus the sofa could swivel allowing two-listeners to remain at a fixed position around the central axis of the room.
Four sets of L/C/Rs were arrayed across the inner circumference of each vignette with the right and left speaker sets contained between the 22.5° inner angle and the 30° outer angle prescribed by THX/ITU 775.
The Audyssey MultEQ XT system within each of the Denon receivers was calibrated to the central (swiveling) listening sofa using the outermost (±30°) speaker pair. There was a four-piece surround speaker set (for seven channels) for each of the three vignettes. In each vignette the surround speakers chosen for calibration were monopoles. (The retailer did not elect to have dipoles demonstrated.) These monopole sets were pointed toward the listening sofa but aimed at a 90° angle (directly out from the walls) so the speakers fired over the listeners' heads by about 18"-24". High pass filters on all speakers were set to small with the subwoofer-to-satellite splice set to 80Hz.
With twelve 7.1 (or .2 or .3 or .4) surround systems positioned in such a small room the distance from the speakers to the center listening position varied from only 9 to 11 feet in any direction. And this was with both the L/C/R bookshelf and tower speakers shoved right up against the walls of their respective quarter-round vignettes. I wondered, would all of the L/C/R vignettes sound boomy and bloated because of the definitely non-approved-by-audiophiles placement? And how large of a "flat-frequency, acoustic bubble" area around the loveseat would the Audyssey system be able to generate?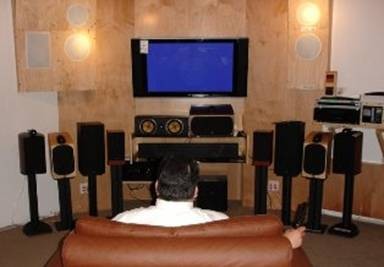 Vignette #1; Bookshelf speakers on stands. In-wall speakers to the left and right of 50" plasma are rear surrounds for vignette #3 in opposite corner. KC salesman sits in swivel chair. Denon AVR-3806 to left of salesman's head inside subwoofer alcove. Source Denon DVD-3910 is on center right next to switcher. Salesman controls switching of L/C/Rs & volume with hand held remote.
When it came time to run the Audyssey MultEQ XT set-up on each of the three vignettes I chose to calibrate using the outside (±30°) L/C/R set for each vignette. Using the AVR-3806's remote I followed the Denon's set-up routine by watching the 50" plasma monitors which were the video centerpiece for each vignette. A small tripod with a boom held the plastic-bodied microphone that comes pre-packaged with each receiver. Not having high hopes for the mic's accuracy I did measurements in six positions around the sofa; one measurement each for the two typical head positions on the sofa; three measurements for persons that might stand behind or to the left and right sides of the sofa; and the final measurement which would simulate an audiophile leaning forward to "better hear" a well imaging system.
The Results: MultEQ XT with and according to THX/ITU 775 Recommendations
I finished running the Audyssey calibration routine on the three Denons late one weekday evening at Ken Crane's. Since it was just before closing there were only a couple customers in the store but the salesmen (who had been without the use of their sound room for weeks) were chomping at the bit to hear the results.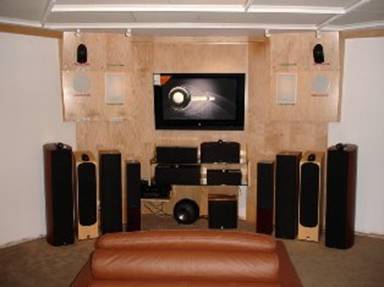 Vignette #3; Floorstanding speakers.
Subs are in alcove under center channels. Denon AVR-3806 is to left bottom center. Ceiling was a combo of absorptive panels and 1"x3" diffraction boards arranged in a helix. Three sets of lights were keyed to vignettes 1, 2 or 3 and highlighted both the main L/C/Rs and the associated surrounds for each vignette. No wall mounted passive treatment was required.
Both the resident audiophile/salesman and one of the long time Ken Crane's sales associates had expressed skepticism that the Audyssey system would be any better than room correction systems found on-board Denon's competitors' receivers. So I invited skeptic #1 to position himself on the swivel sofa while I put the new Ray Charles' "Fever" duet with Natalie Cole in the Denon DVD-3910 DVD player.
Jaws dropped, literally. Skeptic #1 heard a picture-less recreation of a cut he'd used for customer demonstration numerous times before. His eyes opened wider as he scanned the thirty-two surround speakers (six sets of four) and asked if I were playing several sets of surrounds at the same time. "Nope, I replied, "just the single set". "Is that all?", he asked quizzically. He leaned forward. He stood up and walked to within six feet of first the right surround then the left. He sat back down to enjoy the end of the song. Skeptic #1 had been encircled in the seamless MultEQ XT acoustic bubble. One song had elicited one very excited Audyssey convert.
The rest of the store's salesmen also became sold on the exceptional surround sound provided by the near optimal speaker positions in conjunction with room correction Audyssey-style. But in the weeks that followed a couple of events conspired to prevent conversion of more of the chains' sound rooms:
In this first small sound demo room there were too many systems with too many speakers encircling the space. I strongly believe most peoples' eyes do a great portion of "the listening" in any type of environment, trying to find where the sound is coming from. And the surround envelope was so convincingly seamless I believe customers and salesmen alike thought they were actually listening to a THX-style set up as they'd experienced in the theater wherein all the surround speakers do play.
Ken Crane's V.P. of Sales added "The customers, in their disbelief of the sound they're hearing had started making excuses to each other to justify what is taking place. Reason's such as "The Ken Crane's sound room looks nothing like our house. If we bought this system it couldn't possibly sound this fantastic in our house."
Christmas of 2005 marked the explosion of big screen HDTV and the situation was especially acute at Ken Crane's. Given the choice of an easy and quick HDTV sale versus a time consuming add-on sale in an unfamiliar audio room the KC sales guys picked the former.
The subwoofer switching implementation in the Ken Crane's sound room was never completed. I suspect that we may have run into accurately smoothing frequencies in the first two low bass octaves because the MultEQ XT's low bass center-of-bump-or-dip finding accuracy is just slightly "less than 5Hz" . That translates into a bit better than 1/3rd octave smoothing in the 20Hz to 40Hz band and a bit better than 1/6th octave in the 40Hz to 80Hz band. But Again, I'm guessing here because we were never able to complete the full subwoofer set-up and calibration. That particular Ken Crane's location was to be moved by the time you read this so we'll never know.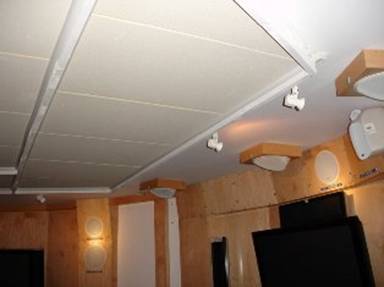 Vignette #2; In-walls, on-walls and in-ceiling. Note 50" plasma tilted down. Thus no reflections from speaker spot lights from the center swivel sofa position. A fireplace mantle had been built into the lower center of this display but the motif was never finished.
Sigh… what's a sound room designer to do? Well, at the same time I was finishing the Ken Crane's sound room there was an EHX show being held at the Anaheim Convention Center . Rushing over to catch the very end of the show I met Mike Thuresson, Audyssey's Installer Program Manager with the first empty chassis, "teaser" version of the Audyssey Sound Equalizer. Mike told me the stand-alone Audyssey unit was still several months from production so I expressed my great interest in doing a full review as soon as a full production sample of the Sound Equalizer became available. In the months preceding the arrival of Audyssey's first name branded unit I purchased a silver version Denon AVR-3806 for my home system to hold me over…
The Low Bass/Room Conundrum: The extreme difficulty in getting the two lower bass octaves "flat " within the entire acoustic bubble of the listening area.
Products that led the way with low bass solutions
Since working as Project Manager and Speaker Designer for Harman International for several years I'd acquired and set-up several of the Infinity subwoofer systems which carried the R.A.B.O.S. single-band parametric equalizer on board. The R.A.B.O.S. system is accurate to 1/20th octave which means it's precise to 1Hz from 20Hz-40Hz and 2Hz from 40Hz to 80Hz.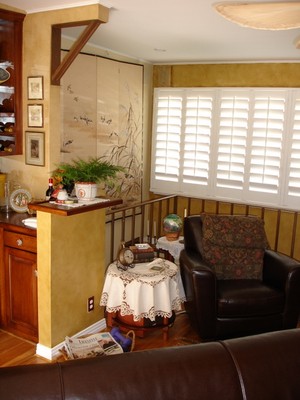 Two shots of Infinity CSW-10 sub. On right, shooting from rear stairwell forward. Center channel Beta 10 just visible through bars. On left, shooting over sofa backward. Sub is under round table. Rear surrounds visible at top center.
The R.A.B.O.S. system requires point-by-point plotting of low bass frequency points by reading the R.A.B.O.S. CD test tone's sound pressure level from a calibrated, Infinity-supplied SPL meter positioned at the "sweet spot" listening position. Once you've set up a R.A.B.O.S. sub in several different rooms you begin to graphically see how much standing waves can vary in height, width and frequency from one listening position to another and one room to another. And as Dr. Floyd Toole teaches in his "The Loudspeaker and the Room" CEDIA class "To do the bass octaves correctly 1/20th octave parametric equalization (minimum) is necessary".
I like to think of the area under the bass frequency curve as the amount of "work" a room/subwoofer combo is capable of performing. So when I measure, say, a 6dB peak at 54Hz, which is in between the 52Hz and 56Hz frequency tones on the R.A.B.O.S. CD I find that if I try to suppress the offending 54Hz frequency bump using the 52Hz frequency setting I will see suppression at 52Hz but sometimes the SPL at 56Hz will rise!
In other words, because the loudspeaker/room form a single system and work-area-under-the-curve capability remains the same, repetitive, manual frequency curve tweaking can look (on your plotted curve) a bit like you're working with a bowl of Jello. Push down here, reaction over there.
Thus, calibrating a single R.A.B.O.S. sub can be time consuming depending on how much tweaking time you want to put in. But be assured, the results of all this tweaking are immediately noticeable. Great recordings in conjunction with flat bass response (±1.5 dB) unveil immense amounts of separation between bass instruments and allows each instrument to stand, well defined and articulated on its own.
When a second or even three or four subs are added to a home theater set-up, knowing and being able to measure (and actually adjust for) phase differences at the listening position(s) becomes critical. This is because differing room positions for each sub will cause varying and difficult-to-measure relative phase differences as the same correlated bass notes reach the listening position. And it is here where many acoustic measurement neophytes make their mistakes.
With most types of pro-level measurement software like LMS or MLSSA, it is extremely difficult to capture accurate low frequency bass and phase information at a single listening position. Oh, you can set them up to get some type of answer. But in most low bass measurement situations the test software equipment cannot effectively time-window out room effects while gathering information down to 1Hz accuracy at the listening position.