Equipment & Product Recommendations
Display: Samsung LNT4671F 46" LCD | Info
Price: $3,199 | Buy It Now


It's not the size that matters. If you're not sitting a mile away from the TV, then this plasma is possibly the best thing you can sink $3,200 into this year. With a beautiful piano gloss finish, integrated TV Guide Program Guide and an Integrated Media Gallery that lets you stream pictures, video and music from your PC - this TV is almost perfect. The presence of ATSC and NTSC tuners and an included stand make for a set that can be set up right out of the box. If a larger screen size or front projection is your thing - no problem, check out the alternates listed below.

Useful Features
Beautiful piano gloss finish
Unbelievable picture quality
Integrated TV Guide ON Screen Program Guide
Integrated Media Gallery
RS-232C control


Dual ATSC and NTSC tuners
1080p support via dual HDMI inputs
USB 2.0 input

Absolutely black blacks
Integrated 2 x 13W speakers

Alternates: Panasonic PT-AE1000U ($3,899) info; Sony VPL-VW50 ($3,795) info; Panasonic TH-58PX600U ($3,999) info

---
AV Receiver: Yamaha RX-V863 | Info
Price: $999.95 | Buy It Now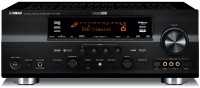 We were very impressed with the feature set on this receiver. It can handle up to 8-channel audio, and offers plenty of music (and video game) surround modes. The RX-V663 decodes all the latest audio formats (Dolby TrueHD and DTS HD) natively and offers more than enough audio and video connections. The highlight of the connectivity options are the 1080p compatible HDMI (Version 1.3) switching (3 inputs/1 output) and 1080p upconversion, but the RX-V863 also includes component (3 inputs/1 output), s-video (5 inputs/ 1 output), and composite options for connecting a variety of video sources. All speaker connections are via 5-way binding posts and the amplifiers are assignable - meaning that you can choose to bi-amp the fronts, or send a couple of powered channels to Zone 2. It also includes dual subwoofer outputs. This is a great feature that we see creeping down product lines to appear in lower-priced models.
Useful Features
HD audio format support: Dolby Digital Plus, Dolby Digital TrueHD, DTS-HD High Resolution Audio and DTS-HD Master Audio
7-channel 735W powerful surround sound (105W x 7)
Burr-Brown 192kHz/24-bit DACs used in all channels
Analog video (480i or 480p) upscaling to full HD 1080p

1080p-compatible HDMI (3 in/1 out)
Supports Deep Color (up to 36 bit), x.v.Color, a double speed Refresh Rates of 120Hz and 1080p/24Hz transmission, and Auto Lip-Sync compensation

Analog video to HDMI digital video upconversion and deinterlacing with TBC
Subwoofer phase select
Preout terminals for front, center, surround and surround back, and dual mono subwoofer out
Bluetooth (A2DP) compatibility with Yamaha Bluetooth® Wireless Audio Receiver (YBA-10)
HD Radio™ digital broadcast reception capability
Alternates: Yamaha RX-V1800 ($1,199) info; Pioneer Elite VSX-91TXV ($1000) info; Marantz SR5002 ($749) info;

---
Speakers: RBH Sound MC Series
Price: $1,887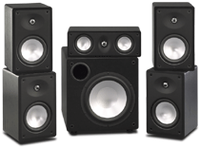 This 5-speaker system includes two of the MC-6C speakers, a matched MC-414C center channel, and a pair of MC-4C speakers for the surrounds. We feel that the added dispersion provided by the MC-4C speakers is well worth the money. These speakers are phenomenal performers and will guarantee many years of great sound. This will be a surround system worthy of two channel music as well as chest-pounding theatrical use.
Useful Features
Solid build quality
Small form factor without sacrificing midrange or top-end

Excellent frequency response


Perform much better than HTIB solutions or cube speakers
Perfect for home theater use

*If you can afford it, step up to the MC-616C center channel for the front soundstage. Cross the subwoofer over at either 80Hz or 90Hs depending upon which performs better in your room. In the future, add a pair of MC-44C's ($959/pair) for the side channels and move the MC-4Cs to the back channels and you are ready for 7.1.
If you've got the space for floorstanding speakers, you may wish to consider the Axiom Audio Epic 60 system which will yield a more dynamic sound for larger rooms. Feel free to throw in an extra pair of QS8's or M2is to make it a 7.1 system.

Alternate: Axiom Audio Epic 60 System (~$1,795); Buy It Now

---
Subwoofer: Hsu Research STF-1 | info
Price: $299 | Buy direct from Hsu Research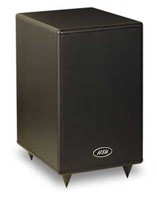 When shopping for a reasonably-priced subwoofer we had to really rack our brains to decide on which one to feature. There are quite a few, and indeed we have a hard time recommending the featured model over the alternatives. Still, Hsu has been a solid, reliable brand and it's takes up a bit less room than some of the competition. If you have the money, we recommend getting two subs. If you are space-conscious, then look to Velodyne, Pinnacle or Yamaha for some smaller models (but expect to pay a premium for the engineering).
Useful Features
Woofer size: 8-inches
Bass extension 32 Hz (+/- 2dB)

Crossover: Continuously variable 30-90 Hz, defeatable, 24 dB/oct
Phase switch: 0/180°
Finish: black and silver
Amplifier Power: 150 Watts

Dimensions: 19" H x 11" W x 16" D

Ship-weight: 35 lbs
120/240 V Capable: switchable with internal jumper
Warranty: 7 years on the woofer, 2 years on the electronics, parts and labor included

Alternates:
Axiom Audio EP175v2 ($560)
info
;
Yamaha YST-SW325 8-inch Servo
($499)
info
---
Blu-ray Player: Denon DVD-2500BTCI | Info
Price: $999


Blu-ray is in a state of flux. With manufacturers all but REFUSING to publish their Profile versions, consumers are left to dig around and come up with what the payers actually can do and how they will perform. Denon has a Profile 1.1 player that is one of the few players capable of outputting DTS-HD Master Audio via bitstream. One nice advantage this player has over others is advanced processing power to speed load times for Blu-ray discs and make it about as usable as a standard DVD player. This is, currently, the best DVD player on the market under $1000 in terms of pure HD performance. If you don't care about eventually bitstreaming the high definition audio formats to an HDMI 1.3a receiver (and we've only spec'd 1.2a above) then we'd heartily recommend grabbing a robust PS3. Whatever you do, be sure you have HD going to this system.

Useful Features
Profile 1.1
Single-cable HDMI 1.3a connection and Digital HD output up to 1080p
Fully 10-bit processing for i/p and scaling circuit
Blu-ray 1080p/24fps output capability
Up to 36 bit Deep Color support via HDMI

Native bit stream output for Dolby Digital+, Dolby TrueHD, and dts-HD master audio
Bonus View functionality, providing simultaneous Audio and Video options for greater interactivity.
Digital media disc support: Blu-Ray, DVD-Video, DVD-R/RW, CD Audio WMA, MP3, Kodak picture CD, Fuji Color CD.
No analogue outputs

Alternates: Samsung BD-P1400 ($369) info; Sony PlayStation 3 80GB ($499) info
---
Universal Remote PowerPak RF20 and MRF100B | info
Price: $149 | Find the best price online


A remote control? In a system guide? Oh yeah, this baby is important. Try impressing your friends when it takes 4 remotes to operate your home theater. I am convinced that RF remotes are the way to go. IR is a thing of the past. It's OK for the all-in-one you keep in the bedroom, but for a real theater system you don't want to worry about whether or not you pointed the remote at the proper device - and held it there long enough. Now this PowerPak system (an RF20 and MRF100B receiver unit) will just about whet your whistle with respects to RF remotes, but once you stick your toe in the pool - you're not coming out.

Useful Features
Control up to 10 components
Customizable LCD screen
Punch through and macros
Long range RF receiver





Favorites channel support (up to 40 favorite channels)
Learning-capable
Pre-programmed codes for easy setup

Alternates: Logitech Harmony 670 ($149);
---
Interconnects and Speaker Cables
With the system we put together you may need to make a long run to the projector - and that alone can run from $65 up to whatever length you need. For the rest, you won't need many cables, but for the subwoofer and connecting any additional peripheral devices you may have, we suggest at least:

2 x 1 meter HDMI cable from DVIGear $25ea | Buy It Now

12 foot Velocity subwoofer cable from Impact Acoustics $12.85 | Buy It Now

Velocity RCA Y-cable from Impact Acoustics for subwoofer $14 | Buy It Now

100ft 12AWG Velocity Bulk Speaker Cable (for surrounds) from Impact Acoustics $76.24 | Buy Now
3 x Meteora 12ft speaker cables $32.99ea | Buy It Now

For this system we are recommending HDMI High Resolution Copper cables from DVIGear and interconnects and speaker cables from Impact Acoustics.
---
Total System Price: $7,785 (including cables)
We're getting into less compromises now and more performance. With this system you will be absolutely blown away - and so will your friends. Again, don't get bogged down by the plasma TV recommendation - that's a high-ends product and it's an incredible picture. If you want a bigger screen we've given you plenty of options - choose one (and don't forget the screen if you're going with front projection - Carada has some excellent offerings). A good shopper can take at least another 5-10% off the prices we have listed, especially if you purchase multiple products from a single retailer. This will put you further under the $7,500 budget for sure. Hey, maybe you can get that antique popcorn machine you've always wanted! With a little time and effort by using the tools recommended, Avia or Digital Video Essentials, and the Radio Shack SPL meter, you will never want to go to the CinemaPlex again.

Brand
Model
Description
Street Price
Samsung
LNT4671F

46-inch LCD TV

$3,199
Yamaha
RX-V863

AV receiver

$999
RBH Sound

MC Series

5.0 speaker system

$1,887

HSU

STF-1

8-inch subwoofer

$ 299

Denon
DVD-2500BTCI
Blu-ray player
$ 999
Universal Remote

RF20/MRF-100B

universal remote control

$ 150

Various
Various
Interconnects & Cables
$ 252

Total System Price:

$7,785
Enjoy the home theater!!!