Equipment & Product Recommendations
Display: Epson Home Cinema 1080 LCD Projector | Review

Price: $2,499 | Buy It Now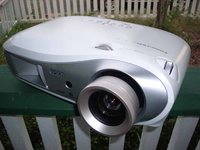 We reviewed the Epson Home Cinema 1080 and it remains one of the best projectors this amount of money can buy. With the street price of $2,499 (from the original $2,999), this is a no-brainer for the quality and budget minded consumer alike. It has exceptional dark black levels for LCD and the lens shift means that you'll be able to install it just about anywhere. For an upgraded model try out the Home Cinema 1080UB.
Useful Features
Native 1080p/24/60 (1920 x 1080) support
HDMI and component inputs

Excellent "out of the box" performance

HDMI 1.3

12,000:1 stated contrast ratio
RS-232 control and IR receivers
12VDC trigger

Alternates: Optoma HD73 DLP projector ($1,999) info; Pioneer PDP-4270HD plasma ($2,800) info; Panasonic PT-AX200U ($1,299) review; Sanyo PLV-Z5 ($1,495) review
---
AV Receiver: Yamaha RX-A700

Price: $599 | Buy It Now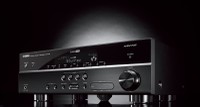 We were very impressed with the feature set on this receiver. It can handle up to 8-channel audio, and offers plenty of music (and video game) surround modes. The RX-A700 A/V Receiver supports 3D and Audio Return channel over 6 in/1 out HDMI, CINEMA DSP 3D, with or without Front Presence Speakers, and RS-232C interface for custom installation. The receiver decodes all the latest audio formats (Dolby TrueHD and DTS HD) natively and offers more than enough audio and video connections. The highlight of the connectivity options are the 6 HDMI (version 1.4a) inputs which includes Audio Return Channel and standby bypass mode. It can provide upconversion up to 1080p for both analogue and digital sources, but it also includes component (2 inputs/1 output), and composite options for connecting a variety of video sources. All speaker connections are via 5-way binding posts and the amplifiers are assignable - meaning that you can choose to bi-amp the fronts, or send a couple of powered channels to Zone 2. It also includes dual subwoofer outputs. This is a great feature that we see creeping down product lines to appear in lower-priced models.
Useful Features
90 watts per channel x 7 channels
Dolby TrueHD, Dolby Digital Plus, Dolby Digital Surround EX, Dolby Pro Logic IIx decoding
DTS-HD Master Audio, DTS ES 6.1 Discrete, DTS ES 6.1 Matrix, DTS Neo:6 decoding
6 HDMI v1.4a processing and switching (6 inputs, 1 output), supports 1080p, Deep Color, xvYCC, 3D, CEC functions
HDMI Pass-Through (send HDMI from a source to the display without turning on the AV receiver)

Video upconversion up to 1080p
7.1 preamp outputs (dual sub outs)

Enhanced On Screen Display menu and screen saver
Alternates: Marantz NR1601 ($599); Yamaha RX-V667 ($549); Harman Kardon AVR 1600 ($499)
---
Speakers: Klipsch RB-51 5.1 Loudspeaker System | Review Pending


Built to the same exacting standards as the Reference Series floorstanding setups, the RB-51 home theater system represents an ideal combination of technology, performance and design. The speakers look beautiful and can be purchased in a variety of potential configurations. This setup is one of the best sound solutions on the market. Consisting of a pair of RB-51 bookshelf loudspeakers, an RC-52 center channel, a pair of RS-42 surround speakers and an RPW-10 subwoofer, this recommended system will forever change the way you think about audio. You can add another pair of RS-42 surrounds or a RPW-10 subwoofer for a 7.1 or 5.2 system, or add both for a 7.2 system!
Price: $1,605 (including free shipping) | Buy It Now
Alternates: Infinity TSS-1200 5.1 system ($1,299)
---
Subwoofer (Optional): Velodyne Impact-10 | Buy Now

Price: $299 | Buy Now
The Impact Series are stylish, affordable, high-output, low distortion subwoofers. They feature beautiful cabinets with black gloss lacquer trim that fit easily into your home, while their deep, defined bass brings your favorite movies and music to life - at very friendly prices. The Impact-10 and 12 feature a down firing port for high output and low distortion.
Useful Features
MDP amplifiers with more dynamic headroom for high impact
High quality, long throw drivers
2" copper-wound voice coils
Down-firing ports for more output, less distortion
Adjustable, high quality crossover system to match your subwoofer with your main speakers
Alternates:
Klipsch RPW-10
($389)
---
Universal Blu-ray Player: Oppo BDP-83 | Buy Now

Price: $499 | Buy Now

We wanted to recommend a solid Blu-ray player that handles all formats with top-notch progressive scan performance as well. It's important to ensure that either your DVD player or display does adequate 2:3 pull-down conversion so that images are recreated accurately when they go from the DVD to your screen. If you're a universal BD player fan and want the best audio and video quality available, then look no further than the $499 Oppo BDP-83 universal disc player that will handle Blu-ray, SACD, DVD, DVD-Audio and more...
Useful Features
HDMI 1.3 output with scaling to 1080p

DVD-Video, DVD-Audio, SACD, CD/DVD+-R/RW, DivX, XviD, HDCD

Coaxial & optical digital output for Dolby Digital/DTS/PCM
Analogue 5.1 outputs with basic bass management
16.5" W x 1.6" H x 10.6" D; 5.2 lbs.
Warranty: 1 year parts & labor
Alternates: Oppo BDP-80 ($289); LG BD570 ($189)
---
Interconnects and Speaker Cables
With the system we put together you may need to make a long run to the projector -and that alone can run from $65 up to whatever length you need. For the rest, you won't need many cables, but for the subwoofer and connecting any additional peripheral devices you may have, we suggest at least:
100ft 12AWG Velocity Bulk Speaker Cable from Impact Acoustics $76.24 | Buy Now
For this system we are recommending HDMI High Resolution Copper cables from DVIGear and interconnects and speaker cables from Impact Acoustics.
---
Total System Price: $5,420 (including cables)
Any system recommendation at this price is going to have compromises and this system is no exception. However, with that said, this system will truly outperform its price point by a wide margin. This is a system that will get you set up nicely and leave you content - until the next upgrade! With a little time and effort by using the tools recommended, Avia or Digital Video Essentials, and the Radio Shack SPL meter, you will learn about your system and have a slick home theater that will work just as well for music as it does for movies.
Brand
Model
Description
Street Price
Epson
Home Cinema 1080

1080p LCD projector

$2,499
Yamaha
RX-A700
AV receiver

$ 599
Klipsch

RB-51

5.1 speaker system

$1,605

Oppo
BDP-83

Blu-ray Player
$ 499
Various
Various
Interconnects & Cables
$ 218

Total System Price:

$5,420
Enjoy the home theater!!!