Equipment & Product Recommendations
TV: Samsung PN50C550 50" plasma | info
Price: $1,199 w/stand | Buy It Now
Samsung continues to reduce cost and increase performance for each new generation of Plasma televisions. This company continues to put out robust systems with consumer convenience in mind. This display features native 1080p with support for 24p frame rates. An integrated QAM and ATSC tuner means that you'll have no difficulty receiving the best possible HDTV channels - even without a cable box. To top off the features, Samsung includes an SD card slot for photo viewing and 3 (three) HDMI inputs in addition to the pair of component video inputs and available legacy connectivity (composite/S-video). High definition plasma has never been cheaper.
Useful Features
1080p (1920x 1080) plasma display
24p (24Hz) support

4 x HDMI and 2 x component video inputs
2,000,000:1 contrast ratio (stated)

xvYCC and Deep Color support


SD card reader
e-panel technology with 600Hz subfield motion

Inverse 3:2 Pulldown
48.8" x 32.4" x 11.4" (with base)
84.7 lbs (with stand)

Alternates: Panasonic PT-AX200U LCD projector ($1299) review; Panasonic TH-42PX75U 42" plasma ($1399) info
---
AV Receiver: Yamaha RX-A700

Price: $599 | Buy It Now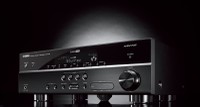 We were very impressed with the feature set on this receiver. It can handle up to 8-channel audio, and offers plenty of music (and video game) surround modes. The RX-A700 A/V Receiver supports 3D and Audio Return channel over 6 in/1 out HDMI, CINEMA DSP 3D, with or without Front Presence Speakers, and RS-232C interface for custom installation. The receiver decodes all the latest audio formats (Dolby TrueHD and DTS HD) natively and offers more than enough audio and video connections. The highlight of the connectivity options are the 6 HDMI (version 1.4a) inputs which includes Audio Return Channel and standby bypass mode. It can provide upconversion up to 1080p for both analogue and digital sources, but it also includes component (2 inputs/1 output), and composite options for connecting a variety of video sources. All speaker connections are via 5-way binding posts and the amplifiers are assignable - meaning that you can choose to bi-amp the fronts, or send a couple of powered channels to Zone 2. It also includes dual subwoofer outputs. This is a great feature that we see creeping down product lines to appear in lower-priced models.
Useful Features
90 watts per channel x 7 channels
Dolby TrueHD, Dolby Digital Plus, Dolby Digital Surround EX, Dolby Pro Logic IIx decoding
DTS-HD Master Audio, DTS ES 6.1 Discrete, DTS ES 6.1 Matrix, DTS Neo:6 decoding
6 HDMI v1.4a processing and switching (6 inputs, 1 output), supports 1080p, Deep Color, xvYCC, 3D, CEC functions
HDMI Pass-Through (send HDMI from a source to the display without turning on the AV receiver)

Video upconversion up to 1080p
7.1 preamp outputs (dual sub outs)

Enhanced On Screen Display menu and screen saver
Alternates: Marantz NR1601 ($599); Yamaha RX-V667 ($549); Harman Kardon AVR 1600 ($499)
---
Speakers: Klipsch RB-51 5.1 Loudspeaker System | Review Pending


Built to the same exacting standards as the Reference Series floorstanding setups, the RB-51 home theater system represents an ideal combination of technology, performance and design. The speakers look beautiful and can be purchased in a variety of potential configurations. This setup is one of the best sound solutions on the market. Consisting of a pair of RB-51 bookshelf loudspeakers, an RC-52 center channel, a pair of RS-42 surround speakers and an RPW-10 subwoofer, this recommended system will forever change the way you think about audio. You can add another pair of RS-42 surrounds or a RPW-10 subwoofer for a 7.1 or 5.2 system, or add both for a 7.2 system!
Price: $1,605 (including free shipping) | Buy It Now
Alternates: Infinity TSS-1200 5.1 system ($1,299)
---
Universal BD / DVD Player: Oppo BDP-80 | Info
Price: $289 | Buy Now

We wanted to recommend a solid Blu-ray player that handles all formats with respectable progressive scan performance as well. It's important to ensure that either your DVD player or display does adequate 2:3 pull-down conversion so that images are recreated accurately when they go from the DVD to your screen. If you're a universal BD player fan and want to apply some more money in this area for better audio out of the analog outputs, then look no further than the $499 Oppo BDP-83 universal disc player that will handle Blu-ray, SACD, DVD, DVD-Audio and more...
As with every component in this guide, you can always upgrade to a higher quality player later. Our recommendations for more expensive players will show up in the higher-priced Recommended System Guides.
Useful Features
HDMI 1.2a output with scaling to 1080p

DVD-Video, DVD-Audio, SACD, CD/DVD+-R/RW, DivX, XviD, HDCD

Coaxial & optical digital output for Dolby Digital/DTS/PCM

Analogue 5.1 outputs with basic bass management
16.5" W x 1.6" H x 10.6" D; 5.2 lbs.
Warranty: 1 year parts & labor
Alternates: Oppo BDP-83 ($499); Samsung BDP-1600 ($255)
---
Power Conditioner/Surge Suppressor: APC AV C5 10-outlet | info
Price: $129.99 | Buy It Now

We recommend some kind of protection for your electronics. Tripp Lite is well-known for their excellent power protection products and this unit in particular presents a tremendous value in comparison to other name brand power conditioners that cost twice as much for essentially the same thing.
Useful Features



3570 joules of protection with automatic voltage regulation
Excellent build quality
10 outlets with isolated EMI/RFI noise filtering and transformer spacing

Triple digital cable & HDTV-compatible low-loss coax filters
RJ45 and RJ11 line protection
12V DC trigger
Lifetime product warranty
Alternate: APC H10 Power Conditioner/Voltage Regulator ($329) info
---
Interconnects and Speaker Cables | info

With the system we put together you may need to make a long run to the projector -and that alone can run from $65 up to whatever length you need. For the rest, you won't need many cables, but for the subwoofer and connecting any additional peripheral devices you may have, we suggest at least:
For this system we are recommending
HDMI High Resolution Copper cables
from DVIGear and interconnects and speaker cables from
Impact Acoustics
.
---
Total System Price: $3,826 (including cables)
Any system recommendation at this price is going to have compromises and this system is no exception. However, with that said, this system will truly outperform its price point by a wide margin. This is a system that will get you set up nicely and leave you content - until the next upgrade! With a little time and effort by using the tools recommended, Avia and the Radio Shack SPL meter, you will learn about your system and have a clean-looking home theater that will make your friends and family say WOW!
Brand
Model
Description
Info Links
Street Price
Samsung
PN50C550
50" LCD TV
info
$1,199
Yamaha
RX-A700
AV receiver

info

$ 599
Klipsch

RB-51

5.1 speaker system

info

$1,605

Oppo
BDP-80
Universal DVD Player
info
$ 289
Various
Various
Interconnects & Cables
info

$ 134

Total System Price:

$3,826
If you don't need a display, we highly recommend upgrading the receiver to the Yamaha RX-A1000 ($999.95). You can also decide to save the money and apply it towards another Klipsch RPW-10 subwoofer as two subs are ALWAYS better than one. Also consider moving up to 7.1 to get the benefit of PLIIx processing and future 7.1 TrueHD and DTS-HD via Blu-ray. We recommend getting a pair of Klipsch RS-42 speakers for the back channels.
Enjoy the home theater!!!