The $25k System - Furniture, Acoustics, Cables & Summary
The Seats: Berkline 088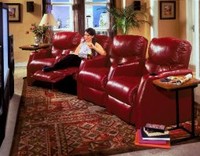 Price: $1600 (for 3 chairs)
These chairs by Berkline are very popular due to price and size. They are the narrowest chairs offered by Berkline (about 32" including a left and right armrest) so you can fit more of them into your home theater than if you went with other models or brands. I chose a triple configuration of these chairs in black (86" total width) for my own Reference System 2 and I really dig the cup holders and the ability they have to recline without needing much clearance from the back wall (or in my case, table). You can upgrade these chairs to include TouchMotion motorized reclining and you can add an RF Buttkicker system (as an under-leg mod) to give you a more tactile theater experience.
Another important thing to note is the height of the back of the theater chair. You want something that is going to allow the sound from the Surround Back channels to freely reach your ears without hitting the back of the chair. At 38.5" tall, these chairs are perfect for 7.1 surround rooms.
Power Conditioner/Surge Suppressor: APC AV H15 | review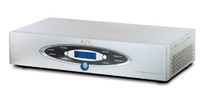 Price:
$
449 Buy it Now
We recommend some kind of protection for your electronics and APC AV makes some of the best. At less than 2% of the total cost of the system, this seems to us to be a very good investment. APC AV is well-known for their excellent power protection products and this unit in particular presents a tremendous value in comparison to other name brand power conditioners that cost twice as much for essentially the same thing or less.
Useful Features



Automatic Voltage Regulation (AVR)
Building wiring fault indicator
Cable Line Protection
Coax Protection Coaxial/Cable Line Splitter
IEEE let-through rating and UL 1449 compliance
Lightning and Surge Protection
Noise Filtering

Overload Indicator
Phone Line Splitter
Power Cord
Protection Working Indicator
Resettable circuit breaker
Right Angle Plug
Status Indicator LED's
Alternate: APC H10 Power Conditioner/Voltage Regulator ($299) info
Acoustics Treatments: Auralex Elite
Price: $4,000 info

Auralex Elite has a wide diversity of acoustical products that will improve the sound of your room without hampering the aesthetics. The SonoSeude system is a great start. Sonofiber and Metrofusor are great supplements when more aggressive room treatments are required. Consulting with the experts at Auralex couldn't be easier. Fax them your room plans and they will come up with some recommended treatments and locations to fit within your budget. Its always good to have more than one set of eyes looking at your room to recommend the best type of treatments. Properly treating your room will ensure you get the most out of your A/V system.

Note: If you find money left over in your budget, we recommend spending an extra $1-2k here assuming your room is in need of additional treatment. We also recommend contacting a professional Acoustic Consultant like Rives Acoustics.
Avia Guide to Home Theater
Price: $50 find the lowest price online | info
This is a must have tool and will teach you how to set up your system correctly and how to do a first time calibration on your system. It is very easy to use and covers all the basics. For more advanced calibration or to get your system performing at its absolute best you'll need measurement equipment you can't buy at your local hardware store. For that kind of tweaking we recommend finding an ISF-certified technician or installer in your area to come out and do a full calibration on your most commonly used video inputs.
Alternate: Digital Video Essentials ($16-21) | find the lowest price


Radio Shack Analogue SPL Meter (Cat# 33-4050)
Price: $40 info
This is another must have and will allow you to calibrate your system's speaker levels.It's easy to use and its use is covered in Avia Guide to Home Theater.
Impact Acoustics Interconnect Cables and Wiring
While we are not looking to stack this system with exotic cables, we thought we'd recommend some cables that we have tested and ensured pass muster while still providing a nice, uniform look to your system. Yes, you can hook up your speakers with 12/2 zip cord, but at this price point we felt that it would be appropriate to dress it up a bit nicer. Here are the basics we recommend for this system, though feel free to make substitutions as you see fit:
Plus, Audioholics readers get a 10% Discount!
DVIGear SHR HDMI Cables
You need certified HDMI cables for this system, so we've brought you the ones from DVIGear, which are guaranteed to pass up to 1080p - even over longer runs.
*Note: Your HDMI video cable may need to be longer or shorter depending on where the audio rack and the projector are located. Other cables may be necessary to terminate existing audio/video components such as VCR's, Tivo's, and HDTV receivers.
The Bottom Line

Brand
Model
Description
Info Links
Price
Epson
Home Cinema 1080UB

LCD Front Projector
review
$2,999




Projector Mount


$150
Carada

Criterion

Brilliant White 100" Screen
review
$744
Denon
AVR-3808CI
Home Theater 7.1 Receiver
website
$1,599
Emotiva
XPA-5

200W x 5 amplifier

website

$799
Oppo
983H
Universal DVD Player
info
$399
Samsung

BD-P1400

Blu-ray Player

info

$499

RBH Sound
661-SE/R
Main Speakers
$6,045
661-SE/R
Center Speaker
66-SE
Surround Speakers
41-SE
Back Surrounds
JL Audio

f112
Subwoofer
website
$2,200 x 2

Berkline
Berkline 088
Cinema Chairs (3)
website
$1,600
Auralex Elite

Various
Room Acoustics
website
$4000
APC AV

H15
Power Conditioner/Surge Pro
info

$449
Avia
Guide to HT
A/V Calibration Disc
website
$50
Radio Shack
33-4050
Analogue SPL Meter
website
$40
Impact Acoustics
Various
Interconnect Cables
website
$416
DVIGear
SHR HDMI
HDMI Cables
website
$250
Total System Price: $24,439 (including cables)
If you cannot take at least $2000 off of the total price we've given here then you aren't trying very hard to beat MSRP. This system will provide an incredible level of detail and enjoyment to both two-channel and home theater enthusiasts alike. It is also our first system to feature what we would like to think it some of the finest audio and video equipment available that does not compromise as much in an attempt to retain a more trim budget. While there is gear that performs at an even higher level, look for that to appear in some higher-priced System Guides that pay even less attention to the pocketbook and more attention to attaining home theater nirvana.