The $25k System - Display, Receiver, Speakers and Subs
The Projector: Epson Home Cinema 1080UB Projector Review | review
Price: $2999 | Buy It Now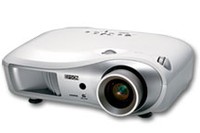 Epson makes the LCD display engines (chips) that go into most other 3LCD projectors. As such they really know what they are doing. For years, this expertise caused them to price their systems out of reach for most home theater enthusiasts. Last year all that changed and companies who were secure in their market dominance started fearing for their marketshare.

The Epson Home Cinema 1080UB projector is a projector that should strike fear into all manufacturers of LCD technology. This robust and high-performance model really nails all the important metrics of what a good home theater projector should be - and it has the features to match. 1920x1080 pixels, horizontal and vertical lens shift, solid user calibrations options - you name it, the HC 1080UB is the target to beat this year for the mid-fi 1080p projector market.

Alternates: Panasonic PT-AX200U LCD ($1999) review; Epson Home Cinema 1080 ($2499) review

---
Carada Criterion Series w/Brilliant White Screen
Price: $744 (100" HDTV screen) info

When choosing a screen for your new cinema, it is important to keep a few things in mind.
The size of the screen you can accommodate for your viewing position.

The amount of throw distance the projector needs to fill the screen (the distance the projector needs to be mounted from the screen).
To get behind the projector (preferable) you'll want to be about 2x the screen width back. This means if you choose an HDTV projector screen that is 100" diagonal your viewing position should be about 14.5' back - which is about the maximum tele (zoom out) throw distance.
The projector needs a throw distance of between 9.86 and 14.8 feet to fill a 100" screen. Use the 1.5x the screen width minimum when selecting your screen. I would not exceed 106" diagonal for the screen. Another thing you will need to select is the screen material. If you have good light control, you may want to consider the Brilliant White screen which delivers excellent color reproduction and brightness uniformity. It will also give you large viewing angles up to 45%. If you don't have a lot of light control, then I would recommend the use of the High Contrast Grey (though we really do not recommend using this projector ina room that cannot control ambient light).
Alternates: Stewart Luxus Deluxe StudioTek 130 ($1683) info; Da-Lite Cinema Contour High Contrast Cinema Vision ($1100)
The Receiver: Denon AVR-3808CI | Review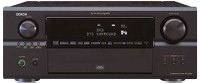 Retail Price: $1,599 [Price It Online] info
In a system that is attempting to provide top-notch performance, but still pay a little attention to the pocketbook, we decided to incorporate Denon's second from the top flagship receiver. The Denon AVR-3808 receiver provides quite a large percentage of it's "big brother's" features and power. This 130wpc x 7 receiver has more features than just about any processor or receiver on the planet and features expanded HDMI v1.3a ports with Deep Color, xvYCC and SACD support and switching, Dolby TrueHD and dts-HD Master Audio decoding, Audyssey MultEQ XT & MultEQ Pro calibration installer ready, Denon Link3, and plenty ins and outs.
Useful Features




HDMI v1.3a ports with Deep Color, xvYCC and SACD support

Dolby TrueHD and DTS HD Master Audio decoding


130W x 7 (8-ohms 20Hz-20kHz, 0.05% THD)

Denon Link3 connections for DVD-Audio/DD/DTS/SACD

Internet Radio ready & streaming audio capabilities

TBC processing for composite and s-video inputs

12-bit/216MHz Video DAC

XM Satellite radio-ready

Audyssey MultEQ XT & MultEQ Pro calibration installer ready

iPod & USB interfaces
Alternates: Yamaha RX-V3800 ($1,699); Buy Now; Marantz SR7002 ($1,499); Buy Now

Best Alternative for Audiophile: The Emotiva Reference Theater Series Separates
Retail Price:
$2,199 |
Buy it Now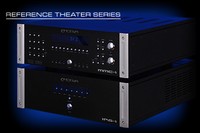 Do you suffer from the receiver blues and desire a separates alternative thats easier to use with more available amplifier power to really drive those RBH speakers? Emotiva has got you covered. Take their professional line of products, give them a facelift, throw in a free HDMI switcher (1080p) support, and scale down the MPS-1 power amp to 150wpx x 7 by putting the entire design into a non modular chassis, and you've got a smoking deal at just over $2k for the combo. This system is powerful, easy to use and sounds as good as it looks.
Optional Amplifier (with Denon Receiver): Emotiva XPA-5

Retail Price: $799 ; Buy it Now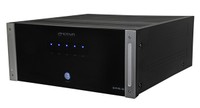 If you really want to squeeze out all of the performance of this superb RBH system and you happen to have it in a largish theater room, we suggest some external amplification. The Emotiva XPA-5 caught our eye for one of the best budget amps on the market. You can either go for one XPA-5 and let the receiver power your rear speakers or pick up an XPA-2 (same price) for your mains. At these prices, you'd be spending less than many dedicated 7 channel amplifiers. With 200 watts per channel at 8 ohms, you'll have more than enough power for nearly any application. We suggest using the amp(s) to power the main five speakers in your theater and using the Denon's internal amps to power the back channels and multi room speaker system.

Alternates:
RMB-1095 ($2,000); info | Outlaw Audio Model 7200 ($1,849); info


DVD-Audio/Video/SACD Player: Oppo 983H | info
Retail Price: $399 | Buy it Now

The Oppo 983H is an excellent performer for all current non-HD audio formats. Its ability to provide clean, accurate analogue audio output and its quality rendering of high resolution progressive scan video output powered by the cutting edge VRS by Anchor Bay decoding techonology makes it the real deal for affordable high-end universal do-all DVD players. In addition this player sports an HDMI video connection for multi-channel audio formats and tons of options for different screen sizes and viewing preferences. It would sit nicely in any high-end home theater system and in our opinion is formidable in its price class.

Alternates: Yamaha DVD-S2700 ($999) info; Marantz DV7600 ($1099) info
Blu-ray Player: Samsung BD-P1400


Since the format war is over and this system handles video and audio superbly, we recommend adding a Blu-ray player in addition to the Denon Universal Player. We highly recommend the Samsung BD-P1400 for $599. This player will entice you with pristine audio and video quality when paired up with a processor / receiver that can pass PCM audio for DD+ / TrueHD and dts HD. 

Samsung BD-P1400 ($599) | Buy it Now

The Speakers: RBH Sound Signature Series | Review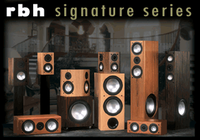 Retail Price (system): $6,045 [Locate a Dealer] info
We know speakers are subjective, but we have found RBH Sound to consistently make products that challenge what we know about "high end" speakers time and time again. Many speakers costing much more have graced our Reference Systems, and just as quickly departed. With an incredible, almost unbelievably detailed mid-range and crystal clear, undistortable highs, the RBH Sound Signature Series dives to the top of our loudspeaker recommendation list. The SE/R series feature the ultra high performance drivers found in Status Acoustics products such as the highly revered Decimo's.
Below is a breakdown of our recommendations for putting together a stellar home theater package. Substitutions can certainly be made for surrounds and to down-size the front speakers, but if you can afford it this loudspeaker system is going to be hard to beat. Maybe best of all, all speakers are available in over 30 real hardwood finishes! Expect to pay an additional 20-30% for your choice of custom veneer finishes with about 4-6 week lead times.











Model

661-SE/R Mains

661-SE/R Center

66-SE Surrounds

41-SE Back Surrounds

Frequency response

45Hz-20kHz

45Hz-20kHz

45Hz-20kHz

60Hz-20kHz

Sensitivity

90 dB

90 dB

90 dB

86 dB

Impedance (nominal)

4 ohms

4 ohms

4 ohms

8 ohms

Power rating

200W

200W

200W

100W

Drivers*

(2) 6.5" aluminum woofer
(1) 1" silk dome tweeter

(2) 6.5" aluminum woofer
(1) 1" silk dome tweeter

(2) 6.5" aluminum woofers
(2) 1" silk dome tweeters

(1) 4" aluminum Cone Woofer
(1) 1" silk dome tweeter

X-Over type

4th order

4th order

2nd order

2nd order

Dimensions (hxwxd)

22" x 8.75" x 11.5"

22" x 8.75" x 11.5"

14" x 16" x 8.5"

11.5" x 6.75" x 10.25"

Weight

34lbs

34lbs

lbs

12lbs

Magnetic shielding

Yes

Yes

No

No

Finish
Black Oak with Nevamar tops
or over 30 different real hardwood finishes
Black Oak with Nevamar tops
or over 30 different real hardwood finishes
Black Oak with Nevamar tops
or over 30 different real hardwood finishes
Black Oak with Nevamar tops
or over 30 different real hardwood finishes
MSRP
$2,258/pair
$1,129/ea
$1,779/pair
$879/pair
Website Info
info
info
info
info
Alternates: RBH Sound 1266-SE/Rs for mains* ($4,999/pair) info;
*When using the Denon AVR-4306, the amp should be considered optional unless you plan on using the 1266-SE/R's in lieu of the 661-SE/R's.   Put this budget towards dual subs before splurging on larger speakers or an external power amplifier. 

Subwoofer: JL Audio F112

Retail Price:
$2,200 - $2,400 |
more info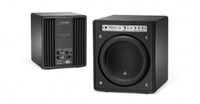 The JL Audio has produced a very serious subwoofer in the Fathom f112, the smallest sibling in their home audio line.  This is a powerful sub capable of prodigious deep bass output. Make no mistake; if the user has loose objects in the house, this sub will locate them and point them out. Also, be prepared to find interior partition walls complaining into adjacent rooms. For the best possible listening experience, find all loose items and secure them.
This is a well-built subwoofer with a solid cabinet and a high quality finish. For those who select the gloss finish, it is easily smudged, but that is the nature of the finish, not a shortcoming of this particular manufacturer. The cabinet is well braced and solid, which will keep it from making music of its own to the detriment of the reproduction
For the best possible bass distribution in your room, ensuring consistent sound for every seat, we recommend two of these subwoofers if your budget allows for it.
Alternates: RBH Sound 1010-SEP ($1,949 ea) info