The $25k Home Theater System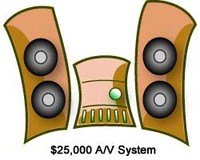 $25k System
Having made various compromises on some other systems in an effort to find balance for the budgets, we wanted to provide options for a sensible, yet no-compromise, system for around $25,000. Enter the $25k Home Theater System. Borrowing many components from our own Reference Systems, this package delivers the goods in a way that will be immensely satisfying for both 2-channel and multi-channel enthusiasts.
Regarding the criteria for this room, we wanted to ensure that it posessed excellent video quality and unparralelled audio quality within its budget class. To do that we combined some of the best values in the market in order to arrive at what we feel is the home theater system that starts to sit at what we like to call the entry position of the point of diminishing returns. You can spend (and get) more, but your bang for the buck factor drops considerably (in our opinion) beyond this point.
System Goals
This system offers exceptional value for an increasing budget. There will be a 7.1 in this system, and all of the components - particularly the speaker system and display - will begin to truly blossom towards the higher-end components you won't see in many of your friends' homes.

We'll utilize HD players whenever possible so that you can experience the best high definition source material on your system.
This system yields ultimate flexibility and provides all the latest formats: Dolby Digital, Dolby Digital-EX, DTS, DTS-ES, Prologic IIx and may have the ability to decode DVD-A or SACD and display high-quality component video.
This system is assembled with reliable components all offering good warranty policies.
This system is ultra high performance and leans more towards the audio side of the equation.  If placed in an acoustically controlled room, it will be the rival of your friends regardless of what they spent on their gear.