The $1000 Bare Bones System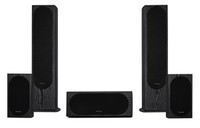 The $1000 Bare Bones Home Theater
We get asked this question quite often. How do you approach the budget system? Well, first of all you start by understanding that this system is meant to be a step above the HTIB approach, allowing for a greater flexibility, higher fidelity and a satisfying audio experience on a budget. One important thing to realize is that, at this price point, competition is fierce and there are a plethora of options. We'll outline one path that you might wish take to have a very satisfying system for a nominal $1k budget restriction that will meet the astringent criteria of the Wife Acceptance Factor while gratifying the audiophyte in any home theater enthusiast.

Please keep in mind that $1,000 is somewhat constrictive especially if you desire quality products with good performance and audio. For this reason, we have opted to leave out a TV since most budget minded entry level enthusiast will like have one already as part of their entertainment system. In order to get the best possible picture with DVD's, it's best to consider a TV that has at least an s-video input with perhaps a bonus option for component video inputs.
Another thing to realize is that this system can be "grown into". That is to say, you can purchase the recommended speakers in a 2.1 configuration and add the center channel and surrounds at a later date. This will allow you to begin a system that will ultimately be of much better quality than had you spent that money on an "all-in-one" system of dubious lineage.

System Goals
This system offers the best bang for the minimum non HTIB budget. It will look and sound great and will also please those wishing to limit the amount of space dedicated to home theater. It will focus on achieving 5.1, with expandability to extended formats at a later date.

Whenever possible, upconverting DVD players are typically utilized as well as devices meant to have extended useful life so this system will not go obsolete too quickly. But in the case of this $1k system, we thought it might be better to consider a good quality DVD player which most enthusiast perhaps will find more useful than multiple formats. Remember, the recommended player comes with an upconverting HDMI output (to 720p or 1080i) and is ready for an advanced display.

This system yields ultimate flexibility and supports most of the latest formats including: Dolby Digital-EX, DTS-ES, Pro Logic IIx and more


This system is assembled with reliable components all offering good warranty policies.

This system offer simplistic connection and includes most of the cables required for basic connection. The remaining cables will be listed and will consider the need for quality while staying within the budget. It will also make our $1k system slightly over $1k, but you can always use your weekly beer, pizza or coffee money to cover the additional cost.
Following is our recommendation for a system for ~$1,000