Audioholics Store $1000 Home Theater System
by
will
—
October 08, 2012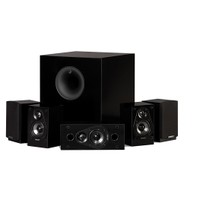 Energy Take Classic Speaker System
The $1000 system from The Audioholics Store delivers a solid surround sound experience for a bargain price. While the $1000 system won't include a flat panel display, it does add upgraded features & components such as a power conditioner and a more capable A/V receiver. This level of system will present a more than subtle upgrade of the audio and video capabilities of a television or even a soundbar. For those looking to make the move into a true 5.1 home theater system, this is going to be a major upgrade. The system includes the following components:
The Yamaha RX-V473 is an excellent A/V receiver that includes 5 channels x 80W and 4 HDMI inputs. The HDMI inputs can decode the new HD audio formats and the receiver has YPAO sound optimization for automatic speaker setup. It has a front panel USB connection to interface with iPod, iPhone and iPads. It also features AirPlay, which allows for easy music streaming from iTunes on Mac and PC or any iOS device.
The speaker system is the very well-regarded Energy Take Classic 5.1 satellite/subwoofer system that includes four small satellite speakers that blend easily into any room. The subwoofer is an 8" 200W model that provides reinforcement for the satellites at lower frequencies. At this price it offers plenty of punch where it counts and should be a marked improvement over any television or sound bar system.
To make use of all the new audio formats you'll need a decent Blu-ray player. For that, the Audioholics Store adds the affordable Yamaha BD-S473 which has integrated Netflix streaming support, making this an exceptionally high-powered Blu-ray player that does way more than just play BD and DVD movies.
At this price we also feel it's important to begin to take care of your A/V investment. For this reason, the Audioholics Store includes a Panamax M8-EX Surge Protector. This 8-outlet filter will protect your gear from surges and spikes and provide a unified way to provide power for your equipment.
Also included are HDMI cables for connecting the Yamaha BD player to the receiver, and a cable to connect the output of the AV receiver to your television.
For $1000 this is a great deal that takes you fully into the world of 5.1 surround sound and high quality audio and video.
smurphy522 posts on October 09, 2012 12:11
Always glad that audioholics reccomends starter systems as well as increasing $/performance systems. The system listed this year is quite a deal considering it has separate componenets, Etc.
I would like to point out one thing that Audioholics may want to edit: the picture listed as Energy Take Classic is actually that of a Infinity TSS system. This
link
[lgcdn.store.audioholics.com] should be used instead.