Reference System 6: Jim Robbins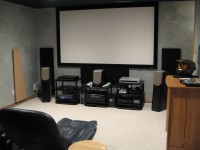 Reference System 6: Jim Robbins
Starting many years ago with a meager HTIB, TV and VCR, this system has worked its way into a full home theater with 106" projection screen, full 7.1 audio setup, and high definition sources. You can read about his progression in "Am I an Audoholic?" The primary motivation behind upgrades for Reference System 6 has been primarily been a better video gaming experience, but movie watching was a close second. This theater is the primary screen for movies and daily TV viewing. Of course, music is a part of the Robbins' household, so there is also a separate 2-channel system in the main living room. Most of the serious and casual music listening is done there while the multi-channel experience is left for the man cave.

Even though he just added some Auralex Sonosuede acoustical treatments to the theater room, there are some planned upgrades for the future. These include a PS3, a newer HD DVD player, upgraded receiver, and possibly one of the new 1080p LCD projectors based on the newest D7 panels.

As you can see from the parts list, images, and future wants, Jim is a gamer. His children are likely doomed to repeat his time-wasting habits. Of course, they'll be so spoiled by the time they leave home, they might not have the heart to play games on a mere 26" or 32" screen with no surround sound. There is hope for them yet!
Alas, poor Jim is an audioholic for life… (and yes, by poor we mean Jim spent all his money on gear and doesn't have much left!)
Hardware

Description

Manufacturer's Website
AVR-3805
AV Receiver
Denon
Kappa 400
Front Speakers
Infinity
Kappa 200
Center and Rear Surrounds
Infinity
ERS 210
In-wall Surrounds
Infinity
PB12-Plus/2
Subwoofer
SVSound
PT-AX100U
Projector
Panasonic
106" 1.78:1 Criterion - Brilliant White
Fixed Screen
Carada
DHG-HDD250
TV Tuner / DVR
Sony
HD-A2
HD DVD Player
Toshiba
Harmony 880
Universal Remote
Logitech
Xbox / Xbox 360
Microsoft Game Systems
Microsoft
GameCube / Wii
Nintendo Game Systems
Nintendo
SU1000XL Power regenerating UPS
Main Power Protection
TrippLite
GS-1285U UPS
Game Power Protection
Best Buy
PSC47
HDMI Switcher
Psyclone
10 Meter SHR
HDMI Cable
DVI Gear
36" Component Video
Component Video Cable
Blue Jeans Cable
Sonicwave Glass Optical cables
TosLink Digital Cables
Impact Acoustics
12 Gauge Zip Cord
Generic Speaker Wire
Lowes
Sonosuede HT System
Acoustic Treatments
Auralex
Euro Component Racks
AV Furniture
Sanus
Consul Stressless Chairs
Main Theater Chairs
Ekornes
iJoy-173
Massage Chair
Human Touch
Mame Cabinet
Arcade Machine
Made by Jim
Children
Audience
Made by Jim, kind of :-)
Created by God
See also: