Building a Moderately Priced HT - Complete AV Power and Wiring Diagram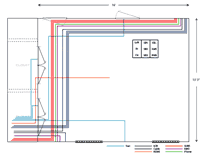 Before you go drilling holes or purchasing your wiring you'll need a diagram outlining the requirements to completely satisfy the operating parameters of the theater room. This was one of the starting diagrams we began with and it outlined the runs needed to accommodate the revised home theater setup as well as the workstation which exists just behind the listening position. We decided early on to go with Impact Acoustics to gather all of the speaker, networking, and interconnect wiring we'd need to complete this job correctly. Color coding helped identify what type of cables were required and made double checking the master cabling diagram much easier.
We elected to run loudspeaker cables to the front and make the terminations accessible for us to swap out with products that we would later test. I mapped out the front channels, surrounds, and rear surrounds which were all speaker level cables. The line level subwoofers came next and we ran an additional cable for a third sub to allow us to test a manufacturer's subwoofer from the front of the room. Next we mapped out RF cable runs as well as RJ45 and phone jacks. We finished by running HDMI and component video (not pictured) to the projector location on the ceiling.
All of the equipment was to be located in a closet at the rear of the room. An RF-based remote control system with IR blasters would be used to control everything as line-of-sight IR use would be impossible. Locating the equipment in the back of the room allowed us to utilize more of the front space for loudspeakers - a requirement when installing the CinemaSITE into a 13.3' wide room.
Editor's Note on Wiring
Wiring is a tricky thing. You want to ensure you have reliable cables, after all you aren't going to want to ever run them again - especially not the ones that are permanently located behind walls, in conduit, or underneath crown molding. You do not, however, have to purchase super-expensive cables to get a reliable solution. We found that Impact Acoustics offered a tremendous value overall for cables which not only looked good, but performed well. They also had the added advantage of being able to provide all of the connectors, wall plates and types of cabling we required for nearly the entire AV install. For our digital video cabling, we turned to DVIGear, who makes the best long-distance copper run cabling we've seen to date. Their SHR HDMI cables fit the bill and allowed us to get from our equipment closet to the front projector neatly and with wall (for the ceiling in our case) plates that made terminating the cables on each end a very simple process.

Our Laundry List for Cables from Impact Acoustics
| | | |
| --- | --- | --- |
|  Cables | Type  | Model  |
|  Subwoofer cables | RG6 coax | IA |
|  Speaker cables | 12/2 | IA |
|  Networking cables | RJ45 Cat5e | IA |
|  Analogue audio interconnects | RCA stereo | IA |
|  Component video interconnects | YPrPb | IA |
|  Digital audio coax interconnects | S/PDIF Coax | IA |
| | | |
| --- | --- | --- |
| Wall Plates & Connectors | Type  | Model  |
|  Speaker cable terminations | Binding posts | IA |
|  Subwoofer line terminations | RCA | IA |
|  RJ45 cable termination | Cat5e | IA |
| Cable (RG6) termination | F-connector | IA |
 Digital Video (HDMI) Cables from DVIGear
| | | |
| --- | --- | --- |
| Cables  | Type  | Model  |
| SHR HDMI cables | 12.5m SHR HDMI | DVIGear |
| HDMI & Component wall plate | Wall plate | DVIGear |