2011 Audioholics Product of the Year Award Winners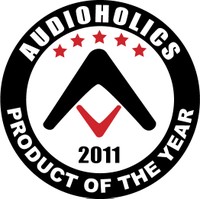 2011 Product of the Year Awards
2011 proved to be a year of economic recovery in the A/V industry. It seemed apparent to us that many of the major manufacturers came out of hiding with a slew of new and improved products to entice fellow Audioholics to upgrade their A/V systems. Velodyne, for example, saw the high-end subwoofer market passing them by and decided to revamp their entire Digital Drive line to put everyone in checkmate. Yamaha took a good thing and made it better. Sherbourn got a much-needed restructuring in management and subsequently a new series of high performance products at competitive prices were born. RBH Sound took their highly successful Signature Reference line and updated their aesthetics - birthing the SX/R series. Oppo kept doing what they do best and made it even better by producing incredibly high value, high performance Blu-ray players that do everything right.
Basically, if you are contemplating an upgrade to your home theater, the following products should help you accomplish that goal of achieving sonic and visual nirvana. If that doesn't happen then you should at least find yourself drooling over what might be... you know, if you save your pennies... or hit the lottery... or inherit a fortune from your long lost reclusive aunt in Montana.
Award: A/V Networking Receiver
Yamaha: RX-A3010 Receiver | Preview

Last year Yamaha won our A/V Receiver 2010 POY Award with the RX-A3000. We really liked its feature set and performance that was on par and in some areas better than the venerable RX-Z7 for nearly $700 less money. Yamaha made history in 2011 with the quickest refresh of a receive we've ever seen. Welcome to the new RX-A3010. Yamaha upped the power spec 10 watts and added two additional powered channels to yield 150wpc x 9 and beefed up the power supply to accommodate it. The RX-A3010 is a fully armed networking receiver supporting all the major streaming services (ie. Pandora.com, Rhapsody, iPad/iTouch support. It comes armed with top of the line HQV Vida processing, and full 3D support. Best of all, the price has gone up only $100 from last year's RX-A3000 making it quite a compelling product that seems to be rightly priced.
MSRP: $1,999 | Buy Now
Award: Multi-Channel Amplifier
Sherbourn: PA 7 350 Seven Channel Power Amplifier | Preview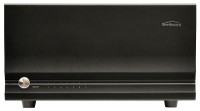 Sherbourn isn't a name that crossed our paths in a number of years but the revamping of their entire product line after being bought out by Emotiva has really put them back in the game again. The PA 7 350 is a true powerhouse belting out 350wpc x 7 with a massive 3.3kVA transformer and high efficient multi-rail Class H+ design topology. Sherbourn gives you high sound quality, tons of power and reliability without all the heat inherent in linear amp designs. This amplifier is built like a tank topping the scale at 100+lbs and sporting both balanced and unbalanced inputs, high quality 5-way binding post speaker connectors and a detachable 3-prong heavy duty power cord.
MSRP: $3,999 | Buy Now
Award: Loudspeakers
RBH Sound: SX-6300/R Floorstanding Speaker | Review

The RBH Sound SX-6300/R is a full range 3-way six driver tower speaker system that features their premium Status Acoustics driver upgrades found in their more expensive Signature Reference Series. The SX/R series feature the same components as the Signature Reference series in a more modern contoured cabinet and a lower cost. The only downside is you only get one cabinet finish (black) as opposed to over 30 real wood veneer finishes of the Signature Reference line. The SX-6300/R system easily reveals any faults in the signal chain feeding it. If you're keen on unleashing all their sonic glory, than the best upstream electronics your budget allows is definitely called for. This was an easy loudspeaker system to get correctly positioned within the listening space for achieving great sound. Their small footprint and phenomenal sound will likely score points with those audiophiles not having a whole lot of free floor space available. These were our favorite sounding tower loudspeakers reviewed in 2011!
MSRP: $3,280/pr | Buy Now
Award: Subwoofer
Velodyne DD-18+ Subwoofer | Review

This year, we really got serious about evaluating suboowfer performance as evident by our powered subwoofer measurement standard and room size rating protocol. Velodyne really upped the ante with their new DD+ series. We measured huge gains in performance for the DD+ line compared directly to the DD series and they even looked better than ever to boot. The DD-18+ earns our "Extreme Room Size" rating and we just marveled in its great performance. While it doesn't have as much sheer output as other subwoofers we've tested, it makes up for it in clean tight and accurate bass with real usable extension below 20Hz. Top notch performance and aesthetics do come at a price however as the DD-18+ doesn't come cheap. But a true Bassaholic with deep pockets will worship this sub.
MSRP: $4,999 | Buy Now
Award: Universal Blu-ray Player

Oppo BDP-95 | Review


There's a reason why Oppo makes waves in this industry. They produce some of the best Blu-ray players on the market that support every major feature set a serious audio/video-holic would expect. More importantly, their products are highly reliable and well supported by their phenomenal customer support. The BDP-95 produced some of the best bench tests we've seen from a Blu-ray player regardless of price. The BDP-93/95 play every current audio codec including DVD-A and SACD while also supporting streaming services such as Netflix, Pandora, Youtube, etc. Audiophiles will appreciate the upgraded analog audio performance and no nonsense build quality of the BDP-95. HDMI only users should save their money and simply purchase the BDP-93 for 1/2th the price. We challenge the industry to make a better blu-ray player than this at even double the price. Any takers? Lexicon where are you :)
MSRP: $999 | Buy Now
Award: Television

Samsung PN51D8000
51" Plasma Smart TV | Video Review Pending


For the past few years we've started asking ourselves "What's important in a TV?" Is it the black levels? How thin it is? Color accuracy? Media streaming? Apps? I mean, what is it that people look for in a new flat panel? And more importantly, what should YOU look for? Well, honestly we can't answer the question. Some want one thing over another, but SOME... SOME people want it all. And I guess that's what Samsung had in mind with its new D8000 Series plasma TVs. It really does seem to have it all. There are two aspects to what makes the Samsung a P.O.Y. winner: first is the picture quality, which is - for lack of a better term - flawless. Second is the SmartHub, which is at least the best try we've seen at unifying all media under one semi-cohesive roof. It's not perfect, but it's impressive.
MSRP: $2,299 | Buy Now
Award: Headphones

V-Moda V-80 True Blood Headphones, Crossfade M-80 Headphones | Video Review

The v-moda Crossfade M-80 on-ear headphones, also available as the V-80 "True Blood" models, were very favorably reviewed by us earlier this year. What surprised us the most about these headphones was the amount of clear, accurate sound they produced for their size. They are also incredibly comfortable and they are tested to mil spec against drops and impacts. And while we were impressed with the physical headphones, it's really the sound that matters - and that was, well it was surprisingly good. These are the first headphones in a long time that at least competed with our reference over-the-ear headphones. Bass in particular was surprisingly deep, and they definitely came across as authentic. For $229 (you can find them online for $199) they are really good and we were impressed enough to give them this year's award.
MSRP: $229 | Buy Now

cpp posts on December 13, 2011 07:52
LOL, seems like I need to go to the eye-doctor
it never too late to admit it
haraldo posts on December 13, 2011 07:16
gene;847755
The BDP-93 is $499 while the BDP-95 is $999. My Eagle eye is still sharp
LOL, seems like I need to go to the eye-doctor
gene posts on December 13, 2011 06:20
haraldo;847750
very nice stuff here :-))
However, it seemns like your normally so good eagle eyes tricked you a bit here Gene...
Check the price tag on the Oppo !!!!!!
The BDP-93 is $499 while the BDP-95 is $999. My Eagle eye is still sharp
haraldo posts on December 13, 2011 05:31
very nice stuff here :-))
However, it seemns like your normally so good eagle eyes tricked you a bit here Gene...
Check the price tag on the Oppo !!!!!!
TheWarrior posts on December 12, 2011 21:14
Cheers to RBH for making the list! I look forward to being a proud owner of their reference models once I have a home that allows me to be unconcerned with my neighbors comfort!