Home Theater Furniture 101
by
Dave Adams
—
May 25, 2007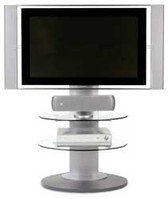 Today's home theater is nothing like it used to be. There was a time that your hi-tech entertainment system was simply a TV in a corner. Now you toss in a DVD player, surround sound system, digital video recorder, and the like, and your home theater has grown to proportions your parents would have never dreamed of.
As the home theater has changed, the need for good home theater furniture has changed as well. Utilitarian racks that might seem more at home in your garage than in your living room, are no longer in style. Today's furniture is engineered to complement and protect the electronics that they house. In fact, many manufacturers are creating pieces that are designed to not only complement the components, but to accentuate the entire décor of the home as well.
The industry is full of options when it comes to home theater furniture. Open systems put your electronics on display and provide easy access. Wall systems with doors have the ability to keep everything out of sight, but sacrifice access and, potentially, the sound quality. Still other installed systems are designed to make the components all but disappear into hidden closets and built-ins.
Whichever system you decide is best, there are a few constants. Look for the following features in your furniture system to insure that your equipment is protected and the end result is one that you will want to live with for a long time.
STRENGTH
Make sure that your system is up to the demands that you are putting on it. While many portable electronics seem to be getting smaller, that isn't necessarily true of today's AV components. Loaded 400 disc CD changers and powerful amplifiers can be big and bulky. The largest CRT TVs can weigh upwards of 200 pounds. Make sure that your system is designed to accommodate the heaviest things you can put on it.
VENTILATION
Your system not only needs to look cool - it's got to stay cool. Proper ventilation around and under components will keep the temperature down and promote longer component life. Look for systems that will allow adequate airflow and not "overcook" your components.
FLEXIBILITY
They say the only thing that is constant is change, and that is especially true in consumer electronics. (Three years ago, did you know you'd want a TiVo?) Your system should be able to grow and adapt as the requirements of your system change. Look for component furniture systems that can be added on to with supplemental pieces. Features such as adjustable shelves will also allow you to adapt the system to meet your needs now and in the future.
EASY ACCESS
Nothing is worse than having your entire system configured and then trying to add a new DVD player. Often, you'll have to rewire and reposition your entire home theater to work in the new addition or replacement. Look for systems that provide easy access to components and connections. Features such as pullout shelves and open shelving can help take some of the pain out of this tiresome task. Most of the units from BDI feature uniquely patented rear wheels that allow the unit to be rolled away from the wall - even fully loaded - for complete access to cables and connections. This is a much better alternative to unloading an entire home theater system into your living room to allow the entertainment center to be moved.
WIRE MANAGEMENT
You may have the most beautiful home theater in the world, but it's only as good as its wire management. Nothing looks worse than a gangly mess of component wires shoved behind a unit. Or worse, cables that are pushed in all directions - making it necessary to have a degree in cartography to figure out what cable goes to which component. The best furniture will take wire management into account, providing routing holes, cable channels and even straps to keep your cables neat and tidy.
STYLE
Often people look for a rack for their system, and only when they get the unit home do they realize that this is a piece of furniture that they will be looking at day in and day out for years to come. Pick a piece of furniture that complements your personal style and the décor of the room. Utilitarian racks are a thing of the past. These days, you can find home theater furniture to suit most any taste or room configuration.
The home theater today may come in second only to the kitchen as the hub of the home. It's one thing to have the coolest components on the block, but they also need to be presented in a way that will accentuate the home while protecting your investment. Fortunately, now you don't have to compromise on either function or form. Well-designed home theater furniture is here to stay and that is good news for all of us.
Special thanks to Dave Adams of BDI for contributing this article.